Bump in the road for Meals on Wheels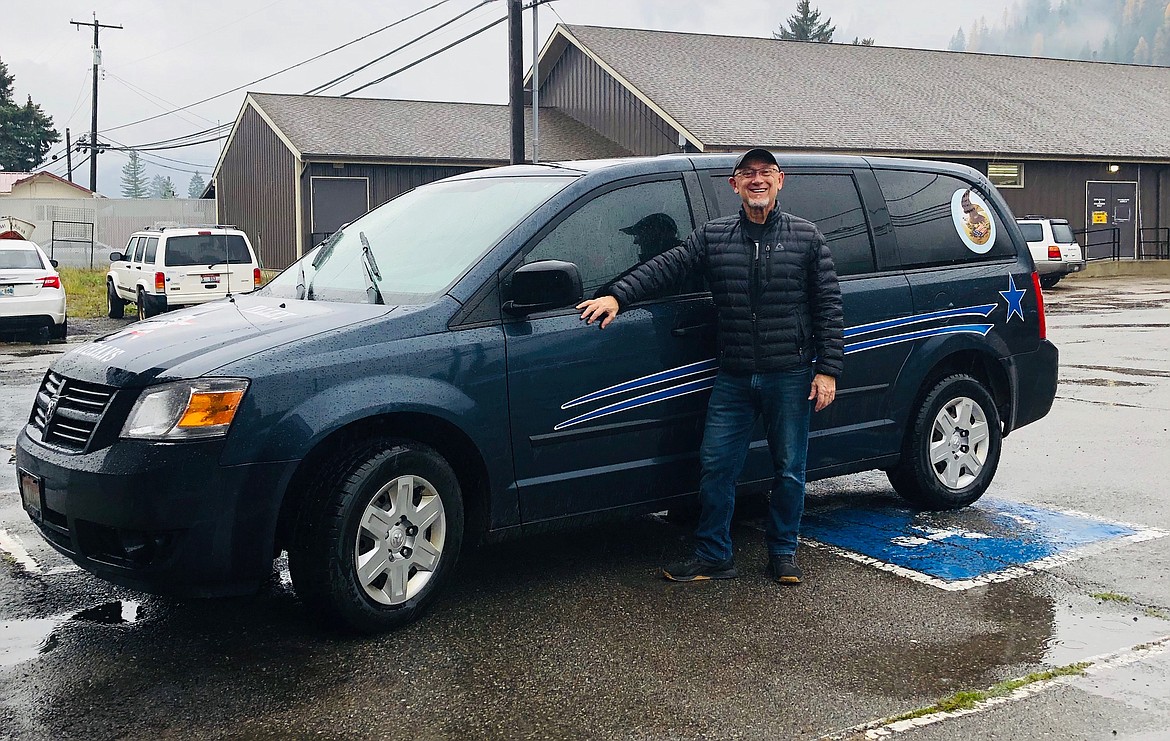 Darrell Lemieux, project manager for the Meals on Wheels program. Meals on Wheels currently delivers fresh meals from 50-100 elderly citizens throughout the Silver Valley per day.
Courtesy photo
by
CHELSEA NEWBY/Staff Reporter
|
November 5, 2021 7:00 AM
OSBURN — The Silver Valley Meals on Wheels program, a nonprofit organization based in Osburn, is a valued resource to the senior citizens of Shoshone County — spending more than 20 years serving home-cooked meals to 50-100 homebound senior citizens throughout the Silver Valley per day.
Though the organization currently operates with limited staff and resources, it is undoubtedly a program full of heart.
Monday through Friday, drivers load fresh cooked food into vans and hand deliver each meal, as well as check on the seniors, making sure all is well. Drivers drop off a double batch of food to the homes on Fridays, in order to ensure everyone is fed through the weekend.
While the initial intent of the program is to supply seniors with a hot and ready meal (perhaps the only one they will have for the day), program manager Darrell Lemieux said just as important, is the opportunity to provide conversation and companionship, as well as a sense of normalcy, routine and comfort for the seniors it serves.
Doing all of those things well however, is becoming increasingly difficult for the staff at Meals on Wheels, as like many others, the organization has fallen on hard times.
Due to rising food costs, high gas prices, costly insurance and lack of volunteers, the program is struggling to operate at its usual standard.
Lemieux said that following several months of financial loss, starting next Monday, meals will only be distributed on Mondays, Wednesdays and Fridays, as the program can no longer afford to have its drivers out five days a week.
"We are pushed to this point right now, but we do want to go back to five days," he said. "This is the first time it's been like this in the entire life of the Meals on Wheels program."
While all seniors will still be receiving seven meals per week, as drivers will drop off double the amount of food on delivery days, this means a majority of the food will have to be reheated instead of being received hot and ready.
Lemieux said that this will be an issue for many, as several seniors receiving services have limited access to an oven to reheat their food, or are unable to operate them unassisted.
Lemieux is concerned that if seniors end up going without eating, they may then take on the risk of being moved into senior living homes.
"Right now this program keeps them home, which is what we're trying to do," he said. "We want them to keep their freedom and keep their homes."
With the organization receiving no current government funding, Lemieux fears things could get worse for the program. "At this point, we can continue with what we have for probably two months, and then something has to be addressed," he said.
Although several recipients of the meals qualify for the program through Medicaid and Medicare, Lemieux said that the amount in which the program is being reimbursed is not enough to cover the cost of food and delivery. Meals on Wheels also serves around 30% of clients who cannot afford payment at all.
Most recipients that cannot make payments have their meals covered by Area Agency on Aging, which gives the Meals on Wheels program just $4.50 in reimbursement — to which Lemieux simply said, "It just doesn't balance out. That's the bottom line."
To make ends meet, the Silver Valley Meals on Wheels program has greatly depended on the generosity of individual and community donations, as well as various fundraisers throughout the year. However with donations at an all-time low, the program is hoping to generate community support this holiday season.
Meals on Wheels has also started an "Adopt-a-Senior" program, where families, companies or individuals can sponsor a senior to cover the cost of the delivered meals. Each donor can choose a time frame to donate monthly, or make a lump sum donation to cover the cost of meals over a chosen time frame.
Meals on Wheels has also started a GoFundMe in order to keep the program afloat for the near future.
Lemieux said he never wants the seniors to have to feel shame or pressure to have to find means for payment, so he is hoping to receive support from a community that he knows cares well for its citizens.
"This is not about telling them 'you just can't do it', or 'you're not a good person,'" he continued. "This is about saying 'someone wants to help you,' and that's the way I really want it to be."
If you would like to be involved in the Adopt-A-Senior program, please contact the Silver Valley Senior Center at 208-752-1194.
A link to the GoFundMe account can be found in the online version of this story on shoshonenewspress.com.
Donations can also be made to Silver Valley Senior Center in person at 726 E. Mullan Ave., Osburn. Or by mail by sending your donation to P.O. Box 887, Osburn, ID 83849.
The Shoshone News-Press will be assisting in efforts to raise funds for the Meals on Wheels program. Donations can also be dropped off at the office at 620 E. Mullan Ave., Osburn.
Recent Headlines
---