Silver Valley Veterans Day lineup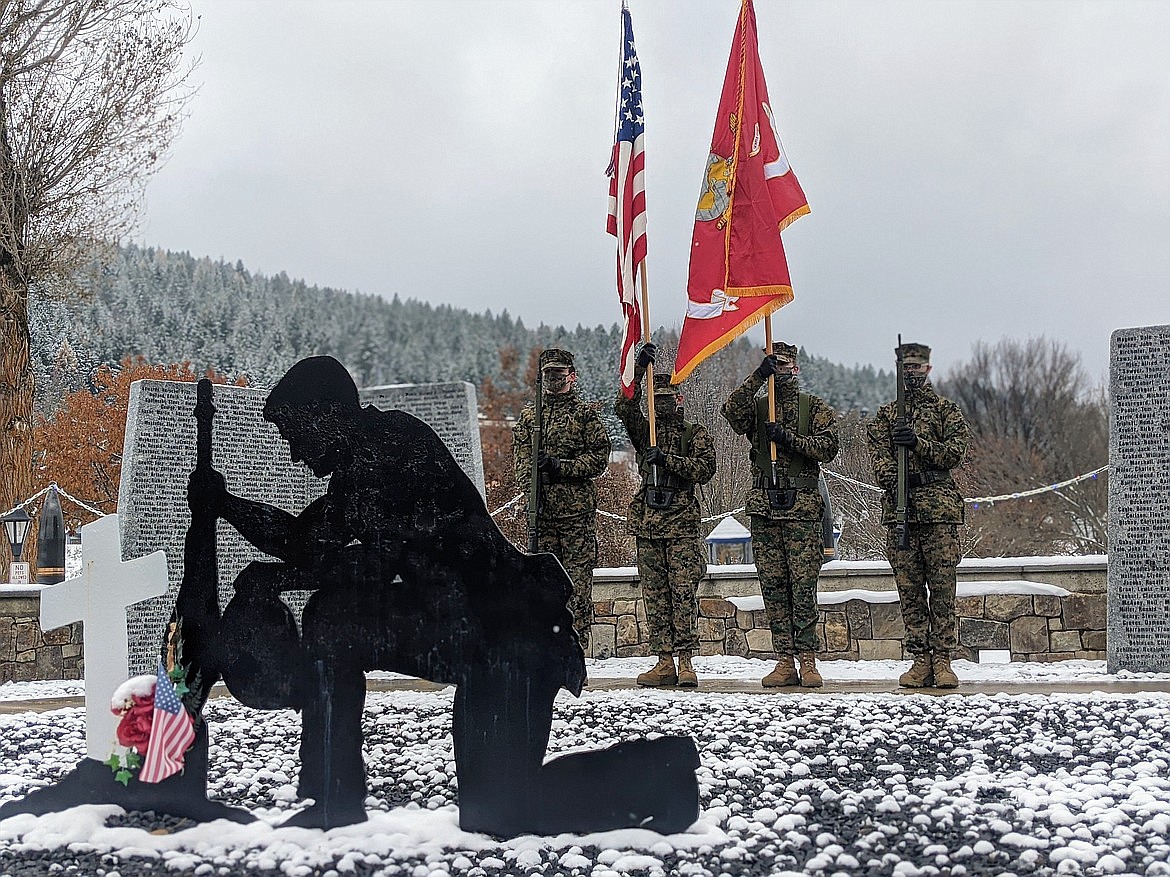 The Kellogg High School JROTC presents the colors at the 2020 Veterans Day ceremony in Kellogg.
Photo by CHANSE WATSON
by
JOSH MCDONALD
Staff Reporter
|
November 9, 2021 6:00 AM
Local veterans are set to be honored this week during Thursday's numerous Veterans Day events.
Shoshone VFW Post 1675, Kellogg High School, Wallace High School, and the Kellogg High School Marine Corps JROTC will all be participating in several ceremonies throughout the Silver Valley.
Both Wallace and Kellogg high schools will be hosting their traditional student-attended ceremonies, but the biggest celebration will be on Thursday at the Silver Valley Veterans Memorial in the Kellogg City Park at 11 a.m.
Each year, dozens of local veterans, and those wishing to honor them, make their way to the stone memorial at the intersection of Hill Street and Railroad Avenue for a brief ceremony that is always capped off by the firing of the artillery piece that has been a fixture of the city for years.
The ceremony is always presided over by a local minister — this year being Real Life Silver Valley Pastor Gene Jacobs — who will offer a message of love, hope, support, and thankfulness for our veterans.
Chris Marker, the Shoshone VFW Post Commander, spoke on the importance of getting out and supporting veterans.
"Without these veterans, we wouldn't have the rights and freedoms that we have today," Marker said. "It's nice to see people come out and support all of our veterans, because it means that people still care."
According to Marker, Shoshone County has one of the highest veteran populations in the state with 1,300 veterans compared to 13,000 residents.
The JROTC will be on hand as well with a full color guard ceremony for all of the ceremonies.
Following the ceremony at the memorial, there will be a free chili-feed at the VFW Hall in Osburn, as well as Veteran Stand Down, where veterans can receive items like blankets, clothes and personal care products.
The high school Veterans Day assemblies are scheduled for Wallace High School at 9 a.m. and Kellogg High School at 1 p.m. on Thursday.
Recent Headlines
---