Silver Valley Sports Recap: Oct. 4-10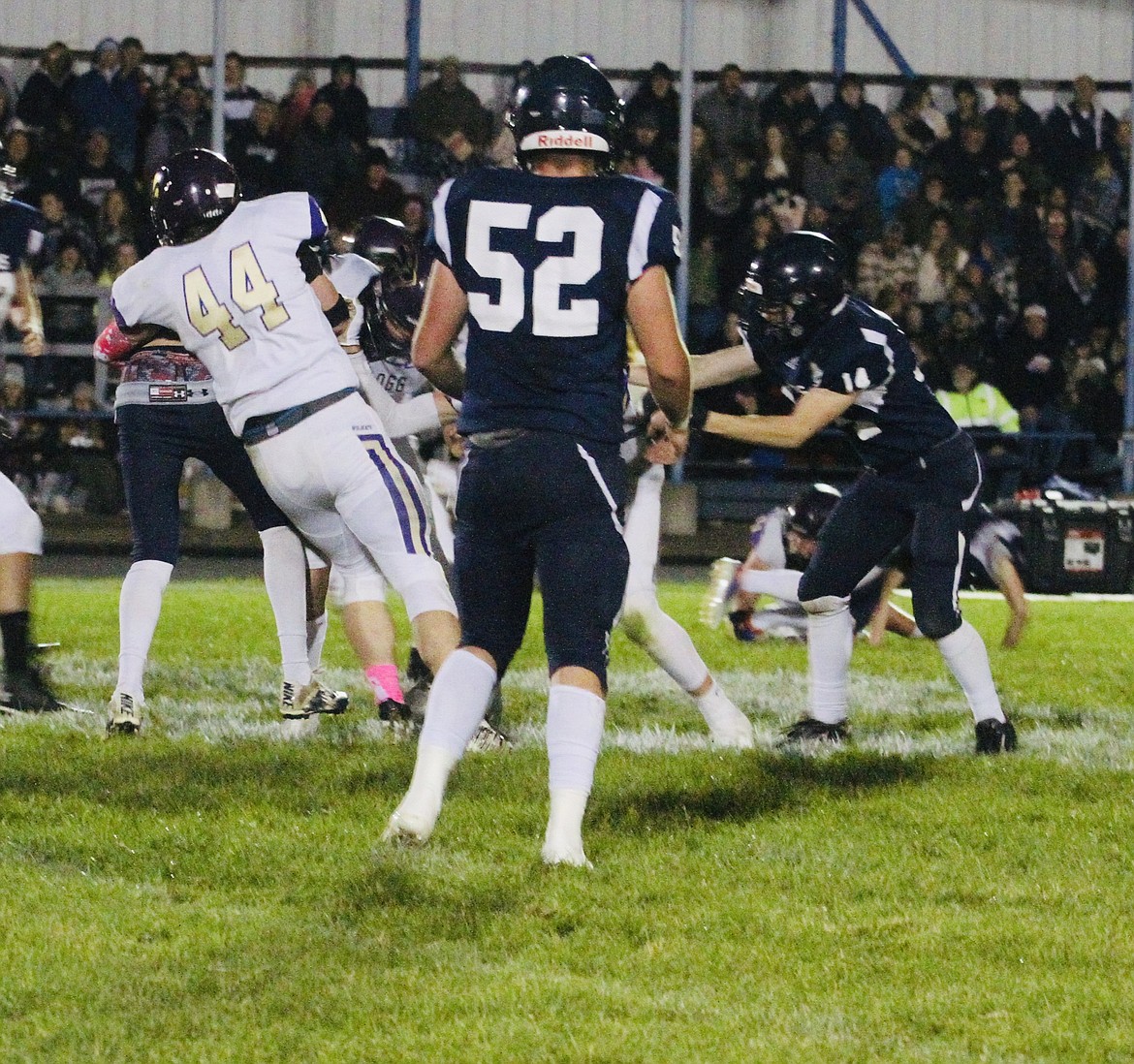 Kellogg's Varick Meredith (44) wraps up a Bonners Ferry ballcarrier during the Wildcats 18-13 win over the Badgers.
Photo by JOSH McDONALD
|
October 11, 2021 5:09 PM
KELLOGG VOLLEYBALL
Oct. 4
Kellogg d. Timberlake
KELLOGG — The Lady Wildcats flew as close to the sun as they could, but ultimately they took care of business against their Intermountain League rivals from Timberlake (17-25, 17-25, 25-21, 25-11, 15-13).
Hailey Cheney was a terror at the net for the Wildcats raking up 20 kills and five blocks, while teammate Grace Nearing finished with 35 assists, six kills, and an ace.
"Kellogg dug deep and showed some serious grit and mental toughness," Head coach Steph Batchelder said. "We tried some new things tonight. Some panned out and some didn't. I thought Emily (Coe) and Olivia Sawyer were crucial for us in the back row. We have a lot of tweaking to do going into postseason soon."
Oct. 6
Kellogg d. Priest River
PRIEST RIVER — Many hands make light work, and the Wildcats made light work of the host Spartans, beating them in three sets (25-11, 25-11, 25-20).
Brynne Eixenberger and Grace Nearing each had four digs, Kay Reed had four aces, Hailey Cheney had three blocks, and Nearing had 19 assists.
Or basically, a complete team effort.
"We got to run a different offense than what we normally do with different people in different positions," Kellogg coach Steph Batchelder said. "It was good to see what could possibly work for us coming into the home stretch of our season when we will need to have different weapons in our arsenal."
Oct. 7
Kellogg d. Bonners Ferry
BONNERS FERRY — The visiting Wildcats wrapped up their fourth straight Intermountain League championship with their three set win over the Badgers (25-20, 25-14, 25-22).
It was the usual suspects for the Wildcats as Hailey and Maddie Cheney dominated the net while Grace Nearing and Emily Coe handled things everywhere else.
Coach Steph Batchelder saw some things that she liked from her team, but still believes that there are places that can be improved.
"We played efficiently and I'm very pleased with the energy we had on and off the court," Batchelder said. "We need to tighten up our blocking game and seal together as a unit, however our defense picked up the slack."
Oct. 9
Kellogg d. Wallace
KELLOGG — The Lady Wildcats wrapped up one of the most impressive weeks of volleyball in recent memory with a statement win over their Silver Valley rivals from Wallace (25-17, 25-17, 25-9) during the main event of Dig Pink.
This was the Miners' second loss in 5-set match play, but it was absolutely a revenge game for the Wildcats who were upset by Wallace over a month ago.
During the previous match the Wildcats were without their best passer Grace Nearing, who was away on a college visit.
She was there this time and she made her presence felt with 24 assists.
She routinely connected with running mate Hailey Cheney over and over again to wreak havoc on the Miners, who struggled in areas that they hadn't prior to Saturday.

"Kellogg looked very impressive and the Cheney/Nearing connection was too much for us to handle defensively," Wallace head coach Katie Bauer said. "We couldn't seem to get any good deflections at the net, and when we did, we weren't able to pick the ball up in the back. We also struggled in our serve receive and never got into a groove offensively."
Cheney finished with 22 kills for Kellogg to go along with two blocks.
Riley Valley had 14 assists and five digs for Wallace while Jaden House finished with nine kills.
MULLAN VOLLEYBALL
Oct. 5
Mullan d. Kootenai
HARRISON FLATS — The host Warriors were one set away from their first victory of the season, but the Tigers rallied to win 23-25, 22-25, 25-23, 25-23, 15-10 in North Star League play.
Tayva Maitland had 11 kills and 12 digs for Kootenai. Kaylee Lupo had eight aces, 10 digs, 13 assists and 11 kills, Mahalia Loucks had three kills and two aces, Bella Defoort five digs and five kills, Kaylin Renn four digs, Keira Bohannon three digs, Paige Offerman four kills and three digs.
"This is the best the girls have come together as a team and showed what they can do," Kootenai coach Kaili Gentry said. "All they need to do now is get over that mental hurdle and be confident in themselves and their teammates."
Oct. 7
Lakeside d. Mullan
PLUMMER — Arianna Havier-Gorr had eight kills and served six straight points in the second
set to send the Knights past the Tigers in a nonleague match at Ron Miller Court.
"The girls are starting to play really well together," Lakeside coach Kim Duncan said. "They've been working on their fundamentals, and it's showing up."
Oct. 9
Mullan d. Kellogg "C", Mullan beat Wallace JV
KELLOGG — The Tigers got back to back wins during Dig Pink, beating Kellogg C (26-28, 25-22, 25-20, 26-16) and Wallace JV (25-25, 11-25, 25-18, 25-17).
Jazzmyn Nelson and Kara Stayle played all over the floor during both matches as the Tigers picked up two big wins.
"Jazzmyn Nelson and Kara Stayle had a solid day all around," Head coach Dawn McKinnon said. "It was also great to play everyone on the team."
WALLACE VOLLEYBALL
Oct. 7
Wallace d. Genesis Prep
WALLACE — It was senior night at Kirby Krulitz Court as the Lady Miners sent their Scenic Idaho Conference opponent home early (25-17, 25-15, 25-13).
Jaden House had 12 aces, Elli Welch had 12 kills, Riley Valley had 34 assists and the Miners rolled.
"This was our senior night and as you can see we had seniors leading in all our statistics," Coach Katie Bauer said. "Seniors Kiya Taylor, Elli Welch, and McKelvy Specht all served 100%. They were all focused and made very few errors. I was proud of the balanced attack, with House adding 10 kills and Specht and Valley chipping in 4 apiece. It was a strong showing for an excellent group of seniors."
KELLOGG FOOTBALL
Kellogg 18, Bonners Ferry 13
BONNERS FERRY — It was the lowest scoring total of the season for the high octane offense from Kellogg, but it may have been the sweetest win to date.
The Wildcats gave up a touchdown run on the first play from the Badgers, and they didn't give up another one until the final few minutes of the fourth quarter.
In between those moments were several highlight reel plays, two touchdowns from Riply and Kolby Luna, a fumble that was received and returned to the house by Luke Frolich, and a whole lot of penalty flags.
Perhaps no series of plays were bigger though than the final three of the game where the Wildcats withstood several attempts on the endzone from Bonners Ferry who had gotten the ball into their own red zone and threatened to beat Kellogg in Bonners for the second year in a row.
Kellogg is now in the driver's seat and needs to win one of their final two games to lock up a spot in the 3A State Playoffs, those games include a heavyweight road showdown with Timberlake this week and next week when they host Priest River in their regular season finale.
MULLAN FOOTBALL
Mullan 62, Clark Fork 22
CLARK FORK — The Tigers officially clinched a berth into the 1A D2 State Playoffs with their dominant win over Clark Fork.
Mullan's three-headed nightmare continued to run rampant on the hapless North Star League as Luke Trogden, Adam Ball, and Caleb Ball all made their presence felt.
Trogden needed eight touches to get four touchdowns, and over 130 yards, Adam Ball got two scores of his own while rushing for 163 yards on six carries, and Caleb Ball three for two scores and ran for 79 yards and a score.
Trogden and Adam Ball combined for 31 tackles as well.
Head coach Stetson Spooner was pleased with how his team played in their second matchup of the year with the Wampus Cats.
"As expected Coach Arthun's team improved from one game to the next and narrowed the scoring gap by 20 points from the first game to this one," Spooner said. "As a squad we executed well and played for each other. Happy to stay focused on the end goal of hopefully making some postseason noise."
---