Silver Valley Sports Recap: Aug. 30-Sept. 5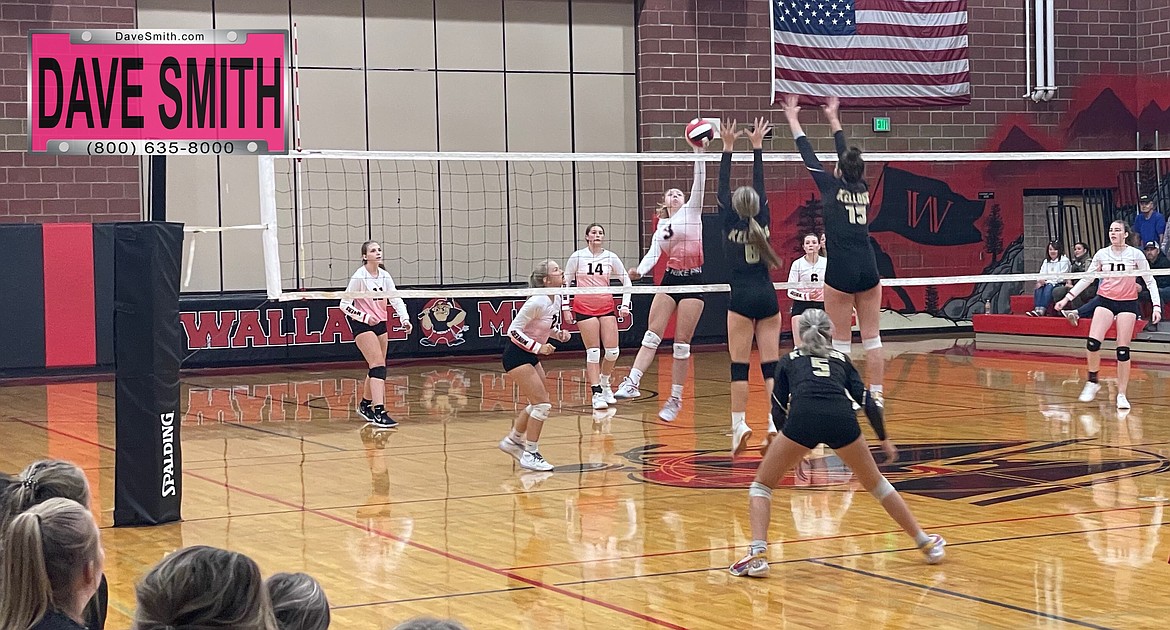 Wallace's Ellie Welch gets the kill and Kellogg's Emily Coe (8) and Hailey Cheney (15) attempt to block her during the Miners' big win over Kellogg last week.
JOSH McDONALD
|
September 7, 2021 7:00 AM
•Wallace Volleyball
9/2
WALLACE –– Thursday night was everything you wanted in a sporting event.
But that's what you get when you take a classic rivalry, an underdog matchup, talent across the board, and then to have it go the distance.
This was the exact setting at Wallace Jr./Sr. High School when the Lady Miners took down Kellogg (16-25, 25-19, 25-16, 22-25, 15-10).
At the beginning of the match it appeared as though Kellogg was going to pick right up where they left off last season as the dominant force in North Idaho volleyball, but Wallace weathered the storm, took some early hits and then went to work.
The Miners were the aggressors for the rest of the match, even when they narrowly dropped the fourth set, it was everything Kellogg could do to just get to the fifth, let alone win it.
Wallace seniors Riley Valley and Jaden House stuffed the stat sheet, with Valley racking up 43 assists and five aces, while House notched 14 kills and eight digs.
However, down the stretch it was the third member of the Miners' big three that put the Wildcats away as Ellie Welch made several point saving and point scoring plays.
"I think Ellie is 5-foot-4, but she played like she was 6-4," Wallace Head Coach Katie Bauer said.
It had been six years since Wallace notched a win over Kellogg and following the win the Wallace faithful showed their team in cheers, tears were shed, but it was all about effort and game plan for Bauer's squad.
"I don't even know what just happened," an emotional and excited Bauer said. "This was probably our best blocking in a long time. We attacked, we knew Kellogg attacks, so we just wanted to attack them back. All of our girls just showed up so big for us, I'm so proud of them."
For Kellogg, there was a stunned feeling as they watched the Miners celebrate, but it's going to have to be on to the next one for coach Stephanie Batchelder's crew.
The Wildcats were without senior setter Grace Nearing, which hamstrung some of the Wildcats' normally pinpoint hitting.
Senior Hailey Cheney was fantastic for Kellogg, playing all over the floor and racking up 18 kills, 10 digs, and five blocks. Sister Maddie Cheney finished with eight aces, and Zoe Brooks had 34 assists.
Batchelder didn't mince words following the game, citing lackadaisical play as the root cause of the loss.
"We beat ourselves tonight," Batchelder said. "We had way too many missed serves and zero communication. We hesitated and wanted everyone else to take the ball."
Both teams will likely be anxious for Oct. 9, when they square off again, this time at Kellogg on Dig Pink Night.
•KELLOGG VOLLEYBALL
8/31
Kellogg d. St. Maries
ST. MARIES — The Lumberjacks, finally making their season debut after COVID-19 scrapped a scheduled match and tournament appearance last week, fell to the Wildcats 25-17, 25-23, 25-13.
Lily Daniel had 14 assists and three aces for St. Maries.
Sofia Holmes had seven kills, Berkli McGreal 15 digs, Shelby Martin, Taci Watkins and Stacie Mitchell one block each. Hailey Cheney had 18 kills and two aces for Kellogg.
Grace Nearing had 37 assists, Emily Coe four blocks, Olivia Sawyer seven digs.
•KELLOGG FOOTBALL
9/3
Kellogg 62
Corvallis, Mont. 14
KELLOGG –– The Wildcats continued their winning ways, this time punishing the visiting Blue Devils on their way to nearly breaking the Kellogg High School scoring record.
Riply Luna may be emerging as North Idaho's most dangerous passer, once again spreading the rock around to his talented receiving corps while picking apart an athletic Corvallis team.
Senior Tanner Groves scored on an interception and fumble recovery, while also making a significant impact on special teams.
"We played more balanced this game offensively with our ability to run the ball," KHS head coach Dan Davidian said. "Austin Miller ran the ball extremely well for us. Riply Luna threw it well and was able to throw to multiple receivers.
"Defensively, we played well overall, but we always look for ways to get better and they caught us off guard in a few possessions. Our defensive line did a nice job with the run and our secondary and linebackers played well. Our goal is to continue to get better every week."
This week, Kellogg will host the Orofino Maniacs, who got blanked in their season opener by McCall-Donnelly 41-0.
It will be Whiteout Night and all fans are encouraged to wear white outfits to match Kellogg's uniforms.
That game kicks off at 7 p.m. on Friday night at Teeters Field.
•MULLAN FOOTBALL
9/3
Thompson Falls, Mont. 44
Mullan-St.Regis 26
ST. REGIS –– After a week one bye, the Mullan-St. Regis Tigers opened their season against a tough Thompson Falls team.
The Tigers were the aggressors early on, jumping out to 8-0 and 14-8 leads, but then Thompson Falls clamped down, and Mullan got sloppy.
A few uncharacteristic turnovers marred what looked to be scoring drives for the Tigers, and then late in the game players began dropping with cramps.
Thompson Falls boasted a level of size that it's likely Mullan won't see again until deep in the playoffs, which is where the Tigers see their season going – despite the early loss.
"We were looking for a tough game and we found one," Mullan Head Coach Stetson Spooner said. "We made some adjustments, hats off to them. They were a great team and that's why we wanted them."
Spooner likened this game to one that was eerily similar to one that they played last season, a loss to Montana 8-man kings Shelby, before riding a wave of success all the way to state semifinals.
"I don't think we have the success that we did last year if it wasn't for the Shelby game," Spooner said. "If this is the precursor to another ride like that one then we'll take it. We learned a lot and now know a few things that we need to work on if we want to go further."
Mullan will host Lakeside this Friday at 3:30 p.m. at John Drager Field.
•WALLACE FOOTBALL
9/3
Clark Fork 45
Wallace 14
WALLACE –– The Miners knew going in that they were in for a bit of a battle when they hosted Clark Fork, and head coach Jared Young and his squad got exactly that.
The Miners couldn't ride the momentum from last week's season opening win, but didn't look completely overmatched in the loss either.
They will have a chance to get back into the win column this week when they host Kootenai on Friday at Sather Field at 7 p.m.
---
This Sports Recap was brought to you by Dave Smith Motors, a proud supporter of Silver Valley athletics!
Recent Headlines
---