SPORTS TAB: Ready for that next step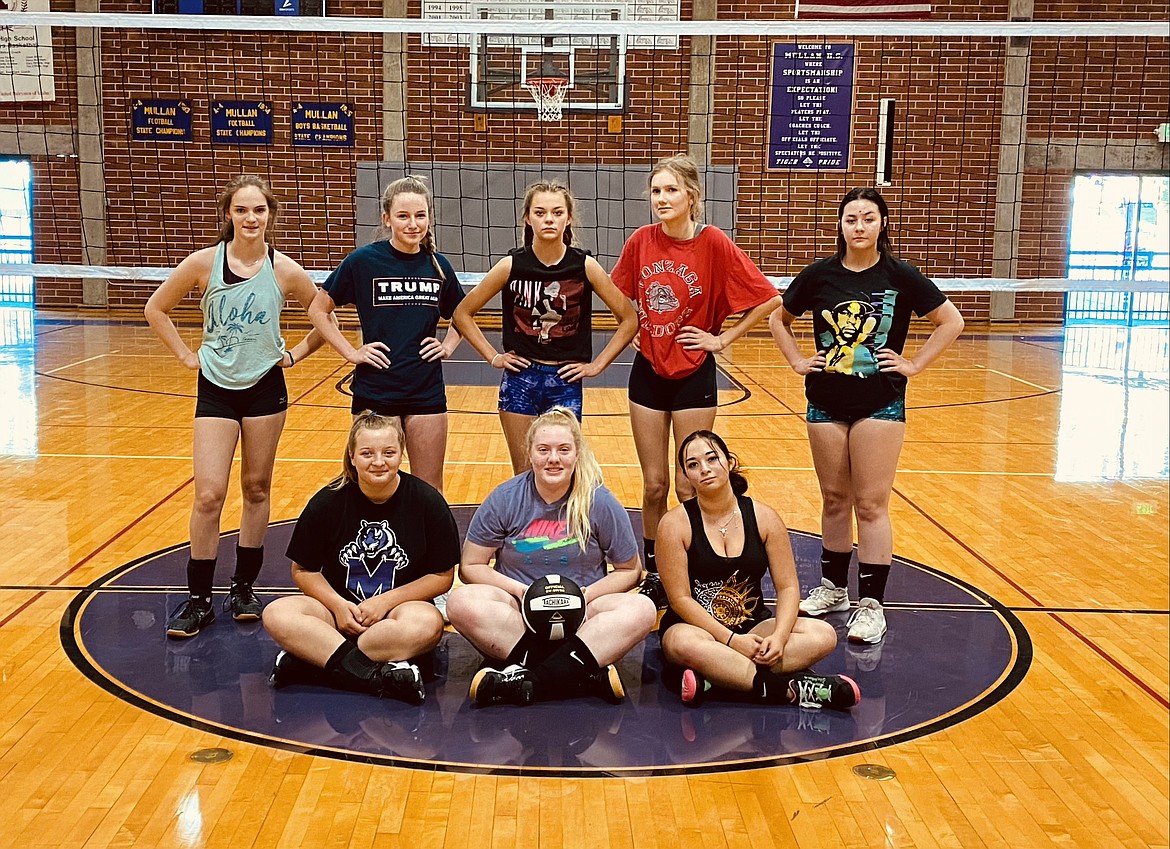 The Mullan volleyball team pictured from left (back row) are Ellie Lowman, Kara Stahle, Jazzmyn Nelson, Livia Blankenship, and Sairah Haig. Front: Dakota Driggers, Leah Frazier and Autumn Charvez.
Courtesy photo
by
JOSH MCDONALD
Local Editor
|
September 9, 2021 10:09 AM
MULLAN — They were so close last year, they could almost taste it.
In a do or die match for the opportunity to qualify for the state tournament, the Mullan Tigers played well enough, but Clark Fork did just a little bit more.
Instead, the Tigers had to watch the Wampus Cats celebrate the continuation of their season and another district championship — while they had to find some solace in a league championship trophy that felt rather empty.
"It was a tough loss, I was hoping to give them a tougher fight than that, darn it." Mullan Head Coach Dawn McKinnon said following the loss. "We started out on fire, and then this game can just change like that."
With more than a quarter-century of coaching experience, McKinnon has had a little bit of everything, from dominant teams to fledgling ones, low numbers to a deep bench, all of it.
This year, the Lady Tigers will be back to basics with a young squad that enters the season simply hoping to compete and grow.
"We are fairly young," McKinnon said. "Sophomore Jazzmun Nelson will be the player to keep your eye on and we'll be expecting a lot from junior Leah Frazier. Hopefully, with these two leading the pack we'll stay competitive and get some wins."
The North Star League comprises Mullan, Kootenai and Clark Fork, which means every league match counts and some nights it will be about being more lucky than talented.
But McKinnon lives by a different motto than some coaches, she tends to lean into effort more than luck — and values that same effort, at times, more than skill.
"I believe we have some potential to do great things," McKinnon said. "My favorite motto is, 'hard work beats talent when talent doesn't work hard.'"
McKinnon likes the chemistry that she has already seen from her girls in the offseason and hopes to parlay that familiarity into another league championship and then hopefully a state tournament appearance.
"Throughout open gyms this summer and then camp, the girls seem to play well together," McKinnon said. "We are hoping for just as much commitment throughout our season. But, by all signs this looks like another fun, good group of girls to work with."
Recent Headlines
---