SPORTS TAB: Highlight reel Wildcats ready for another year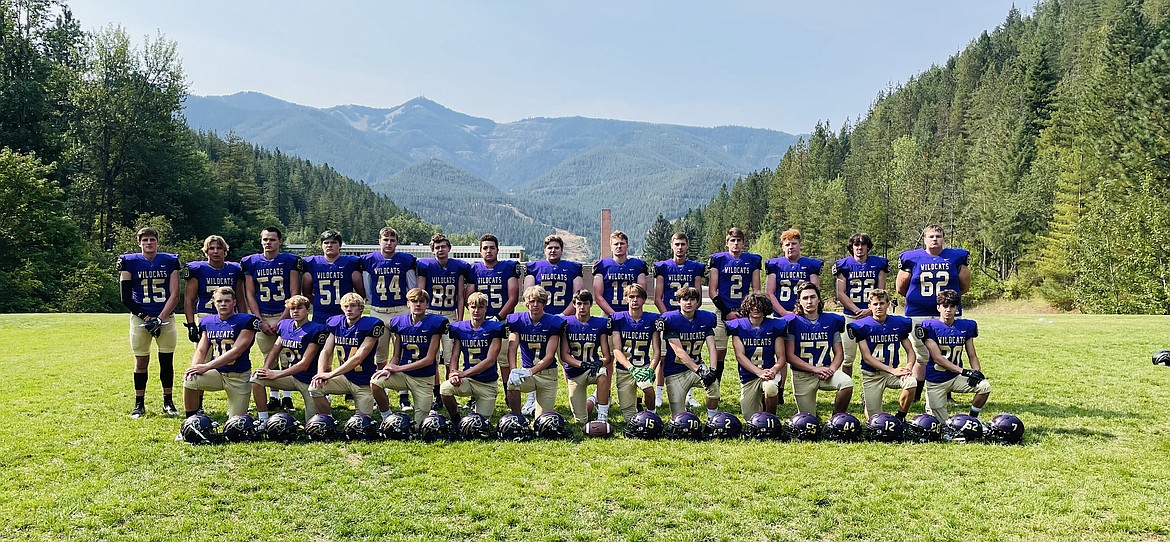 The Kellogg football team pictured from left (back row) are Kolby Luna, Brody Hoffman, Tanner Lee, Ethan Spencer, Varrick Meredith, James King, Gabe Janicek, Griffey Doerschel, Kevin Saijo-Walker, Tanner Groves, Riply Luna, Justin Taylor, Daeton Bauer and Alex Jones. Front: Austin Miller, Kolter Wood, Jayce Garcia, Reed Whatcott, Jaeger Hall, Ramsey Rainio, Rydge Oertli, Coleman Blalack, Tom O'Neill, James Murinko, Jeff Crawford, Wyatt Storey and Ricky Haralson.
Photo by JOSH McDONALD
by
JOSH MCDONALD
Staff Reporter
|
September 14, 2021 7:00 AM
The trial run was fun, but in head coach Dan Davidian's second year at the helm of the Wildcat football team, it's time to get down to business.
Last year, Davidian flipped the script completely, dropping the grit and grind wishbone-style offense that Kellogg had run for the previous three years and moving into an air raid spread offense.
Junior Riply Luna made waves last year as a competent passer, routinely finding his twin brother Kolby or senior KJ Walker for huge plays.
This led the Wildcats to finishing second in their league and making their fourth straight 3A playoff appearance.
However, once they got there a major issue reared its head, one that may not be as big an issue this year as it has been.
"We feel like we will be solid offensively and defensively if we have depth," Davidian said. "Our skill positions are stacked, so we must have depth this year, so we don't have to rotate players both ways as often."
In their playoff game against Kimberly, the Wildcats essentially played the same 12-13 guys for the majority of the game, something that simply doesn't cut it as the games get more important.
Punching above their weight class may also be something to look long and hard at, the Kellogg School District has the numbers to move down to the 2A level, and in no sport does that disparity ever show itself more than football.
Despite all of that, there is a lot of positivity coming from preseason camp as the team has roughly 30 set varsity players and then about a dozen who are set JV guys, which means Kellogg will have bodies at their disposal.
Kellogg should once again be contending for a valuable playoff sport, even if from the outside looking in, the Intermountain League appears to be a single-horse race for Timberlake.
The Wildcats won't back down from the challenge, but this means that the early October matchup at Bonners Ferry will likely be the most important game on the schedule for both teams involved.
Last year, the Wildcats and Badgers split their two meetings, with Kellogg losing by one on the goaline in Bonners and then dominating the Badgers during a rare October blizzard.
"We feel confident about making it to the postseason," Davidian said. "The three league games determine that and we feel like we can be in the top two in our league."
---