Hot cross fun!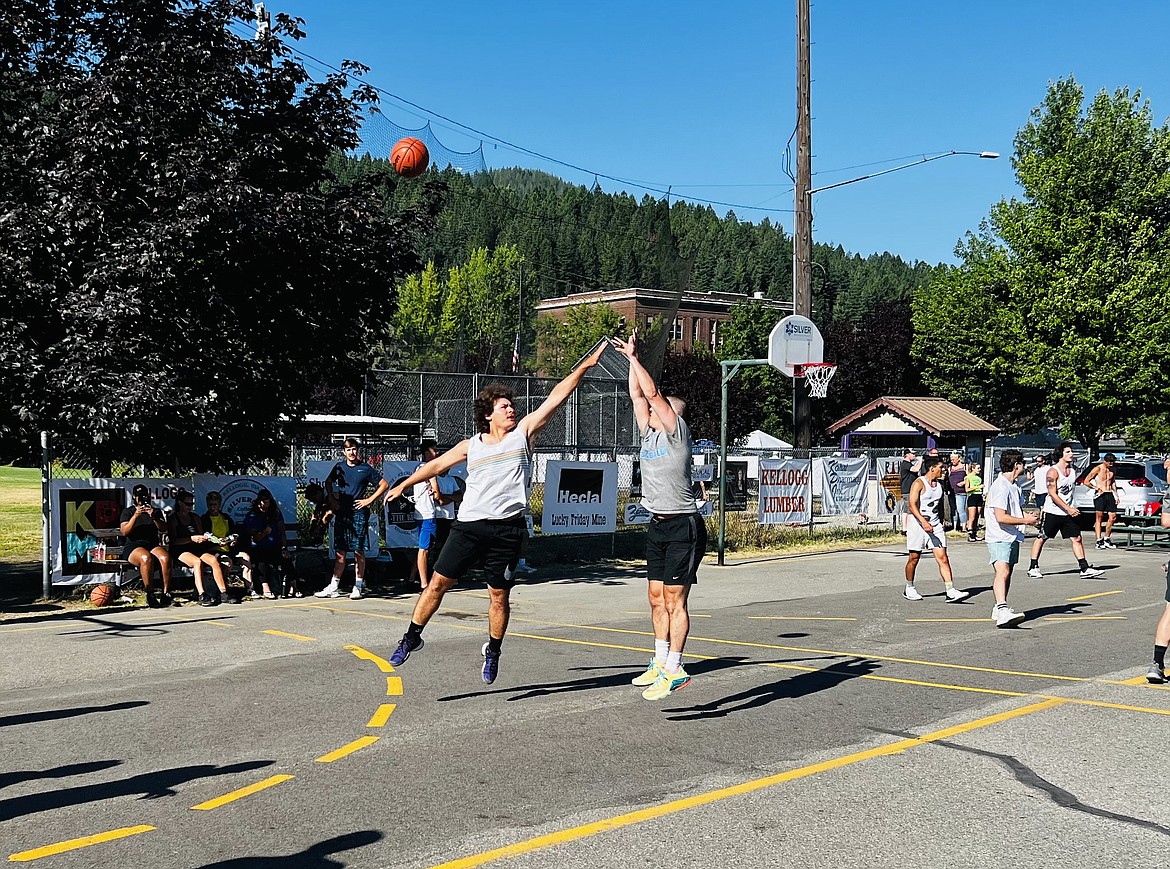 Kellogg Wildcat alum Chase Jerome contests a jump shot during the opening game of the single-elimination Sunday tournament at SilverHoops. Jerome's team, the Suga Ballers, took home the title in the popular Men's Open division which began Saturday with 44 teams in it.
Photo by JOSH McDONALD
by
JOSH MCDONALD
Local Editor
|
August 1, 2022 1:31 PM
KELLOGG — It was hot. So. Very. Hot.
At noon on Saturday it was estimated that roughly 2,000 people were all sweating it out on the blacktops around Teeters Field for SilverHoops 2022.
The annual 3-on-3 basketball tournament has consistently been among the more popular for streetball enthusiasts, but this year broke the mold.
In what could very well go down as the hottest event ever, 164 teams made their way to Kellogg for the weekend — beating the previous high mark by nearly 20 teams and a 53% increase from last year's event. That's quite a few people when you factor in that each player is bringing along a few friends and family to cheer them on during the entire spectacle.
"SilverHoops continues to grow," said committee member Gus Colburn. "The ease of access to not only the playing venue but also lodging, dining, and other amenities make this tournament popular with families. I heard comments all weekend from parents of youth division kids saying they saw improvement in their child's basketball skills over the weekend, which has been a huge focus of the planning committee over the years."
By Sunday morning, more than 2,000 free bottles of water had been handed out during the event as part of Mountain View Congregational Church's annual "water ministry," and believe me when I say that it was a blessing to have.
The event is backed by a small committee that handles an extraordinary amount of planning and preparation — but the real backbone of it all is the small army of volunteers who trot out to make sure each game has a court monitor and scorekeeper, as well as those who handle the registration and bracketing, and then the group that comes in to make sure that everything is cleaned up afterward.
SilverHoops has a reputation for its competitiveness, but perhaps no division embodies that quite like the Men's 18-30 Open Division. While most of the divisions enjoyed modest sized brackets, the Men's 18-30 boasted 44 teams.
Each team was broken up into a pool of 11 teams each during Saturday's pool play, this allowed teams to play three to four games in order to determine the seeding for Sunday's single elimination tournament.
Former Kellogg High School standout Chase Jerome and his team the Suga Ballers ran the gauntlet on both days, finishing 8-0 and with a new championship T-shirt to show for their efforts.
An exhausted Jerome was at a loss for words after the tournament and could only muster, "it was hard fought," following the win.
Colburn believes that the atmosphere is what keeps SilverHoops growing at its rapid pace.
"The vibe at the courts all weekend is going to be what sticks with me," Colburn said. "People from near and far showed up and showed out with one common love of the game of basketball. This year's edition of the tournament was definitely my favorite year so far."
During Saturday's dunk contest, Bronson Bond entertained the crowd with his freakish athleticism on his way to the championship.
Records were broken, teams and temps, but there's an old saying out there — ball is life.
SilverHoops 2022 was streetball at its best.
Recent Headlines
---