Late morning accident shuts down I-90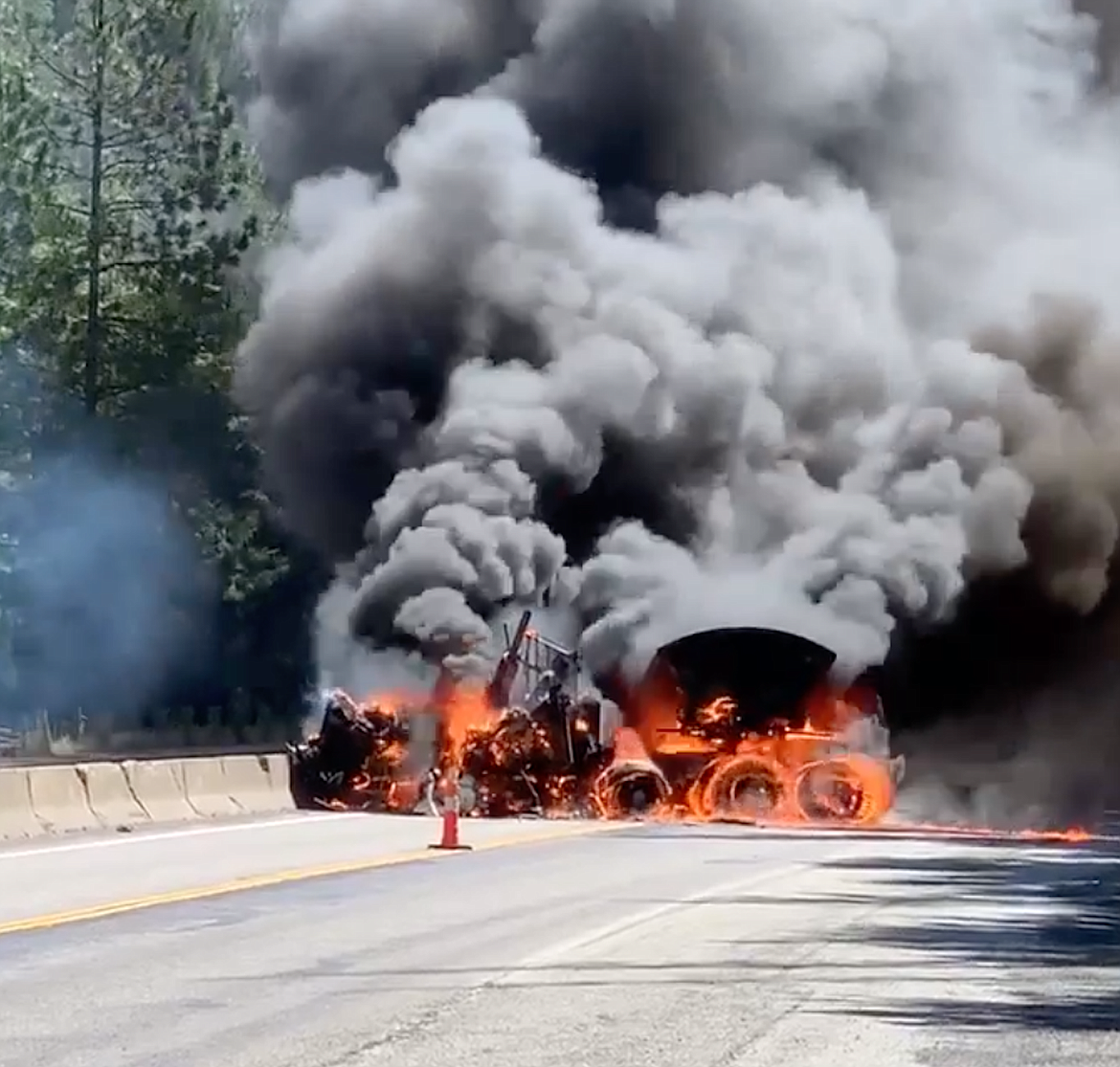 The remains of a semi-truck engulfed in flames following an accident near Mullan on Thursday morning.
Courtesy photo
by
JOSH McDONALD and CHANSE WATSON
|
August 5, 2022 11:28 AM
One person was killed and another seriously injured following a head-on collision late Thursday morning on an already congested area of Interstate 90 near Mullan.
Multiple official sources tell the News-Press that reports came in just after 11 a.m., stating that a semi-truck was on fire and blocking I-90 between Wallace and Mullan near milepost 64, where all of the traffic has been reduced to single lanes on the eastbound side of the highway due to construction.
As emergency medical crews, law enforcement and other emergency personnel were arriving at the scene, they discovered that the incident was a head-on collision between the burning semi and a passenger vehicle.
According to Idaho State Police and Shoshone County Fire District No. 1, the driver of a 2021 Toyota van collided head-on with a 2008 Kenworth semi-truck, which was pulling an empty dump trailer.
The van had two occupants, a 72-year-old male driver and a 69-year-old female passenger both from North Dakota.The male was defenestrated from the vehicle and was pronounced deceased at the scene, while the female survived and was taken from the scene via LifeFlight after making a daring landing in the narrow I-90 corridor. Next of kin has been notified.
Shoshone County Fire District No. 1 Fire Chief John Miller said that it appeared that the driver of the semi-truck had been removed from a vehicle by someone close to the scene — possibly an ITD worker. That driver, a 72-year-old man from Kingston, was transported to a local hospital.
In the meantime, the fire — which was caused by the semi's diesel fuel — had spread to the nearby hillside resulting in a small .33-acre fire. Crews from the Idaho Department of Lands (IDL) quickly responded to the scene and as of 12:30 p.m., the fire had been contained and crews were in mop-up stages of getting it completely extinguished.
The roadway in the area of the crash was severely damaged due to the fire and traffic was rerouted. The incident caused a complete I-90 traffic closure in both directions for multiple hours.
Members of the Shoshone County Sheriff's Office, Idaho State Police, Shoshone County Fire District No. 1 and No. 2, as well as IDL responded.
"From what I understand, it was a total team effort and everyone worked really well together," Miller told the News-Press.
Recent Headlines
---