Pinehurst takes back Miller Cup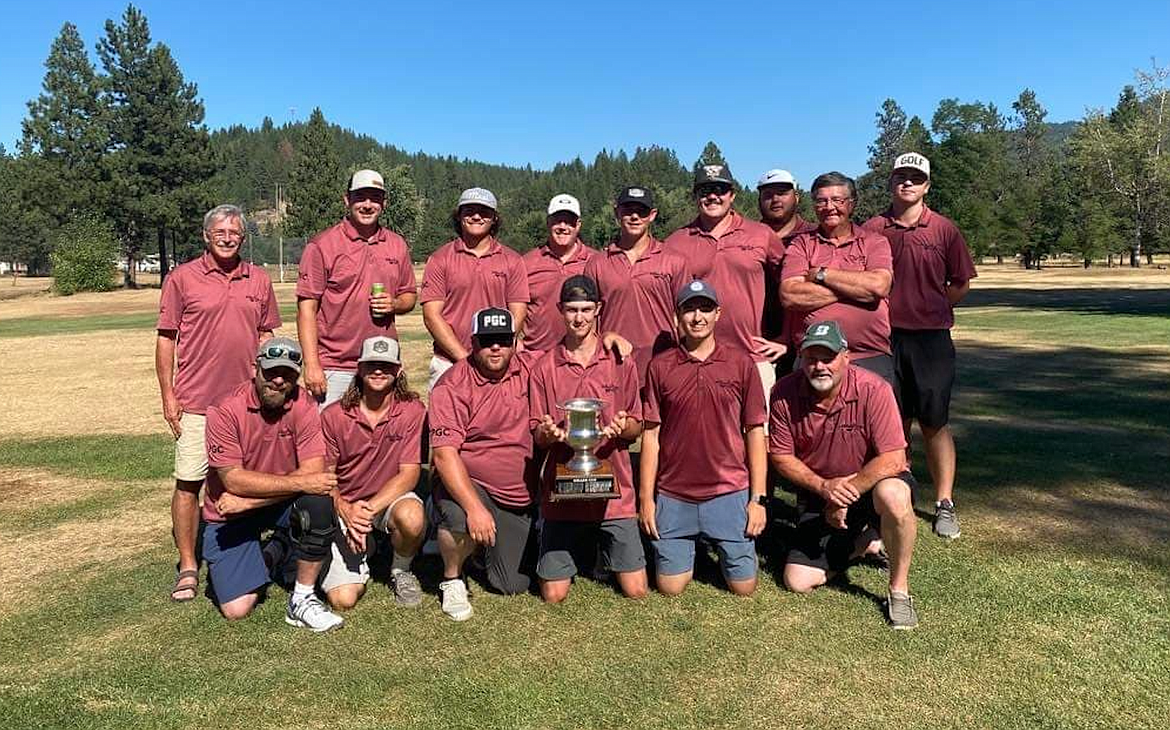 The 2022 Miller Cup Champions Pinehurst Golf Golf Course. Pictured from the left (back row) is Chuck Wardwell, Taylor "Teado" Hulstrom, Chase Jerome, Kirk "Bopper" Nelson, Taylor "T-bone" Bush, Cade "Stash" Finley, Trey Sharp, and Mike "Pa" Biotti. Pictured in the front is Jaime Edwards, Tyler Gibbons, Danny Kenyon, Hogan Samuelson, Archie Rauenhorst, and Darren Williams.
Courtesy photo
by
JOSH MCDONALD
Local Editor
|
August 10, 2022 1:43 PM
PINEHURST –– After four long years, Pinehurst Golf Course finally brought the Cup back.
The 26th Annual Miller Cup began as a tight battle between the Silver Valley's two golf clubs, but the PGC team decided to end things quickly for their Shoshone Golf Club counterparts during day two.
The competition consists of the 12 best players from both Shoshone and Pinehurst Golf Clubs in two days of six singles matches and three doubles matches each day, with simple match scoring determining the winner of each matchup.
The defending champs are given a half point simply for being the defending champions, which means that the previous runners-up would need to win 13 of the matches to avoid a potential tie (which would result in a loss when the half point is applied).
Day one was played at Shoshone Golf Club in Big Creek, where both teams finished the day deadlocked at 6-6.
Day two was a different story as the PGC team won nine of the 12 possible points and finished 15-9 (or 9.5 if you give Shoshone their defending champion bonus).
"It's hard to put into words how important the Miller Cup is to our local golfers," PGC team member Jaime Edwards said. "We want to get out there and compete and once we're there it's all about winning."
Edwards elaborated on what turned the tide in favor of the west enders, and it really boiled down to the desire to see the Cup back in Pinehurst.
And to do that they needed to make sure that they were as good away from their home course as they were at it.
"Losing four years in a row really lit a fire in us," Edwards said. "We all spent a good amount of time at Shoshone and tried to make it feel like it was our home course."
Edwards credited the Pinehurst Golf community for much of the win, and discussed how the vast familiarity, both within the team as well as the course, played a large part in getting back into the win column.
"We all know each other so well out there, most of us have been playing that course since we were six years-old," Edwards said. "But you know, there's just something about Pinehurst – we know every bump, every dry patch of grass, we just know our course well and that helped us a lot."
Reigning club champion Archie Rauenhorst was once again the team captain for Pinehurst, but it was member Kirk Nelson who finished the tournament as their most important player.
Nelson finished as the Miller Cup MVP and his teammates gushed about his performance.
"Kirk was the oldest person on our team and he absolutely killed it," Chase Jerome said. "I was his partner both days and he was easily the MVP of the weekend."
Nelson's performance was astounding and Jerome believed his two day average was around 66, but the Miller Cup hasn't been a stranger to big time play or big time players, former Washington Commanders (fka Redskins) Special Teams Coach Wayne Sevier once said that," playing in the Miller Cup was more tense for him than coaching a Super Bowl."
Sevier coached and won two Super Bowls – So let that sink in.
Recent Headlines
---