County groups meet Ziply rep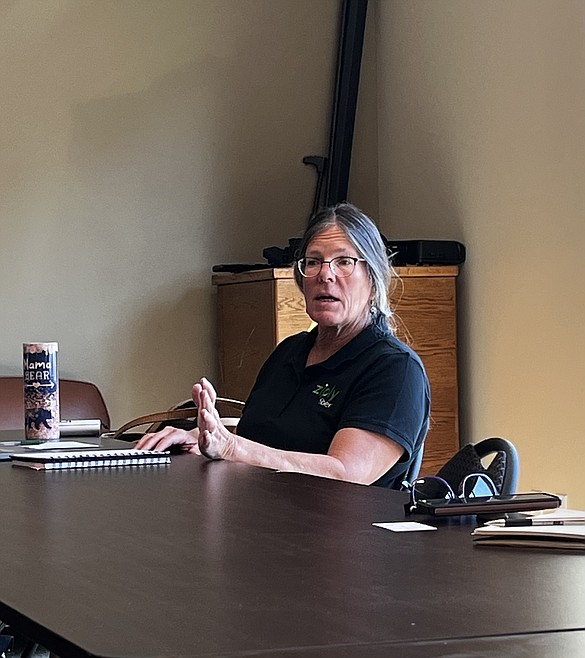 Ziply Fiber's Chris St. Germaine addresses the group during a meet and greet meeting on Aug. 9.
Photo by JOSH McDONALD
OSBURN — Rural broadband access was the theme of the morning on Tuesday, Aug. 9 when a representative from internet provider Ziply Fiber met with a handful of Shoshone County residents at Shoshone County Fire District No. 2.
Chris St. Germaine is Ziply Fiber's new local partnership manager for the region and her first order of business was to meet with some of the more knowledgeable groups from the area to understand how her company can better serve the area.
"Building relationships is the first start to project development," St. Germaine said. "Convening stakeholders from across the regions helps us identify the needs and priorities from the community perspective."
Among the attendees were representatives from the Shoshone County Emergency Manager's Office, J&R Electronics, the Wallace and Kellogg School Districts, South Fork Sewer District, the city of Wardner, just to name a few.
While many of these entities are already affiliated with Ziply in some regard, much of the meeting revolved around finding out what Ziply's plans for the future are and how it will benefit these agencies and the community.
St. Germaine wants to see fiber networks get into as many rural neighborhoods as possible as soon as possible and to see these new fiber build-outs funded through grant opportunities.
Colleen Rosson, one of the key members of Shoshone County's Broadband Access Team (BAT), set up the meet and greet and explained how St. Germaine can be a valuable asset if the community does their part in showing her where the areas of improvement can be.
"Chris has been a rural broadband champion for quite some time, and I knew she would talk straight with us, take our concerns back to the right people and be proactive as we work towards good broadband," Rosson said. "Our community is better face to face, and as Chris said, it's all about relationships. Because of her position she is able to work with our communities at multiple levels to help us solve the gaps in service we have. Her experience is relevant to our local challenges."
Ziply provides residential phone and internet services throughout the county, but also provides a fiber backbone for other providers — their ongoing work to get every city in Shoshone County on a fiber network has been vital as more people are requiring access to faster, more reliable internet.
"Ziply's financial commitment, Federal funding, company size and that they provide fiber is crucial to build broadband networks in Shoshone County," Rosson said. "Having Chris in her position helps us find creative solutions and gives us a voice within Ziply so we can leverage all the opportunities out there and give all our communities and neighborhoods access to affordable and reliable internet."
The Shoshone County BAT has been conducting several speed tests throughout the county in order to show specific areas of concern, once that is complete the group will begin the design phase of their project — which will require St. Germaine's skill and expertise.
For more information on Ziply Fiber's efforts in the area, please reach out to Chris St. Germaine at 208-400-0602 or by email at chris.st.germaine@ziply.com.
Recent Headlines
---