Locals triumph at Negative Split race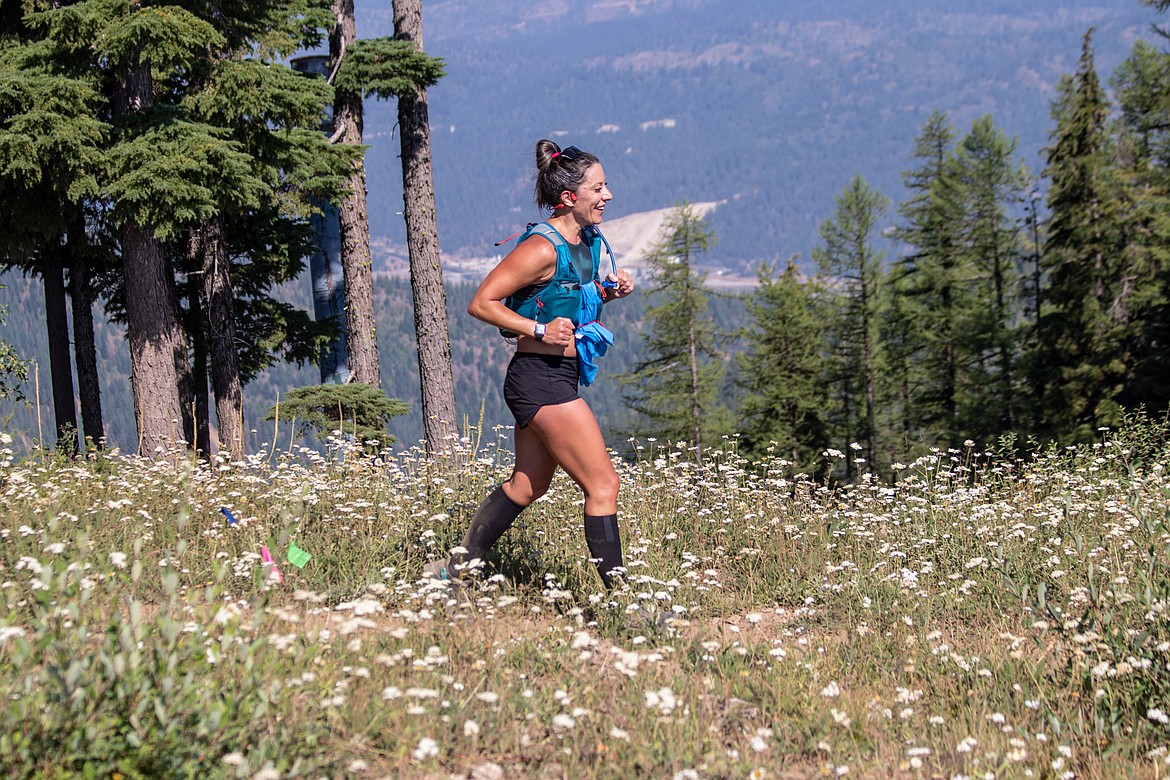 A participant racing on the gorgeous peaks of Kellogg and Wardner during the Back to Nature Race Series: Negative Split Trail Running on Silver Mountain.
Jon Jonckers
by
MOLLY ROBERTS
Staff Reporter
|
August 23, 2022 5:15 AM
KELLOGG — Over 150 athletes made their way up the three-mile Silver Mountain Gondola Saturday morning to compete in the Back to Nature Race Series: Negative Split Trail Running. Competitors could choose between a 6k (3.7mi), 9k (5.6mi), and 18k (11.2mi) running a challenging course over both Kellogg and Wardner Peaks.
The local ladies came in strong to represent the Silver Valley as Kelton Enich from Kellogg won second overall female for the 18k, and Heather Branstetter from Wallace won third overall female for the 18k. Also from Kellogg was Kyla Berendzen, who won first place overall female for the 9k.
This was Enich's first time running the Silver Mountain race, and she enjoyed it, saying,
"The course was beautiful and challenging with quite a bit of vertical climbing and technical downhill portions."
Longer distance runners had an extra challenge to their technical skills with shale rock sections and varying terrain.
"Negative Split did a great job organizing it with a well-marked course, and plenty of volunteers to help show us the way," Enich told the News-Press.

The race begins near the gondola house at the top of Silver Mountain, with the different lengths corresponding to the different difficulty levels. The difficulty levels can increase due to single and double-track trails, shale rock sections, and the race's distance.
This is one of the only trail run events on top of Silver Mountain and the second annual run.
Negative Split employee Melissa Groom spoke with the News-Press and explained why Silver makes a good location for this race.
"This is a great trail run location because it's unique and runners will experience an abundance of new adventures. They start their morning with a ride up on the gondola, run on challenging and rugged courses, and then finish uphill to collect their hard-earned finisher medal and shirt."
During the run, racers could summit Kellogg and Wardner peaks "to enjoy panoramic views like none other,"
The Silver Mountain Trail run is a part of the Back to Nature Series which included running on the Hiawatha Trail in June, the recent run on Silver, and continuing the series on Mt. Spokane Trail on September 10.
"This is our second year for producing the Back to Nature Series and we continue to see an uptick in registrations each year to make for great events," said Groom.
Recent Headlines
---