Civilian use of drone delays firefighting efforts in North Idaho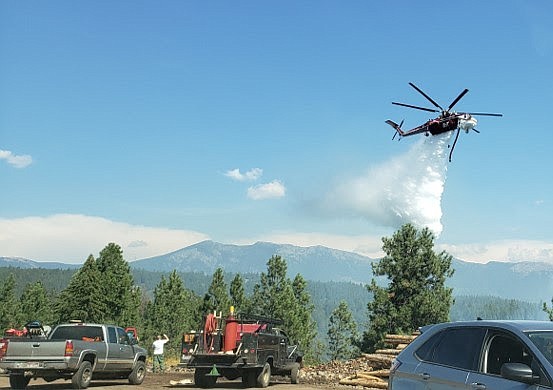 An air attack is conducted on on the Moyie Fire just southeast of the Idaho Forest Group Mill in Moyie Springs.
Idaho Department of Lands
|
August 24, 2022 9:27 AM
Firefighters on the ground battling the Moyie Fire had to wait on aircraft support because a civilian drone was being flown in the area. The fire started August 21 just southeast of the Idaho Forest Group Mill in Moyie Springs.
Idaho Department of Lands (IDL) Fire led the response with assistance from local firefighters, but aircraft ordered for the fire could not immediately fly because of the drone. Flying civilian drones near an emergency scene is against the law and interferes with firefighting aircraft, works against the firefighters on the scene, and creates a serious safety issue.
"The residents of approximately 50 Moyie Springs homes living near the mill were notified of the fire and the potential need for evacuation," said Josh Harvey, IDL Fire Bureau Chief. "Clearly, we needed to get air support for the firefighting effort as soon as possible and the drone use put that on hold. Unfortunately this type of situation is not uncommon. We are reminding the public that drones can put firefighters, homes, and resources at risk."
After the drone was gone, multiple firefighting aircraft went to work attacking the fire repeatedly while ground crews constructed a fire control line using hand tools. The fire was kept to 3 acres.
Recent Headlines
---