Wildcat wrestlers open up season with quality wins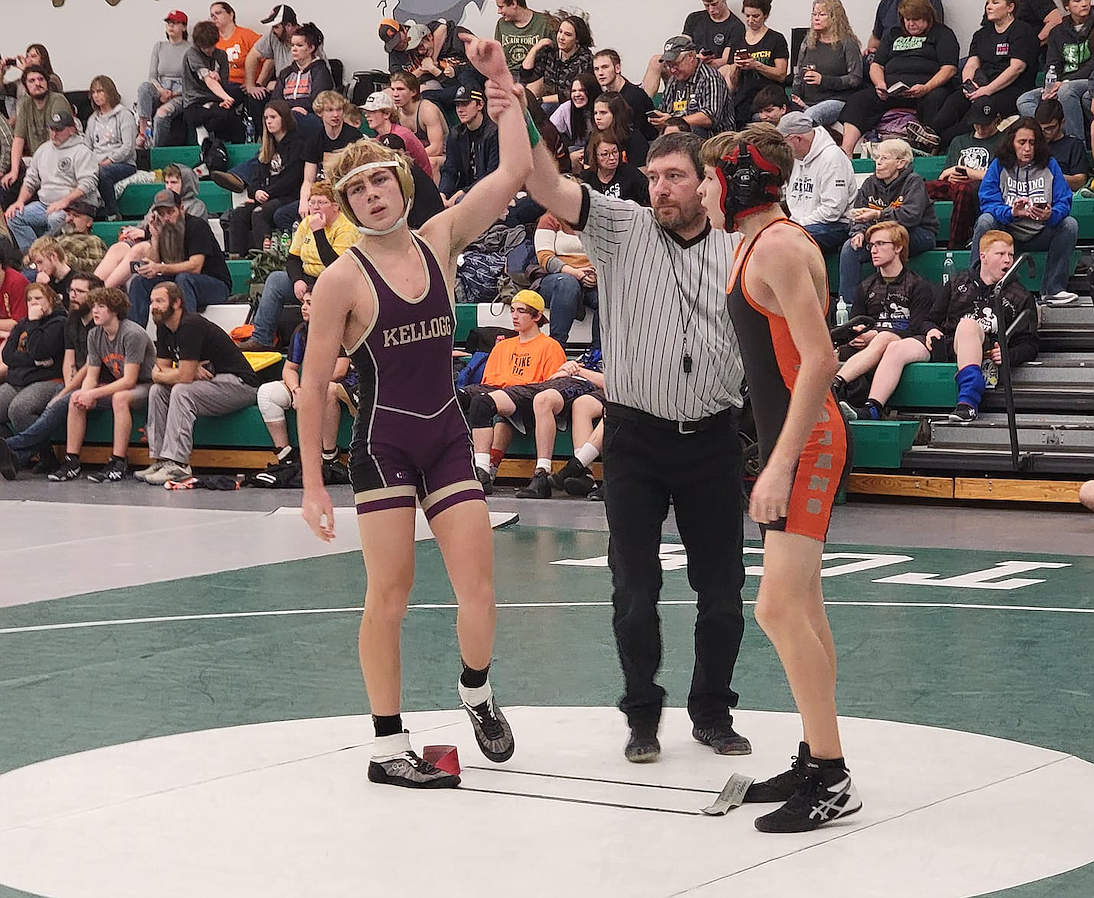 Wildcat Kolter Wood has his hand raised in victory following one of his many wins over the weekend at the Dick Griswold Memorial Tournament in Potlatch. Wood won the championship in his weight class.
Courtesy photo
by
JOSH McDONALD
Local Editor
|
December 6, 2022 1:00 AM
POTLATCH — The Kellogg High School Wrestling Team was on the road to open their season — and they showed why they are among the best in the region.
Historically, Kellogg has always performed well at the Dick Griswold Memorial Tournament — but this year the success came at both the individual and the team levels.
Finishing fourth among the 12 schools at the tournament is nothing to bat an eye at, but it was the five finalists that produced three champions that really give you an idea of this team's foundation.
Junior Kolter Wood (126 pounds) is likely the best wrestler on this year's squad and in a position to make a run at a state championship — he got off to the right start last weekend.
"Kolter wrestled really well this weekend and had excellent motion and control in his matches," said head coach Scott Miller. "He showed improved offensive shots and was outstanding in his riding. It was a very solid championship run, which has become the norm for Kolter."
He was joined at the top by fellow junior Jaeger Hall (132 pounds) and freshman Chase Scribner (106 pounds).
"Jaeger really wrestled a solid tournament," Miller said. "He did a really good job with his position, motion and attacks and really dominated his weight class. I'm really proud that Chase was able to open up his high school career with a championship. He was dominant in his weight class which is so impressive for a freshman."
Ricky Haralson and Kyrin Huber were the other two Wildcats who made it to the finals.
The tournament featured Kellogg's four other league opponents, the closest being St. Maries — who finished 73 points behind the Wildcats.
Kellogg's girls wrestled well, with Huber's runner-up finish as well as quality first tournaments from Izzy Davis, Reese Bauer and Bella Sample.
"We got some good things out of the tournament, but we also left a lot of points on the mat so we have to clean up our matches and work on fixing some mental mistakes we made during the tournament," Miller said. "I thought all our kids wrestled really hard and I'm pleased with that. Overall I thought we saw more good things from the kids and really good fight so I'm pleased with our first performance."
The Wildcats will host the annual George Wild Memorial Tournament this weekend at Kellogg High School.
TEAM SCORES:
1) Clearwater Valley 219
2) Post Falls 210.5
3) West Side 198
4) Kellogg 181
5) McCall-Donnelly 153
6) Tri-Valley 139
7) St. Maries 107.5
8) Potlatch 105
9) Grangeville 90
10) Priest River 83.5
11) Orofino 71
12) Lapwai 6
KELLOGG PLACERS:
98 - Aiden Figueroa - 4th Place
98 - Johnny Stovern - 6th Place
106 - Chase Scribner - 1st Place
120 - Ricky Haralson - 2nd Place
126 - Kolter Wood - 1st Place
126 - Treven Bush - 4th Place
132 - Jaeger Hall - 1st Place
152 - Brady Vergobbi - 6th Place
160 - Jayce Garcia - 3rd Place
170 - Ramsey Rainio - 4th Place
195 - Tanner Lee - 6th Place
107G - Kyrin Huber - 2nd Place
132G - Izzy Davis - 3rd Place
132G - Bella Sample - 6th Place
132G - Reese Bauer - 5th Place
Recent Headlines
---