Let's go dancing!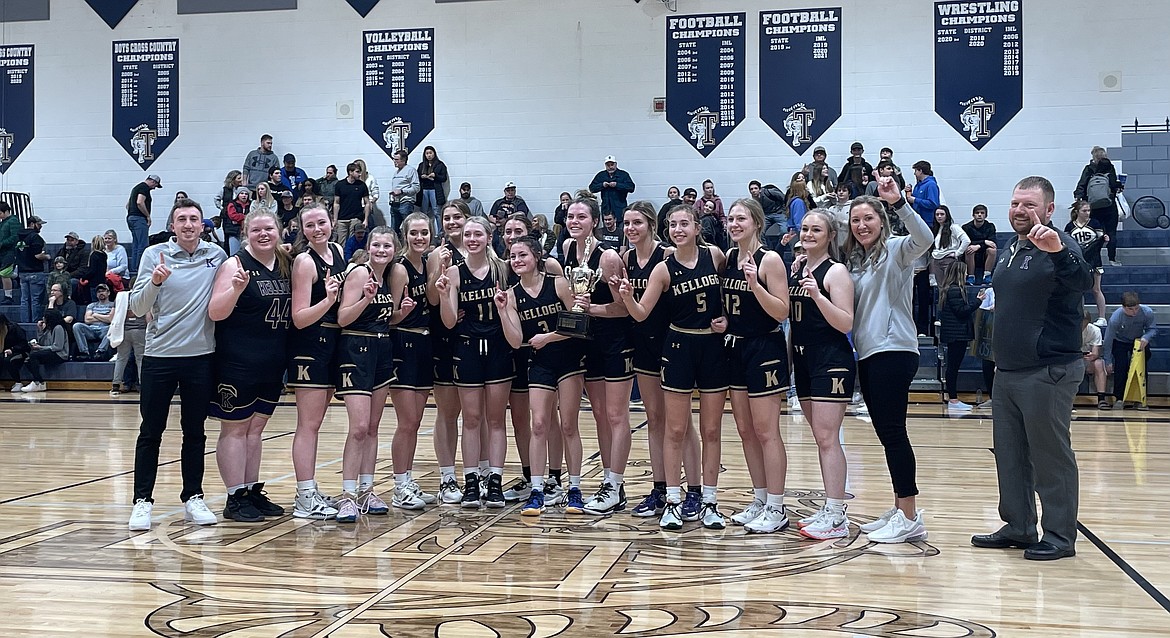 The 3A District I champions, the Kellogg Wildcats following their 50-39 win over Timberlake. The Wildcats are now headed back to the state tournament for the first time in 12 years.
Photo by JOSH McDONALD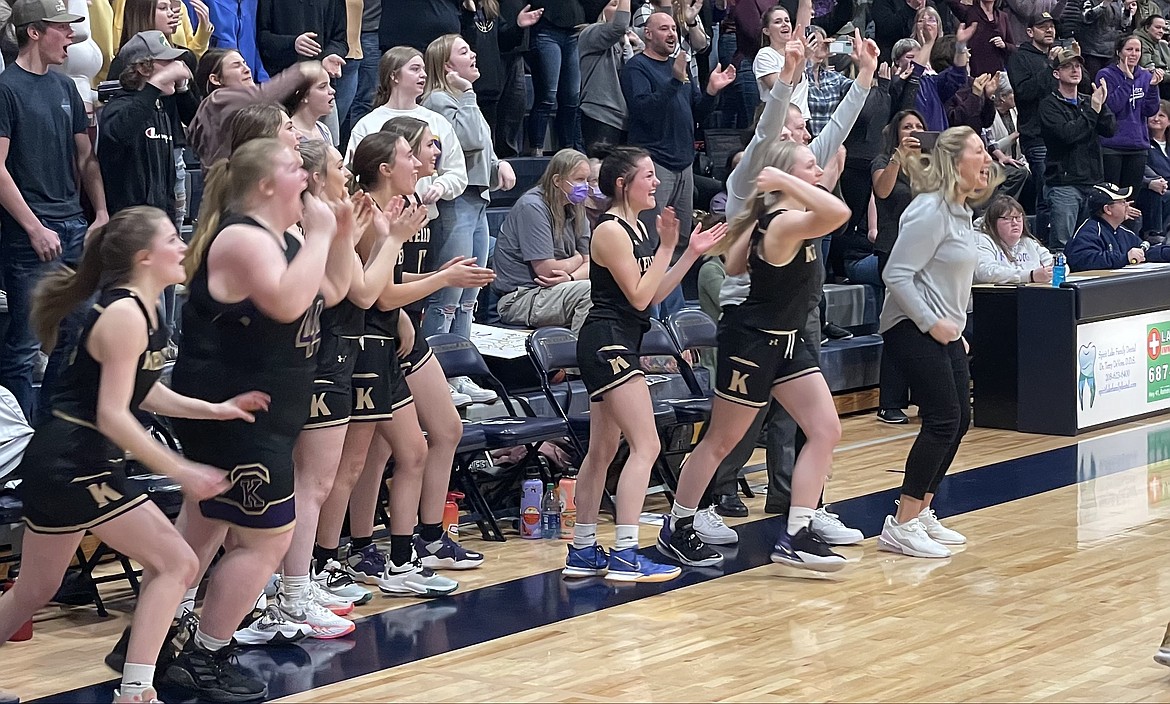 As the clock hits 0:00, the celebration begins for head coach Jana Nearing and the Kellogg Wildcats.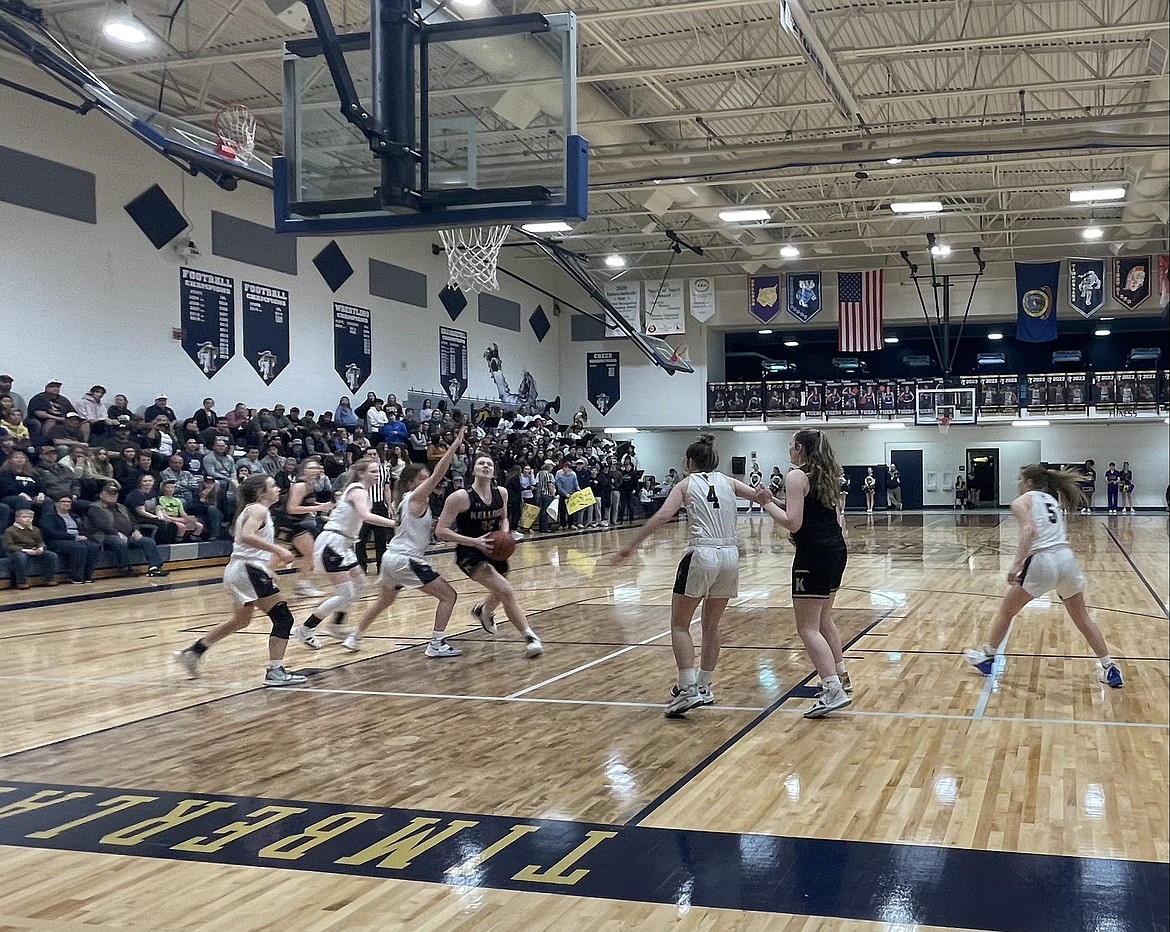 Hailey Cheney battles her way to the rim for two of her game high 20 points during the 3A District I championship game.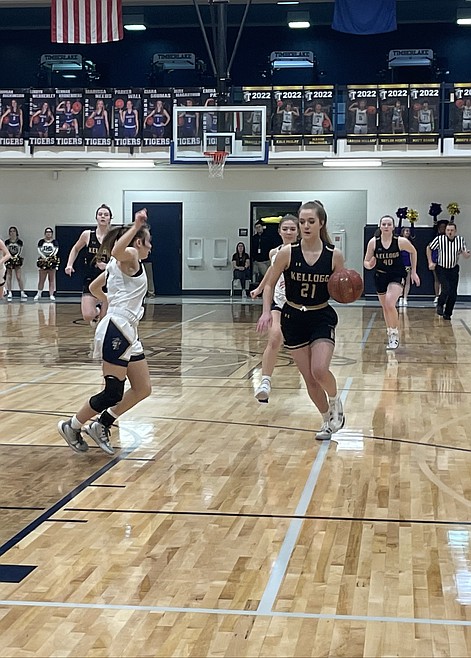 Kellogg senior guard Grace Nearing pushes the ball in transition during the Wildcats' win over Timberlake.
Previous
Next
by
JOSH MCDONALD
Staff Reporter
|
February 9, 2022 9:01 AM
SPIRIT LAKE — Time can be a funny thing… But great things take time.
Nothing embodies this better than perhaps, the Kellogg Lady Wildcats.
On Tuesday night they knocked off the Timberlake Tigers 50-39 in the 3A District I championship game and punched their ticket to next week's state tournament at Eagle High School — But there is a lot of 'how-we-got-here' that is worth mentioning.
Senior leaders Hailey Cheney and Grace Nearing were in kindergarten at this time in 2010, and quite likely didn't understand the magnitude of what was going on around them at that time.
Under former head coach Jeff Lambert, the Kellogg girls had just wrapped up a Cinderella run to the 3A state championship game, where they ultimately fell to Intermountain League rivals Priest River, 45-33.
The expectation was that that great tournament showing would be the beginning of a new run of success for the Lady Wildcats, who had had several solid squads a few years prior — but that didn't materialize.
Instead of the Spartans or the Wildcats, it was the Tigers of Timberlake who flipped the page and have since reigned supreme as the premier 3A program in the state.
Fast forward a few years and a couple different head coaches to 2017 and the hiring of head coach Jana Nearing. With an impeccable resume, and some quality name value from her time as a thorn in the side of the Wildcats while playing for the Bonners Ferry Badgers — Nearing was the perfect fit at the perfect time for Kellogg.
Mix that with an incoming freshmen class that included Cheney and (Jana's niece) Grace, it was pretty clear that Kellogg's best chance to get back to the big dance was going to ride on the shoulders of their young players and their new coach.
Illnesses, injuries and other regular basketball pitfalls always seemed to pop up for Kellogg right at the wrong time, always ending their seasons one or two games shy of the state tournament.
But this year was different.
Another batch of young, wise-beyond-their-years players had made their way through the always-awkward freshmen year and were not set to accompany the now-grizzled veterans in (Grace) Nearing and Cheney.
The Kellogg girls had an edge to them this year that was a little different than in the previous years, even after an early season loss to Timberlake in a game that wasn't entirely close, the word on the street was that this was their year.
It was Jan. 25 when that word began to look like a reality following a 59-53 home win over the Tigers in overtime — nine years since the previous Kellogg win over Timberlake.
Even with that momentum, fate challenged Kellogg's resolve down the stretch, including a loss to Bonners Ferry in the waning days of the regular season.
Unlike the previous years, this time the Wildcats took their lumps and bounced back.
First it was a measure of revenge against Bonners in the opening round of the District I Tournament last Saturday, and then Tuesday's championship game.
Nearing once again combated Timberlake's furiously paced attack with brute force and size — the winning formula in their first win over the Tigers two weeks prior.
"They have an amazing dribble-drive offense," Jana Nearing said. "We knew we had the advantage inside, and if we could just stop their dribble-drive, or slow it down to prevent some of those 3s, that we could take advantage of our inside game, and we did it. I thought we executed beautifully."
The Wildcats pounded the ball into the paint, be it through drive-drives of their own from Grace Nearing or Macy Jerome, or by using their substantial size advantage with the Cheney sisters and Emily Coe.
Unsurprisingly, the Tigers attempted to get (Hailey) Cheney out of rhythm by physically face guarding her throughout the contest — a strategy that didn't pan out.
20 points and 27 rebounds later, the presumed IML MVP was hoisting the 3A District I championship trophy for Kellogg for the first time since 2008.
"We're not allowed to release that information yet," Nearing said of the league awards. "But Hailey definitely played like an MVP tonight. She played like the MVP all yearlong. We knew they were going to be physical with us, we talked about it, we were ready for it. I feel like we handled it and kept our composure really well."
The other four starters for the Wildcats pulled their weight as well with Jerome adding 10 points, Maddie Cheney had four points and nine boards. Grace Nearing had five assists to go with her six points, and Coe had six points and seven rebounds.
The Kellogg faithful, who likely outnumbered the hometeam's own fanbase, were somewhere between anxious and rabid as they watched their team finally get over the hump.
"We were super hyped that our band came together at the last minute to come over with us," Nearing said. "When our band started playing our fight song and our fans started going crazy, in that moment I knew it was going to be a battle. These are the games that we love. All of that energy, it was fun."
Tears were flowing, hugs were shared, and the Kellogg girls were able to breathe a sigh of relief. No looming second place loser-out games, no weekend trips to Grangeville for a play-in game. They had handled their business.
"Effort," said Hailey Cheney. "We've always talked about effort; being aggressive and hustling. We didn't let anything in our heads, we just stayed focused, played for each other, didn't let anything bother us."
Surrounding herself with quality coaches and getting an assist from her brother and former Kellogg boys coach Jeff, Nearing sought to bring a culture change to her program.
"These guys (assistants Gus Colburn and Cody Kraack) have been amazing to have," Nearing said. "I'm really thankful for all of their dedication. My brother Jeff, who came in and helped us, he's been here like a dozen times so his help was invaluable for us."
The new(ish) seeding system makes predicting who the Wildcats will play in the opening round of the 3A State Tournament a little murky as teams are still battling to secure their berths to the tournament before they can be seeded.
Kellogg is going to be a tough draw for anyone no matter where they get seeded, the combination of size and ability to play through the physicality that tends to come with size should bode well for the Lady Wildcats when they make their way down to Eagle next week.
So whether it was waiting 14 years for another district championship, 12 years for another opportunity at a state championship, the Lady Wildcats are here, and they're done waiting.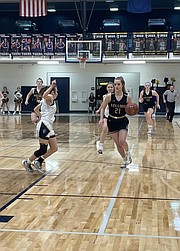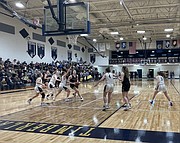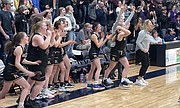 Recent Headlines
---