A triumphant return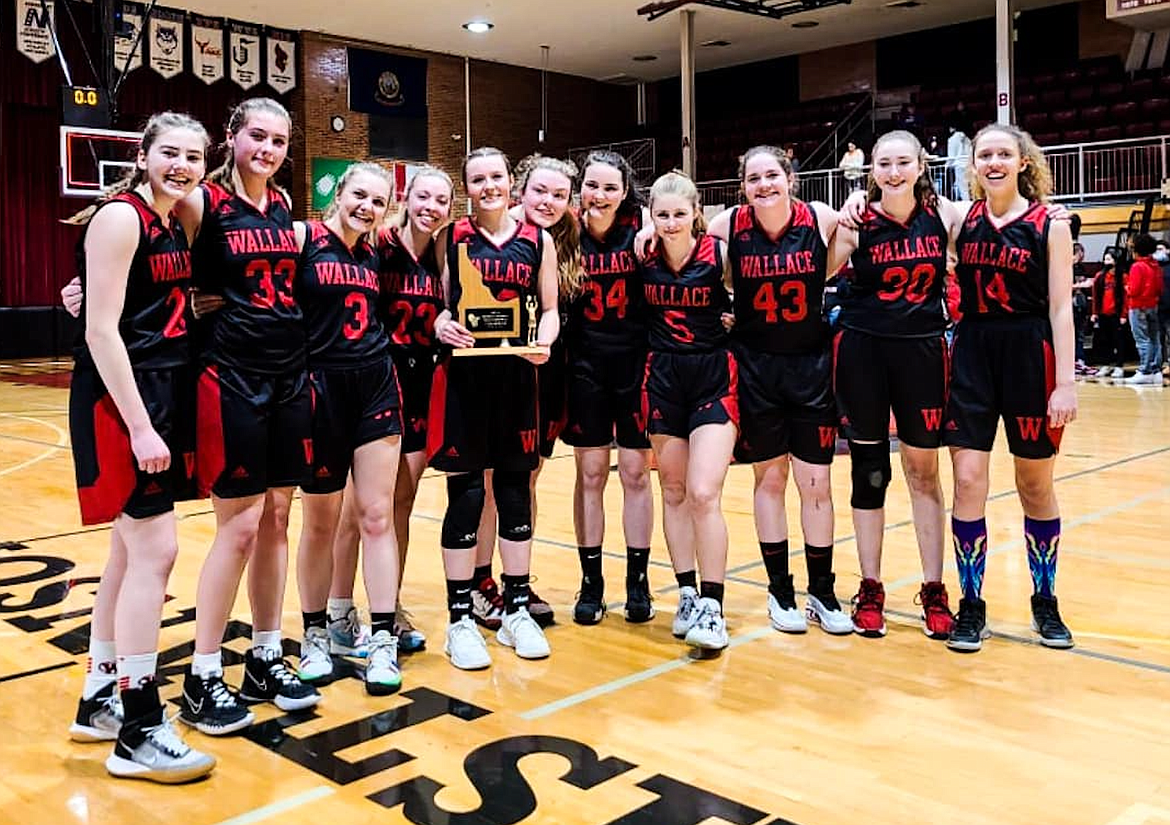 The Wallace Miners celebrated with the District I trophy following their win over Lakeside last Thursday at North Idaho College.
Courtesy photo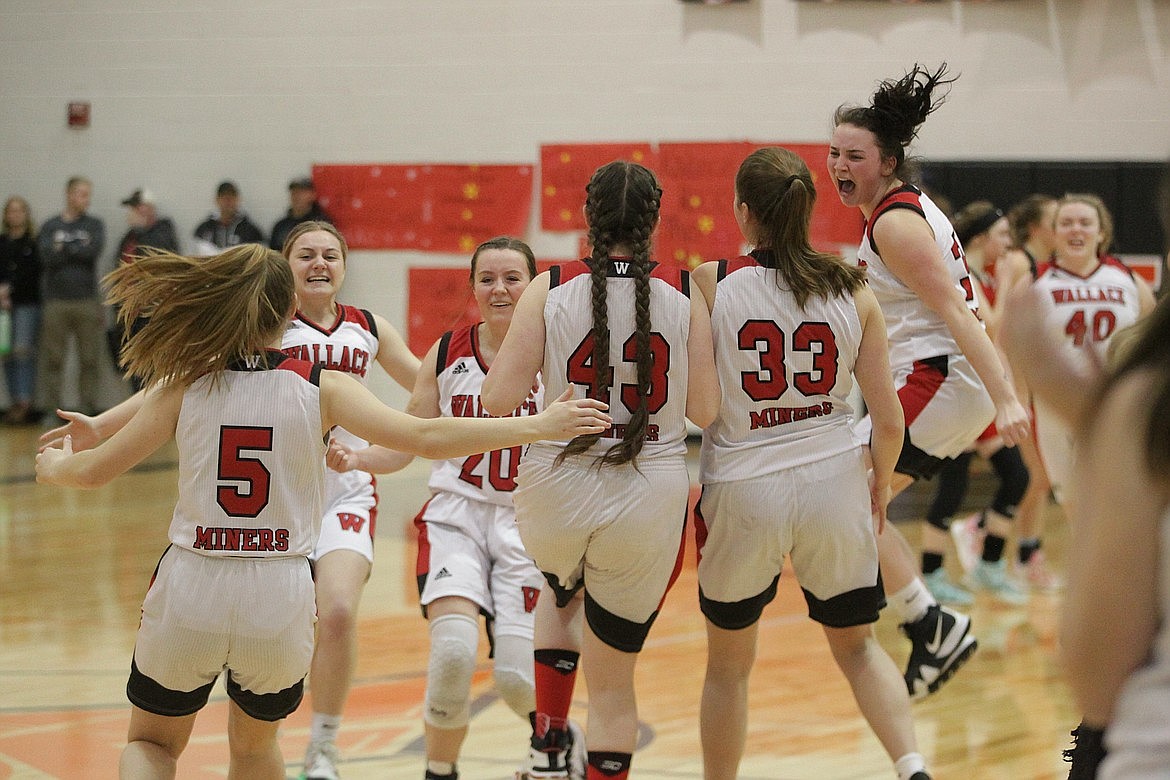 Wallace celebrates after beating Clearwater Valley of Kooskia in a state 1A Division 1 girls basketball play-in game Saturday at Post Falls High. The Miners captured their first berth to the state tournament since 2008.
Previous
Next
by
JOSH MCDONALD
Staff Reporter
|
February 14, 2022 10:20 AM
POST FALLS — A lot of words could be used to describe the feelings that head coach Nichole Farkas and the Wallace Miners were experiencing following their play-in game win over Clearwater Valley last Saturday.
Joy. Shock. But perhaps the biggest feeling was relief.
For the first time since 2008 the Lady Miners will head to Nampa's Columbia High School for the state tournament, but a few things have changed since their last visit.
In 2008 the Lady Miners went two and out in a crowded field of 16 1A schools, now, due to the classification break — there are two separate 1A tournaments (DI and DII) — each consisting of eight teams like the other four classifications.
As enrollment numbers have fluctuated, Wallace has bumped around classifications and leagues for those 14 years, including being both a 1A DI and DII school, competing as an independent, as member of the North Star League and most recently as a member of the Scenic Idaho Conference.
During their time as an independent school the Miners never had league or district championship to concern themselves with, but instead spent their year preparing for a play-in game against a rotating opponent out of the vaunted White Pine League of Idaho's District 2.
Those games, competitive as they were at times, never went the Miners' way. Ever.
This year, while competing in the 1A DI Scenic Idaho Conference's District Tournament, Wallace knocked off Lakeside on Thursday night and then had one day to prepare for the third place finisher from District 2 in the play-in.
"Winning the play-in game today means a lot for this team and for the Wallace community," Farkas said. "For many years, Wallace was an independent and didn't get that district tournament feel before the District 2 matchup. I realized on Saturday how tough that is. There is a big mental aspect when you have a lead or when you are behind and you know that this is it. It is nice to get past that hurdle."
It wasn't an easy hurdle to clear.
Wallace jumped out to a big lead in the first half, but the Rams began chipping away at the lead during the third and fourth quarters, which made Farkas concerned that her team had stopped playing to win, but were instead worried about not losing.
Even with a solid scouting plan that included sitting tight in a zone to quash any dribble penetration, while relying on good close outs to rattle their shooters, Clearwater Valley eventually found their offense and had the Miners backpedaling late.
"We had an outstanding second quarter, but struggled in the second half, especially in the fourth," Farkas said. "I think the girls were nervous about losing the lead. The lead diminished, but we were able to hang on. We are fairly good at the free throw line, and thankfully that proved true at the end of the game."
It was pure elation as the clock struck triple zeros and the hugs and celebration began, but in the hours since that moment Farkas has reflected on what has been an impressive run from her squad and just how much hard work they have put into this season.
"This year's team has a group of girls that have put in the time in the gym, attended camps, and participated in summer ball," Farkas said. "It is nice to see this hard work turn into a trip down south. It is very humbling, because I know that many coaches and teams put in the extra work. A lot of things have to fall in place to get a team to state."
The 15-4 Lady Miners are led by a senior force of nature in Jaden House, who has been the steady hand at the wheel for this team for much of the last four years — even when she was an underclassmen.
Her 16 points led all scorers on Saturday, but throughout the season it hasn't been about the plays that House has made for herself, but about the way she has evolved into a team-oriented playmaker.
"Jaden is an outstanding shooter, and she is very devoted to basketball," Farkas said. "This year she has really improved her offensive game by working to find the open person, and she is one of our best rebounders. The nice thing, though, about this team is that we really are a team. It is difficult for an opponent to guard just one person."
Farkas isn't wrong.
This year's Wallace team is laden with veteran players and with House making sure that her final season wasn't simply a one-woman show, players like Elli Welch, Grace Hunter, Britany Phillips, McKelvy Specht, Macie Hemphill, Kiya Taylor and Tia Hendrick have all stepped up in big ways at different times and are capable of stuffing the stat sheets when necessary.
"We can use different rotations of girls depending on what is needed on the court," Farkas said. "The best part of this team is how supportive they are of each other and how excited they get when someone makes a great play. They all understand their roles and appreciate each other."
All of that understanding has allowed Wallace to cultivate a live-for-the-moment attitude that makes them very dangerous to other teams in this year's tournament.
Due to the new seeding styles of the state tournament, Wallace, a district champion and survivor of a play-in game has been saddled with a criminally low seven seed — which sets them up for a quarterfinal matchup with undefeated Butte County (of Arco).
"We don't want to play with the 'we have to win this' attitude," Farkas said. "That is too much pressure. For each of our loser out games (including districts and Saturday's play-in game), the girls have said that no matter what, they want to have fun playing the game because it could be their last time playing together. We really want to compete and show our grit."
Farkas mentioned previously that even the most dedicated, hard-working, persevering teams can miss the state tournament and that it takes the right combination of things to get over the hump.
"It takes talented, hard-working players; injury free and healthy; right mix of personalities; supportive community and school; a little bit of luck is always nice; and things falling into place at the right time," Farkas said. "We have lots of different experiences under our belts and continue to learn in each game we play. We are excited to represent the Wallace Miners."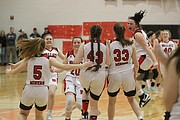 Recent Headlines
---