Wrestle Mania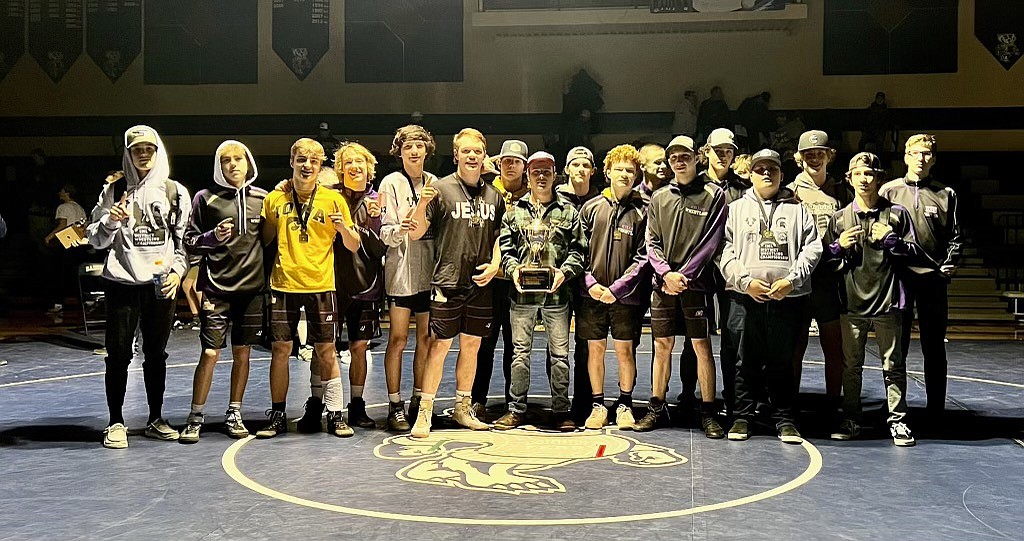 The Kellogg Wrestling Team celebrates their District I championship at Bonners Ferry High School last week. Twelve members of the Wildcat squad will now head to the State Championships this weekend in Pocatello.
Courtesy photo
by
JOSH MCDONALD
Staff Reporter
|
February 21, 2022 12:20 PM
BONNERS FERRY — All season long it looked like the Wildcats were the best wrestling team in the Intermountain League, the only thing standing in their way was themselves.
Led by a quintet of district champions, the Wildcats found their way into nine championship matches during last week's District I Tournament at Bonners Ferry High School.
As it stands right now, the Wildcats will send 12 wrestlers to the 3A State Tournament and one, Chase Morden, will compete in the 2A State Tournament under the Wallace banner after spending the season with the Wildcats.
Wyatt Hei, Jaeger Hall, Tanner Williams, Ethan Guy and Brady Vergobbi locked up championships for Kellogg, while Ricky Haralson, Kolter Wood, Ray Heely and Austin Miller finished as runner-ups in what was a dominant performance that gave the Wildcats their first district championship since back-to-back titles during the 2015 and 2016 seasons.
"Our team really was impressive in winning this year's District Tournament," said Coach Scott Miller. "It was a total team effort as every one of our 16 kids contributed to the win. Just a very satisfying performance because they came out and took care of business. We had a great semifinal round which put us into the lead and then got very important wins in both the consolation and championship matches to put it away."
Hei heads to state as one of the best wrestlers at 113 pounds and should be in contention for a medal.
But for all of the champions, Miller gushed and spoke highly of their effort to get to the top of the District I mountain.
"Wyatt has done a great job all year and was rewarded with a dominating run to his medal," Miller said. "We felt Jaeger had a good chance to beat Priest River's Keith Poirer (the defending 126-pound champion), he wrestled his match and it was a great win for him and our team."
Williams, who entered the tournament as a 3-seed, was the deciding factor in the team points race — which made his championship all that more exciting.
"Tanner pulled off a tough win in the semifinals and then wrestled a great match in the finals to win his championship," Miller said. "It was very satisfying to witness because he beat a Bonners Ferry kid in a match that really clinched the title for us. It was the one head to head matchup so it was a huge win for Tanner and our team."
Guy and Vergobbi experienced their fair share of adversity on their way to becoming district champs, but it happened on two very different paths.
"Ethan dealt with injuries and sickness this year but really stepped up in this tournament and was dominant on his way to the championship," Miller explained. "He showed a lot of grit this year. Brady just kept grinding away and beat two very good kids to win his title. Getting the sudden victory was special because he fought to come behind in the third round and then finished it quickly with a textbook takedown to win it."
The focus now shifts to the very best the state of Idaho has to offer, and it is where the lights are the brightest that wrestling legends shine and Miller believes he has a few of them on this team.
"We are looking forward to going to state next week," Miller said. "We like our qualifier's chances but of course we have to take each match one at a time next week. This team has been battle tested and we're confident we'll represent our school and community well."
The Idaho State Wrestling Championships is Feb. 25-26, at Holt Arena in Pocatello.
Tickets must be purchased in advance.
TEAM SCORE
• Kellogg 241
• Bonners Ferry 220
• Timberlake 202
• Priest River 189.5
INDIVIDUAL RESULTS
113 — Wyatt Hei (1st Place/Qualifier)
126 — Jaeger Hall (1st Place/Qualifier)
132 — Tanner Williams (1st Place/Qualifier)
138 — Ethan Guy (1st Place/Qualifier)
152 — Brady Vergobbi (1st Place/Qualifier)
106 — Ricky Haralson (2nd Place/Qualifier)
120 — Kolter Wood (2nd Place/Qualifier)
145 — Ray Heely (2nd Place/Qualifier)
182 — Austin Miller (2nd Place/Qualifier)
120 — Kolby Lemmon (3rd Place/Qualifier)
145 — Jayce Garcia (3rd Place/Qualifier)
285 — Kyle VanVleet (3rd Place/Qualifier)
126 — Wyatt Storey (4th Place)
138 — Carter Stepro (4th Place)
152 — Travis Eixenberger (4th Place)
Recent Headlines
---