Papa's Barn Plaza celebrates grand opening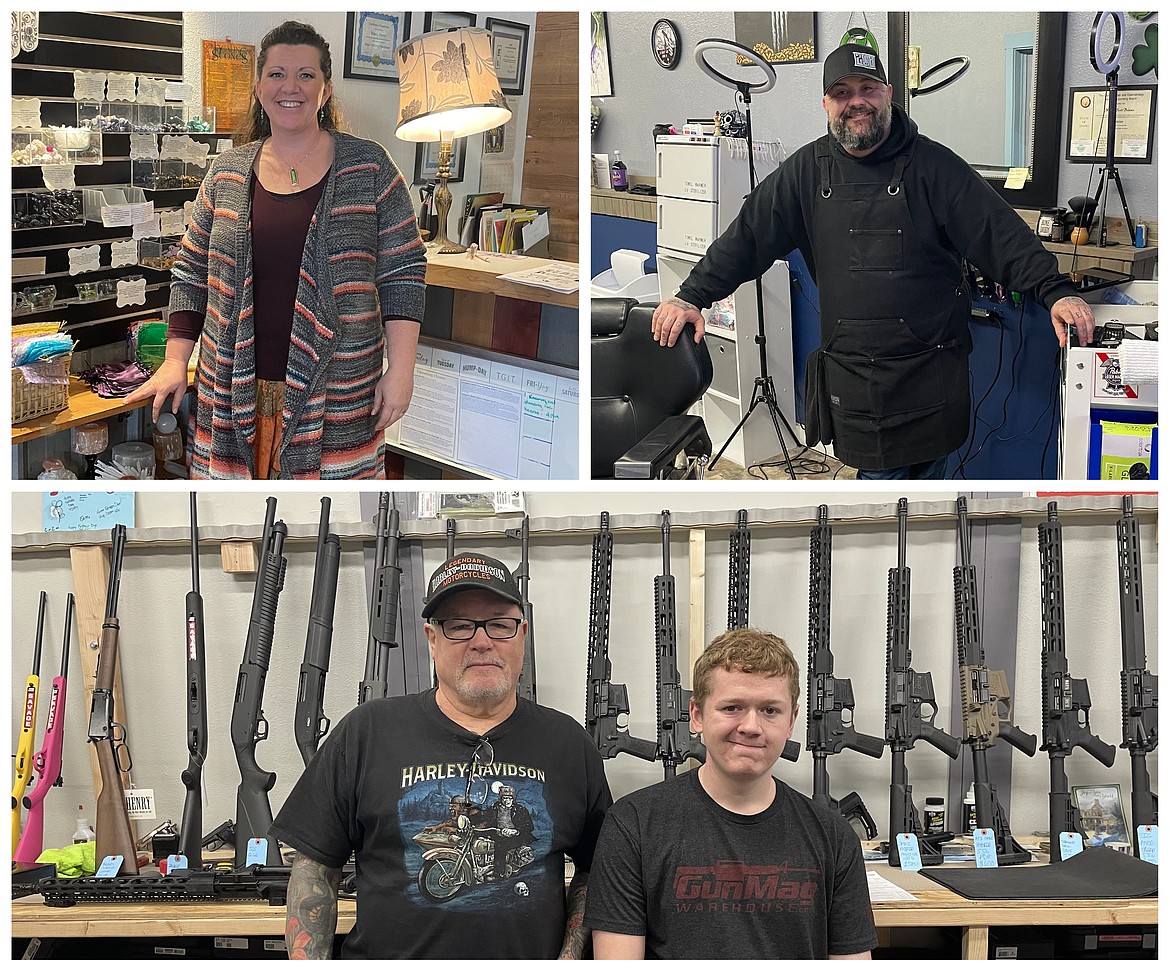 Mandy Milovich (top left) of Positive Practice, Nathan Baldwin (top right) of Tru Legacy, and Kurt Cole and Cad Bonnalie (bottom) of Slide Bite Armory celebrated their new business ventures last weekend at the Papa's Barn Plaza grand opening event.
Photo by CHELSEA NEWBY
by
CHELSEA NEWBY
Staff Writer
|
January 14, 2022 8:31 AM
KELLOGG — Three new businesses, one common goal — to bring a buzz back to the streets of Kellogg.
Papa's Barn Plaza, located in uptown Kellogg, celebrated welcoming three start-up businesses: Positive Practice, Tru Legacy Shaving Company and Slide Bite Armory with a grand opening last weekend.
Mandy Milovich, owner of Positive Practice said that the trio wanted to keep the familiarity of the building as they embarked on bringing it to life again.
"Historically, people really know this place as Papa's barn," she said. "So I asked the property owner if I could dub it as Papa's Barn Plaza because everyone in town knows where that is."
While the three businesses vary vastly in trade, each spoke of their vision to champion growth of uptown Kellogg's commerce.
Of the three new store fronts, Positive Practice metaphysical center was the first to open its doors nearly six months ago. The shop sells many healing tools such as crystals, essential oils and singing bowls while also offering an array of healing techniques including Reiki massage, chakra balancing and sacred body language translations.
Milovich said her favorite work is using her own divine gifts as a way to connect to the energy of others and assists them in their healing journey.
"For massages, Reiki is the energy channel that I use, but I'm intuitive," she explained. "So I take a look at how the energy is flowing through a person's body and more specifically where it is flowing, and then I go to that place and I tell you why, because I can see that, so I find that to be ultra powerful."
Milovich said that she looks forward to word spreading of the three new businesses, and generating new life in the valley.
"Having more businesses in this community is what's going to bring more tourists here," Milovich said. "With Silver Mountain here, there's no reason why we shouldn't be able to do that."
Sharing that goal is new barber shop, Tru Legacy Shaving Company, which sits just one door to the left.
Specializing in men's haircuts, and hot towel shaves, owner Nathan Baldwin said he also wants his shop to be a place where men can find fellowship.
"My biggest kick here at this shop is to help men and the younger generation," he said. "Come in here — it's a safe joint, we'll talk about it and get through whatever you're trying to get through and you'll come out with a nice haircut too."
A Kellogg native, Baldwin also said that in the future, he plans to fund restoration projects throughout the area.
"I want my community to shine," Baldwin said.
Tru Legacy also offers tanning at $25 for unlimited monthly use.
The final piece to the triplex, is the recently opened gun store, Slide Bite Armory.
Boasting an impressive display of handguns, rifles and ammunition, the guys behind the counter said that the small town business is beating out both the selection and prices of big name competitors such as Black Sheep and Cabela's.
"Ryan the owner does really well at digging up and restocking what people are looking for," said store employee Kurt Cole. "And he's not trying to kill people like the big stores do."
Cole said that similar to its new neighbors, Slide Bite Armory is shooting to encourage locals to shop small.
"It's hard for businesses to come in and for change to happen if there's no money circulating," Cole said. "I do think that once word gets out, it's all going to do very well."
More information for all three businesses can be found on their Facebook pages or websites, or by calling their respective phone numbers.
• Positive Practice — 208-783-1060 http://Positivepracticestore.com/
• Tru Legacy — 951-643-9201
• Slide Bite Amory — 208-358-9995
Recent Headlines
---