Silver Valley Sports Recap: Jan. 17-23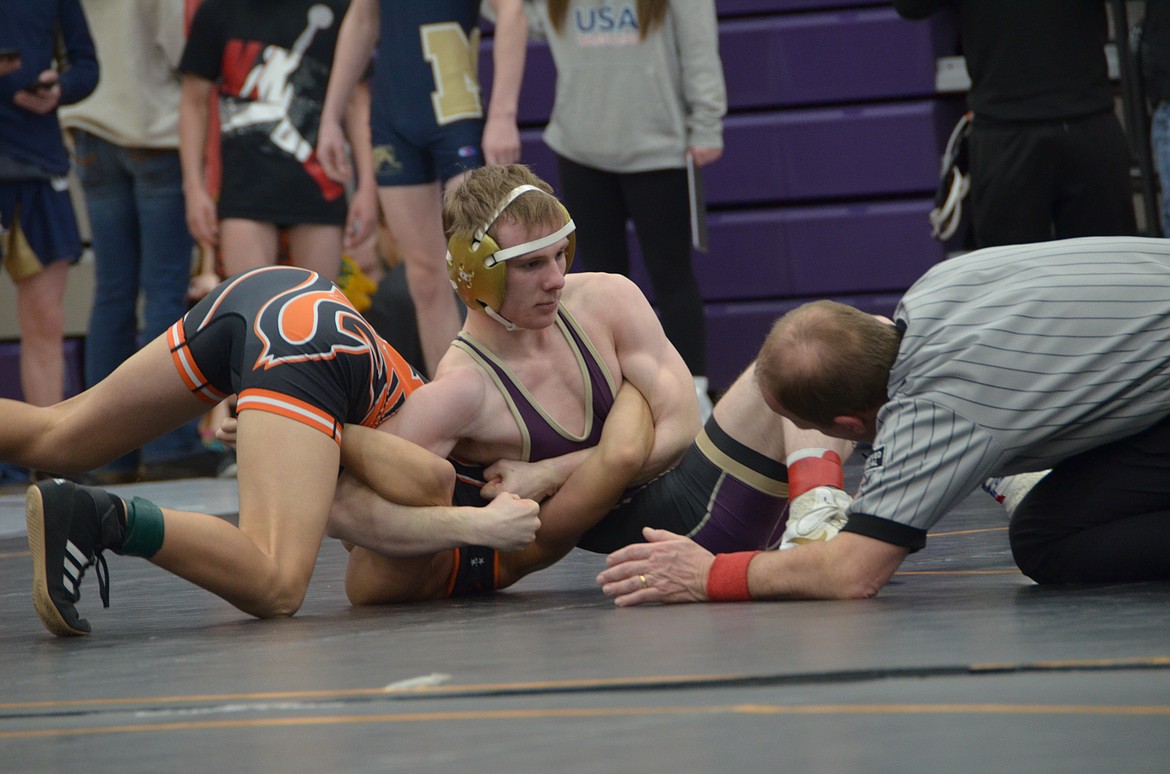 Kellogg's Wyatt Hei has his opponent just inches from the pin during his championship run at the Clearwater Classic at Lewiston High School.
Courtesy photo
|
January 24, 2022 11:49 AM
KELLOGG BOYS BASKETBALL
• Jan. 18
Lakeland 68, Kellogg 48
KELLOGG — Grant Roth hit three of his four 3-pointers in the first half, and scored 16 of his game-high 20 points in the first half as the Hawks beat the Wildcats at Andrews Gymnasium.
Nick Nowell hit two big 3-pointers in the fourth quarter for Lakeland (5-6), which made nine 3s in the game to one for Kellogg. "That first quarter we got a little too disconnected from him (Roth), and he made us pay," Kellogg coach Mike Martin said.
Scotty Hocking hit two 3s and added 14 points for Lakeland.
"We got in a little bit of foul trouble, but we handled it well. It was our most complete game of the season," Lakeland coach Tony Hanna said. Riply Luna had 15 points, KJ Walker 12 for Kellogg, which plays host to Timberlake on Friday. "Two of our seniors, Luke Frohlich and KJ Walker, had their best games of the year," Martin said.
Lakeland 24 14 14 16 — 68
Kellogg 13 12 12 11 — 48
LAKELAND — Nowell 8, Cameron 0, Rings 0, Henry 12, Munyer 9, Hocking 14, Roth 20, Haug 0, Loutzenhiser 4, Pearson 1, Anderson 0.
KELLOGG — Miller 0, Wahtcott 0, R. Luna 15, K. Luna 6, McLean 1, Groves 6, Maciosek 2, Frohlich 6, Walker 12, Hendrix 0, Bristow 0.
• Jan. 21
Kellogg 53, Timberlake 37
KELLOGG — Leading by two points at halftime, the host Wildcats outscored the Tigers 19-7 in the third quarter to win their Intermountain League opener at Andrews Gymnasium.
Led by the defense of Kolby Luna and Luke Miller, Kellogg held Timberlake guard Zach Yetter to two points in the second half, after he had scored 11 in the first two quarters.
"We really challenged them defensively at halftime," Kellogg coach Mike Martin goes. "Timberlake goes as Yetter goes, and we challenged them to take him out of the game. He was hurting us off the dribble early on."
Riply Luna hit two 3-pointers and scored seven points in the third quarter for Kellogg, and finished with 16 points. Kolby Luna hit four 3s and added 14 points, and Tanner Groves had 10 points.
Hunter Higgins scored a game-high 17 points for Timberlake.
Kellogg returns to action next Friday at Priest River.
Timberlake 12 13 7 5 — 37
Kellogg 13 14 19 7 — 53
TIMBERLAKE — Olivieri 0, Bangs 0, Tay. Menti 3, Vallieres 0, Paslay 2, Yetter 13, Millsap 2, Borges 0, Higgins 17, Tan. Menti 0, MacArthur 0.
KELLOGG — Miller 4, Whatcott 0, R. Luna 16, K. Luna 14, McLean 1, Groves 10, Maciosek 0, Frohlich 4, Walker 4, Hendrix 0, Bristow 0.
MULLAN BOYS BASKETBALL
• Jan. 18
Post Falls C 60, Mullan 54
MULLAN — Luke Trodgen scored 30 points for the Tigers in a loss to the Trojan C team at the Mullan Pavilion.
"Post Falls came out with great energy, hustle and ran their stuff to a tee," Mullan coach Paul Elston said. "They looked very solid."
Post Falls C 21 13 16 10 — 60
Mullan 12 21 13 8 — 54
POST FALLS C — Brooks 0, Heath 2, Coppinger 8, Hudson 5, Reynolds 4, Sullivan 24, Taus 4, Haakingson 4, Cansino 0, Lewis 3, Guzman 6.
MULLAN — L. Trogden 30, F. Nelson 13, A. Zingler 10, A. Trogden 1, S. Petit 0, T. Zingler 0, L. Petit 0, Rupp-Connors 0.
WALLACE GIRLS BASKETBALL
• Jan. 18
Wallace 57, Clark Fork 30
WALLACE — Brittany Phillips scored 20 points for the Miners in a nonleague win over the Wampus Cats at Kirby Krulitz Court.
Jaden House scored 12 points for Wallace.
Hannah Thompson scored eight points for Clark Fork.
Clark Fork 10 5 14 1 — 30
Wallace 16 18 13 10 — 57
CLARK FORK — Matteson 2, Valliere 1, Shelton 6, Reuter 8, Yancey 5, Thompson 8, Weymouth 0, Herrick 0, Leadbetter 0.
WALLACE — Specht 1, Lewis 2, House 12, Phillips 20, Welch 9, Hendrick 2, Hemphill 4, Hunter 7, Taylor 0.
• Jan. 22
Wallace 51, Genesis Prep 28
POST FALLS — Further details were not reported.
WALLACE BOYS BASKETBALL
• Jan. 22
POST FALLS — Junior Ayson McCluskie scored 16 points as the Genesis Prep Jaguars won a league game for the first time since the 2019 season, beating the Wallace Miners 63-39 in the Scenic Idaho Conference opener for both teams Saturday night at The Courts at Real Life.
McCluskie scored 11 of his points in the second quarter for Genesis Prep, which pulled away in the second half after leading 21-18 at halftime.
Joey Specht added 12 points for the Jaguars, Donovan Daniels 10, and Caleb Schroeder had eight points and 10 rebounds.
"We were just able to settle down and play some better defense," Genesis Prep coach Lon Morast said of the second half. "Caleb Schroeder played well all-around; he played most of the positions tonight at some point. McCluskie gave us a much-needed lift by being aggressive defensively, and putting the ball in the hole when we needed some baskets."
Genesis Prep went 0-4 in the Scenic Idaho Conference last season. In 2019-20, the Jaguars played as an independent.
Luke Hull scored 16 points for Wallace.
The Miners are slated to return to action Feb. 1 at home vs. Clark Fork.
Wallace 7 11 12 9 — 39
Genesis Prep 5 16 23 19 — 63
WALLACE — Tesky 9, Streeter 3, Jaramillo 2, R. Morin 9, Hull 16, T. Goldade 0, D. Davis 0, P. Goldade 0, Allison 0, Hasz 0, Wilkinson 0, J. Davis 0.
GENESIS PREP — Young 2, Schroeder 8, Daniels 10, Russworm 3, McCluskie 16, Rubert 4, Wood 2, Specht 12, Snowder 6, Lewis 0, Shinn 0.
KELLOGG WRESTLING
• Jan. 20
BONNERS FERRY — The Wildcats opened up a busy two days with a road trip up North for the Intermountain League Duals.
Kellogg not only battled their three rivals from Priest River, Bonners Ferry, and Timberlake, but also their own team limitations as forfeits resulted in what might be considered skewed results.
Throughout the three duals, the 'Cat grapplers went 23-6 overall, beating Timberlake, but losing tight matchups to Bonners Ferry and Priest River.
"The forfeits got us on the team scores against Priest and Bonners, but our kids wrestled lights out and have done a great job setting themselves up for districts," Kellogg head coach Scott Miller said. "We were really pleased to get the win against Timberlake and nearly picked off Bonners also. We came out a little flat against Priest but still won the majority of the matches. All in all, we felt we had a good night."
RESULTS
Round 1: Priest River 43, KELLOGG 31
Round 2: Bonners Ferry 39, KELLOGG 37
Round 3: KELLOGG 42, Timberlake 30
Final Standings:
Bonners Ferry 3-0
Kellogg 1-2
Priest River 1-2
Timberlake 1-2
• Jan. 21
LEWISTON — Less than 12 hours later after wrapping up their Intermountain League Duals the Kellogg Wildcats took to the mats at the Clearwater Classic.
Wyatt Hei continued his stellar run of wrestling, winning the 113-pound title and leading the Wildcats to a fifth place team finish.
Kolter Wood (120), Jaeger Hall (126), and Ethan Guy (138) all finished second, scoring several points along the way for Kellogg.
"This was a good week for us," Kellogg head coach Scott Miller said. "I'm really proud of our team, we only have seven scorers but made the most out of it to come out with a good finish."
Miller beamed with pride in how his team competed against some stellar competition, including some that they may see in a few weeks when state competition rolls around.
"I'm really proud of Wyatt for getting that title against a very good kid from Mead," Miller said. Wyatt wrestled well all night. Just as proud for our other finalists also, Kolter wrestled really well all weekend. Jaeger is beginning to show some real dominance at his weight and Ethan is getting back to form after battling injuries the first half of the year. All of our other kids had strong showings also, and every one came back with at least one win which against the competition we had all weekend is saying something."
TEAM SCORES
1) Mead 272.5
2) Lewiston 197
3) Weiser 158
4) Pullman 143,5
5) KELLOGG 141
6) Moscow 115
7) Clearwater Valley 113
8) Bonners Ferry 100
9) Potlatch 100
10) Clarkston 90
11) Grangeville 58
12) St. Maries 54
13) Kennewick 50
14) Colfax 8
15) Garfield-Palouse 0
Recent Headlines
---