Ruth (Huber) Geigle, 90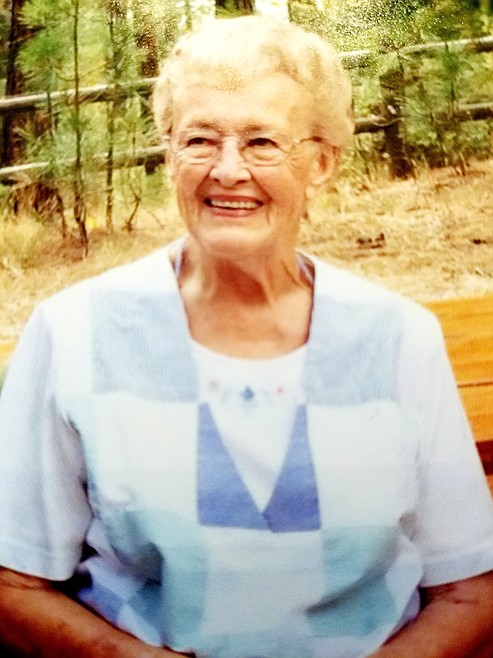 Ruth (Huber) Geigle, 90, of Osburn, Idaho, was reunited with her husband, Iery, in Heaven on July 6, 2022.
Ruth was born on Nov. 2, 1931, in Hague, N.D., to Konrad and Emma Huber at her Aunt Christina Hieb's home. Mom was the first born of six children.
Ruth was raised on their family farm in Wakpala, S.D. Being the first born, Ruth was relied upon by her parents to be their main farm-hand. Iery Geigle was one of her parents' original farm-hands also. Little did they know their love for one another would begin their journey. She started school only speaking the German language with her teacher only speaking English. What a hardship Ruth endured. Ruth then taught her own parents and siblings the English language.
Ruth married her only love, Iery Geigle, on Nov. 14, 1948, in Selfridge, N.D. Together, Ruth and Iery bought their own farm in North Dakota and started raising their family, with the first four children being born in the Dakotas. In 1955, they sold their farm and continued their journey and settled in Osburn. There, they completed their family with the second batch of four children. Mom always stated she was not going to move again, as eight children was enough! Both Ruth and Iery referred to their children as their four queens and four kings.
Ruth is survived by her eight children, DuWayne (Sandy) Geigle of Santa Rosa, Calif., Sharon Wick of Post Falls, Idaho, Karen (Barry) Pearson of Kingston, Idaho, Arlen (Marian) Geigle of Goleta, Calif., Rodney (Shauna Lee) Geigle of Clarkston, Wash., James "Jimmy" (Kim) Geigle of Aloha, Ore., Nila (Nick) Jurkovich of Osburn and Michelle (Jim) Walcker of Osburn; 16 grandchildren, 19 great-grandchildren and numerous great, great-grandchildren and step grandchildren; along with her siblings, Violet Harvey, Raymond Huber, Lorraine Rieger, Alice Huber and Melvin Huber.
Ruth was preceded in death by her husband, Iery (Aug. 14, 2017); her parents and granddaughter Cherie Geigle.
Ruth's faith and family were most important in her life and was an active member of the Bethany Lutheran Church. She was known for her beautiful flower gardens, always getting compliments by those who admired her garden and was always willing to give seeds to any and all that asked. Ruth had an adventurous heart and was willing to try new things that her children enjoyed such as riding behind Arlen on his motorcycle down the railroad tracks (thump, thump, thump) and joining Michelle and grandchildren on the corkscrew roller coaster, stating they should warn those with dentures, to tuck their dentures away! Her biggest joy was caring for children. Many of her grandchildren were blessed to be nurtured by her loving heart.
Ruth was co-owner of a family-owned laundry mat (Wash-O-Mat) with her husband. She was a fabulous baker that was enjoyed by all and also shared her love for the German cuisine. Many of her recipes are still enjoyed today.
Funeral services will be held at 11 a.m. Saturday, July 30, 2022, at the Bethany Lutheran Church, 1105 Mullan Ave., Osburn. A luncheon will follow at the Bethany Lutheran Church.
The family suggests memorials be made to the East Shoshone Quick Response Unit, P.O. Box 723, Osburn, ID 83849.
Bell Tower Funeral Home & Crematory has been entrusted with the final arrangements.
Recent Headlines
---