Mildred 'Millie' Helen Savage, 97
Mildred "Millie" Helen Savage, 97, of Kellogg, Idaho, passed away May 5, 2022, at Shoshone Medical Center in Kellogg. She was born Nov. 23, 1924, in Kellogg, Idaho. Millie was the daughter of Michael and Mary (Malkovich) Manolovich.
Millie has lived in the Silver Valley all of her life. She attended and graduated from Kellogg High School in 1943. Millie furthered her education, attended and graduated from Sacred Heart School of Nursing in Spokane, Wash.
Millie was united in marriage to her beloved Henry "Pape" Savage on March 16, 1947, in Kellogg. Pape passed away Sept. 18, 2004.
Millie was a registered and a surgical nurse and had served at the Wardner Hospital and Shoshone Medical Center in Kellogg. She had served in nursing for 42 years, before her retirement in 1988.
Mille was a member of the Holy Trinity Serbian Orthodox Church in Butte, Mont.
Millie loved and enjoyed gardening and working around her home, reading and people — she loved taking care of them.
Mille had spearheaded the renovation of Greenwood Cemetery in Kellogg in memory of her husband, Pape. She gave the unkept cemetery a generous makeover — this beautification project was the largest privately funded public works project in Kellogg's history. Millie, Dan and Sandy Pavelich (also Kellogg natives) worked so very hard and dedicated themselves to Millie's vision for the cemetery. Mille has done the community such a great service and was so generous of this wonderful project.
Mille is survived by her family of Butte; a dear friend, Sandy Pavelich of Spokane; a nephew, Mike Crnkovich of California and three great-nieces. She was preceded in death by her parents; her husband, Pape; one sister, Helen "Chickie" Crnkovich and her special friend, Dan Pavelich.
Graveside inurnment services will be held at 11 a.m. Friday, July 29, 2022, at the Greenwood Cemetery in Kellogg, with Father Russell Radoicich officiating.
The family suggests memorials may be made to a local community charity or project of the donor's choice.
Shoshone Funeral Services & Crematory, Kellogg, is entrusted with services. You may share your special memories of Millie at www.shoshonefuneralservice.com.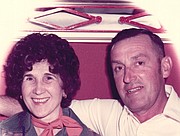 Recent Headlines
---