Let's make a deal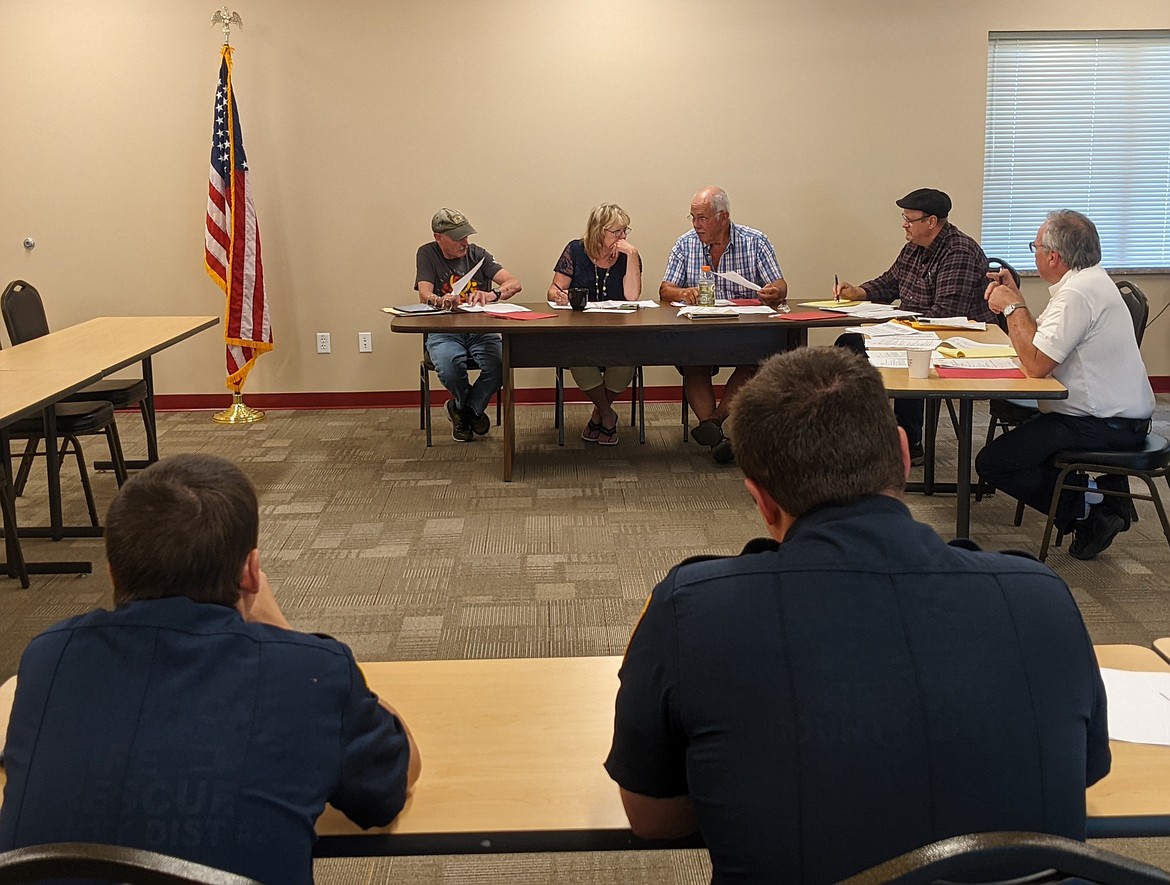 (Front left) West Shoshone County Firefighters IAFF L2034 representative Travis Costa and Union President Tyler Rotchford sit across from SCFD No. 2 Commissioners Mike Pierce, Tamie Lewis-Eberhard, Gary Mitchell, Secretary Treasurer Nathan Wendt, and Fire chief Mark Aamodt during last Wednesday's meeting.
Chanse Watson
by
CHANSE WATSON
Hagadone News Network
|
July 26, 2022 6:00 AM
Negotiations between the Shoshone County Fire District No. 2 Commissioners and the West Shoshone County Firefighters IAFF L2034 carry on, as the two sides work to hammer out a new labor contract. Commissioners and union representatives met again last Wednesday during their regular scheduled meeting at the District No. 2 Firehouse in Kellogg and did see eye to eye on a couple outstanding issues, but remain at odds over two main points.
Union President and lead negotiator Tyler Rotchford explained to the News-Press that while agreements have been reached on the topics of holiday pay, vacation time and living requirements — disagreements over a base and paramedic pay increase keep the two sides from putting the matter to bed.
As it stands now under the current contract, which expires in October of this year, starting wage for a SCFD No. 2 firefighter is $13.12 an hour. This applies to paramedics as well, despite them completing numerous hours of clinical time and schooling. Of the 10 person staff at SCFD No. 2 (two shy of full staff), all are certified EMT's, five are Advanced EMT's, but none are paramedics.
In neighboring SCFD No.1, based in Osburn, Fire Chief John Miller said that firefighter and paramedic base pay is $12.50 and $17.50, respectively. Pay does increase at both districts after firefighters hit certain time benchmarks.
Citing numerous reasons such as inflation, rising costs of living, and simply making wages more competitive to attract and retain employees, the West Shoshone County Firefighters initially asked for a 30% base pay raise. This raise would get the base pay up to $17 an hour.
"Not being able to keep people is our biggest problem," Rotchford said. "It's the union's opinion that we want to keep as many firefighters as we can because this area is so large and we are so short staffed."
Where the friction between the two sides has stemmed from was when the commissioners then countered with an 8% increase. This friction has even led to some heated moments at the meetings between the two sides.
"I don't think you understand what these people do everyday at work," former SCFD No. 2 firefighter Nick Waites said to the commissioners during Wednesday's meeting. "You should be ashamed of what's going on right now."
Since their initial offer of 30%, the union has since come down to asking for 26%.
SCFD No. 2 Sub-District 1 Commissioner Mike Pierce confirmed that the two sides are in the process of negotiations, but declined to comment further on the situation.
Rotchford said that he is hopeful that the commissioners will continue to work with the union going forward.
"I feel like we are going to come to an agreement and we're going to do what's best for the union, the department and the community that we serve."
The SCFD No. 2 Commissioners will have a special meeting on Wednesday, Aug. 3 at 5:30 p.m. in the Kellogg Firehouse.
Recent Headlines
---