Valley signs with Walla Walla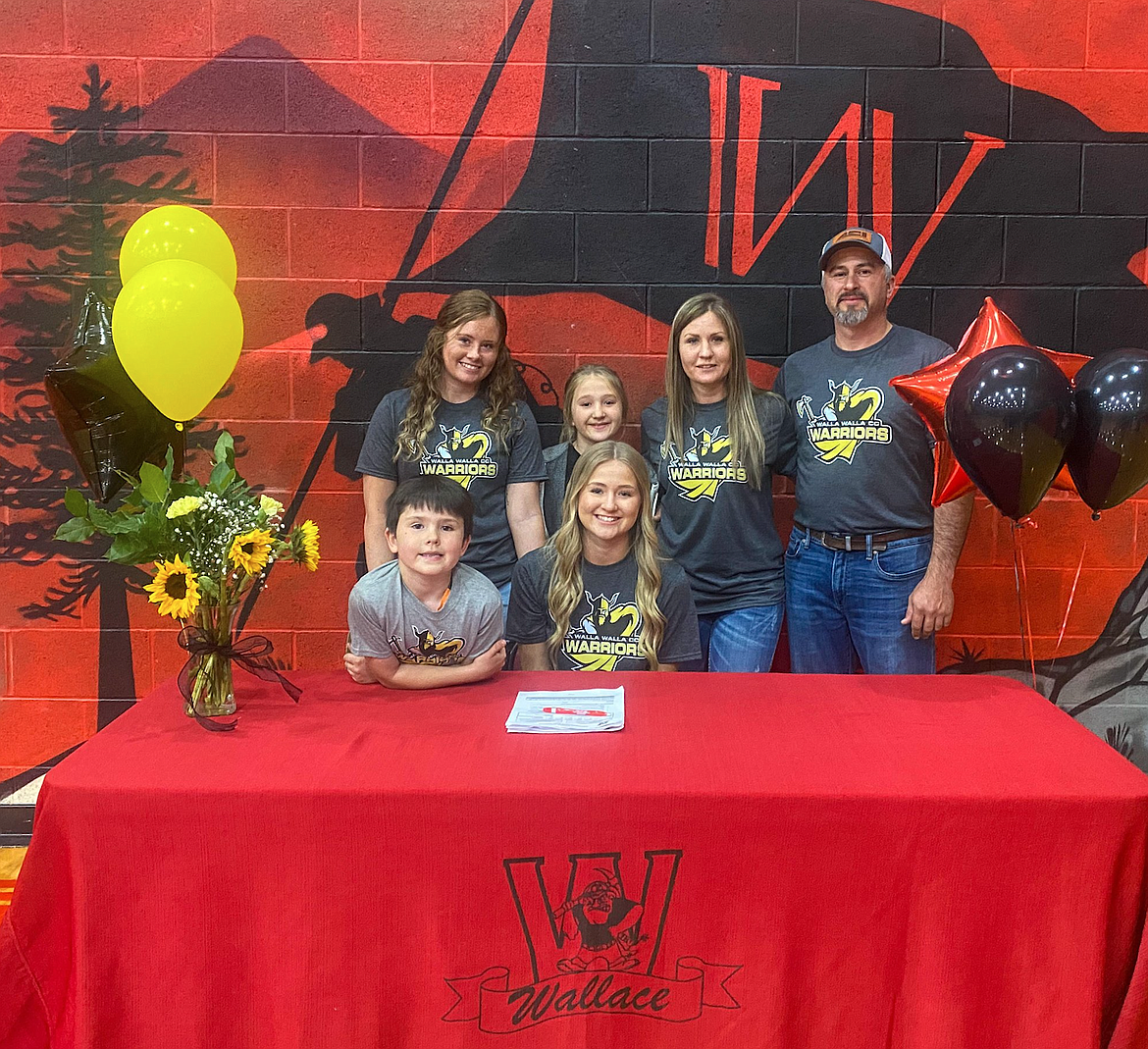 Riley Valley is seated alongside members of her family after signing her letter of intent to play volleyball for Walla Walla Community College. Valley was a standout player for the Wallace Miners for the past four seasons.
Courtesy photo
by
JOSH McDONALD
Local Editor
|
June 3, 2022 10:41 AM
WALLACE –– Wallace Jr./Sr. High School volleyball standout Riley Valley is headed to Walla Walla Community College to continue her decorated volleyball career.
Valley, who just graduated this past Friday, was a four-year player for the Miner Volleyball squad and led the team to consecutive state tournament appearances.
During her time in the red and black, Valley was named most valuable player for both the Lady Miners team, the Scenic Idaho Conference, and received All-State honors in her junior and senior seasons.
"I chose Walla Walla because I really enjoyed the campus and the coaching staff," Valley told the News-Press. "I also liked that it was a small school and a small community."
Valley will be filling the role of setter and defensive specialist for the Warriors, a member of the Northwest Athletic Conference's (NWAC) eastern region and one of 36 schools that make up the Pacific Northwest-based athletic conference.
At least once a year, Valley will get the opportunity to compete in front of a semi-local crowd as Walla Walla and North Idaho College are in the same region of the NWAC.
While in school, Valley will work toward a degree in general studies as she pursues her athletic passions.
Wallace High School Athletic Director Corey Miller posted a message for Valley on the school's athletics Facebook age congratulating her milestone.
"Congratulations to Riley Valley for signing her letter of intent to play volleyball for the Walla Walla Warriors in the fall of 2022," Miller wrote. "The community of Wallace is incredibly proud of you and all you have accomplished. We are so excited to see what the future holds for you."
Valley would like to thank her parents Amber and Justin Valley for their support, as well as her club coaches Barb and Mark Patton.
Recent Headlines
---