Gary Lawrence Patrick, 84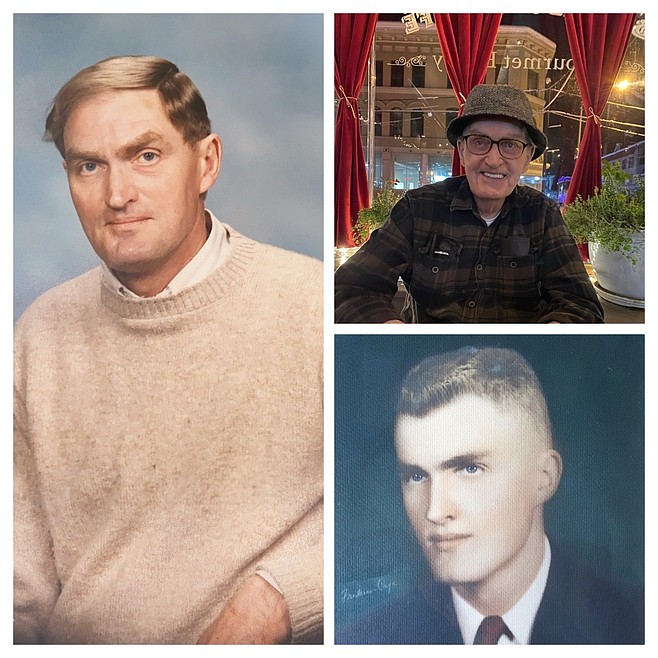 Gary Lawrence Patrick, 84, of Osburn, Idaho, passed away April 25, 2022, at the Good Samaritan Society — Silver Wood Village in Silverton. He was born Aug. 7, 1937, in Spokane, Wash. Gary was the son of James Robert and Margaret Helen (Johnson) Patrick.
Gary attended and graduated from Wallace High School, Class of 1956. While attending high school, Gary participated in football and basketball. Gary played football in the snow on Teeter's Field, on Nov. 11, 1955, the last Armistice Day football game between Wallace and Kellogg.
Gary was united in marriage to Judy George on Aug. 30, 1958, at the Congregational Church in Wallace.
Gary had served as an electrician for the Bunker Hill Mining Company for 27 years, until its closure in 1982. He then went on to work for the Idaho Department of Transportation for 17 years; Gary retired in 2002.
Gary served as a Boy Scout Leader. And in the early 1970s, Gary and some other fathers were instrumental in forming the Wallace Junior Football League, of which he also served as a coach. Gary had also coached in Minor League Baseball.
Gary loved and enjoyed his family, was a big sports fan and an avid Cubs fan; he also enjoyed camping and reading.
Gary is survived by one son, Gary J. Patrick (Laurie) of Wilbur, Wash.; one daughter, Wendy S. Larson (Brian) of Lewiston, Idaho; and three grandchildren, Scout Laney Larson, Gracie Marie Patrick and Riley James Patrick. He is also survived by numerous nieces and nephews. Gary was preceded in death by his parents; his wife, Judy in June 2017; one brother, Daniel Patrick and one sister, Barbara Gibson.
A celebration of Gary's life and a reception will be held at 11 a.m. Friday, June 10, 2022, at the Kellogg Funeral Chapel in Kellogg; everyone is welcome.
Gary was a good man, who worked hard for his family. He was loved and will be greatly missed.
The family suggests memorials may be made to the charity of the donor's choice.
Shoshone Funeral Services & Crematory, Kellogg, Idaho, is entrusted with services. You may share your memories of Gary with his family at www.shoshonefuneralservice.com.
Recent Headlines
---