All league teams announced

Kellogg All-League winners Emily Coe, Grace Nearing and MVP Hailey Cheney.
Courtesy photos

Kellogg All-League selections Riply Luna, Tanner Groves and MVP Kolby Luna.

Wallace All-League selections Britany Phillips, Elli Welch and MVP Jaden House.

Mullan Tigers All-League selections Floyd Nelson, Austin Zingler and Co-MVP Luke Trogden. Not pictured is Alex Trogden.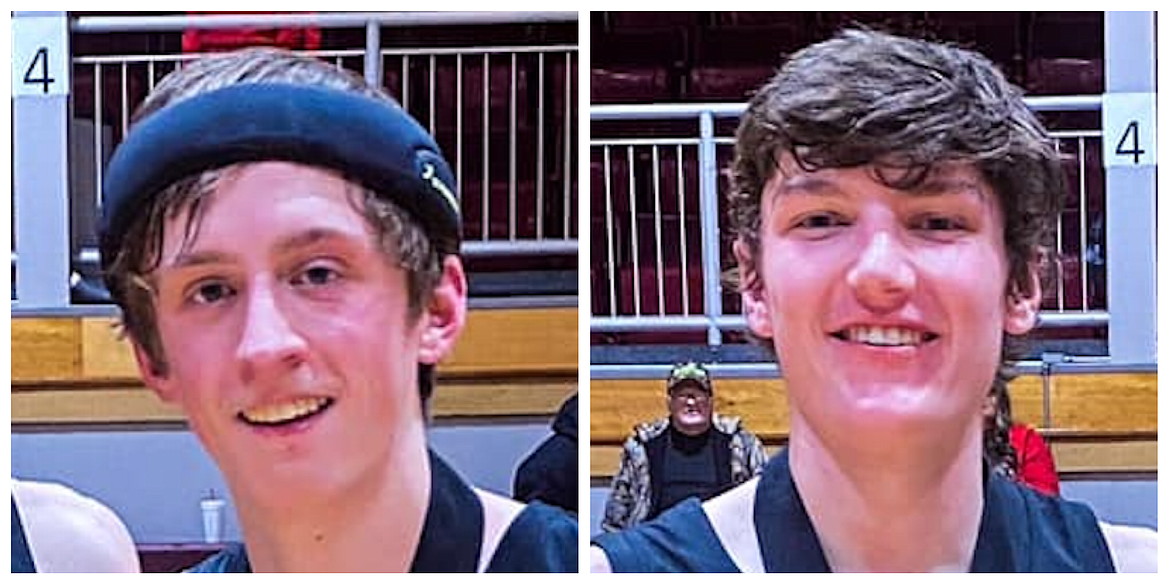 Wallace All-League selections Brad Tesky and Robbie Morin.
Previous
Next
As the dust settles on winter sports the area all-league teams have been announced and the Silver Valley was well represented.
• The Wallace Lady Miners made their first run to the state tournament in over a decade following an incredible 15-4 season before bowing out gracefully after two games.
Jaden House, Elli Welch and Britany Phillips were named to the Scenic Idaho Conference all-league team, with House being named MVP for the conference.
ALL-SCENIC IDAHO CONFERENCE
MVP — Jaden House, sr., Wallace. ALL-LEAGUE — Jolissa Holt, sr., Lakeside; Belle DeBoer, sr., Genesis Prep; Elli Welch, sr., Wallace; Arianna Havier-Gorr, sr., Lakeside; Britany Phillips, so., Wallace; Miyah Anderson, jr., Genesis Prep; Ashlee Holt, sr., Lakeside.
• In their final year as a 3A school, the Kellogg Wildcat girls finally vanquished their Intermountain League foes from Timberlake to make their way to the 3A State Tournament. Seniors Hailey Cheney and Grace Nearing led the team as four-year varsity players while sophomore Emily Coe did a lot of the dirty work for the Wildcats earning them each an Intermountain All-League nomination, and Cheney being named MVP.
ALL-INTERMOUNTAIN LEAGUE
Coach of the Year — Travis Hinthorn, Bonners Ferry MVP — Hailey Cheney, sr., Kellogg. ALL LEAGUE — Asha Abubakari, so., Bonners Ferry; McKennah Kronenberg, sr., Timberlake; Ciara Soumas, jr., Timberlake; Grace Nearing, sr., Kellogg; Jenna Chase, so., Timberlake; Markynn Pluid, so., Bonners Ferry; Marissa Needs, fr., Timberlake; Emily Coe, so., Kellogg; Lilly Freitas, jr., Priest River.
• The Wallace Miners had a tough season, however two of their more bright spots came from starters Robbie Morin and Brad Tesky. The duo made up much of head coach Barry Larson's offensive attack throughout the season earning them each a Scenic Idaho Conference All-League nomination.
ALL SCENIC IDAHO CONFERENCE
MVP — Vander Brown, Lakeside ALL LEAGUE — Brutis SiJohn, Lakeside; Quincy Hall, Lakeside; Caleb Schroeder, Genesis Prep; Ayson Mcluskie, Genesis Prep; Joey Specht, Genesis Prep; Brad Tesky, Wallace; Robbie Morin, Wallace.
• The Mullan Tigers almost pulled off the Cinderella run this past season. Finishing their season on 5-2 run, including narrow losses to Timberline and Clark Fork, Mullan was was playing their best basketball at the end of the year, much of it due to the solid play of North Star All-League selections Luke Trogen, Alex Trogden, Floyd Nelson, and Austin Zingler. Luke Trogden was named co-MVP for the league.
ALL NORTH STAR LEAGUE
MVP — Luke Trogden, Mullan; Carter San Roman, Clark Fork. ALL LEAGUE — Allex Trogden, Mullan; Austin Zingler, Mullan; Floyd Nelson, Mullan; Sam Barnett, Clark Fork; Nelson Shelton, Clark Fork; Christopher Moore, Kootenai.
• The Kellogg Wildcats won the Intermountain League championship, but were unable to win the district championship and subsequent play-in game to unceremoniously end their season. While the ending wasn't anywhere near what they hoped for, the Wildcats put together a solid 15-win season on the backs of their three all-league selections, Kolby Luna, Riply Luna, and Tanner Groves. Kolby Luna was named league MVP.
ALL INTERMOUNTAIN LEAGUE
COACH OF THE YEAR — Mike Martin, Kellogg. MVP — Kolby Luna, Kellogg. ALL LEAGUE — Braeden Blackmore, Bonners Ferry; Riply Luna, Kellogg; Blake Barrett, Priest River; Zach Yetter, Timberlake; Asher Williams, Bonners Ferry; Hunter Higgins, Timberlake; Tanner Groves, Kellogg; Trent Kreager, Priest River; Raj Oliveri, Timberlake; Ridge Williams, Bonners Ferry.
Recent Headlines
---