All Star Game rosters announced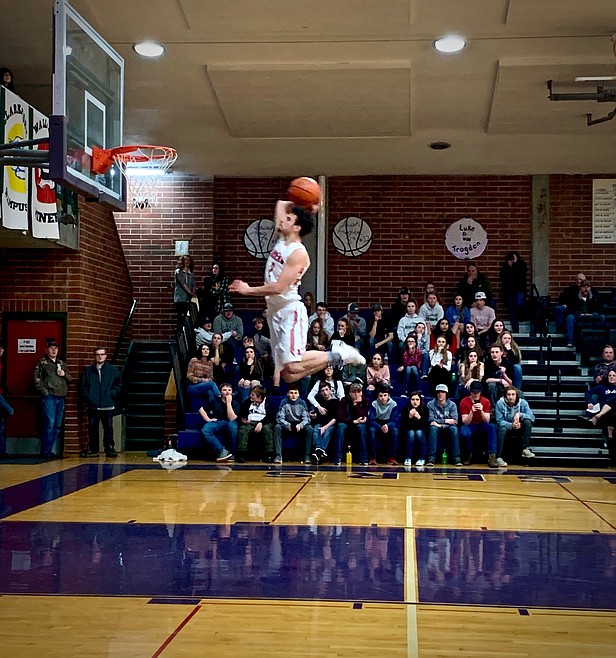 Zach Welch shows off his insane ups during the 2019 District I All-Star Game dunk competition.
Photo by ARIANA McDONALD
by
JOSH MCDONALD
Staff Reporter
|
March 14, 2022 5:40 PM
MULLAN — It's all star season and the best seniors basketball players will make their way to Mullan for the annual District I All Star Games at the Mullan Pavilion.
Over the past few years, the games have grown increasingly popular and even more competitive — which makes it more fun for both players and spectators.
"We have dunkers, we have shooters, and we have some serious players," said Stetson Spooner, Mullan School District athletic director. "I think these games get more exciting each year and I don't expect anything less this year."
With player representation from every single of Idaho's six classifications, it allows players to ask those 'what if' questions.
"To see the talent in our part of the state from 5A through 1A-D2 work together is super cool," Spooner said. "The debates are always out there whether a small school player can hang with 4 and 5As, it's something that's talked about all yearlong and then we get to see it. And as a small community and small school, I love seeing the bigger schools stars come shine in person instead of having to just hear about it during the long busy basketball seasons. It's nice to be able to just sit back and watch what North Idaho has to offer."
The night will also feature a boys and girls 3-point shootout, as well as a dunk contest, which have led to some memorable moments over the years.
The 3-point contest is unique in that once the gender-based competitions are over, the girls and boys champion face off to determine who is the overall champion.
"We always have some ladies who can hoop and they don't back down in that competition," Spooner said. "The boys are going to have to bring their A game if they want to beat the girls."
Spooner hopes the night can be about building relationships outside of the comfort zones that the kids have existed in.
"I personally believe that the more these kids can be talked about and meet each other, the better off they will be moving forward after high school," Spooner said. "Games like these and Shriner football games and things like that create a lot of relationships between players, coaches and even communities."
The District I All Star Games are Friday, March 18, at 6 p.m. at the Mullan Pavilion.
Rosters:
WEST GIRLS (AWAY JERSEYS)
Jolissa Holt — Lakeside
Ashlee Holt — Lakeside
Abby Tiller — Kootenai
McKennah Kronenberg — Timberlake
Emma Patrick — Timberlake
Sydney Garn — North Idaho Christian
Hadley Malinauskas — North Idaho Christian
Grace Nearing — Kellogg
Hailey Cheney — Kellogg
Trinidie Nichols — Post Falls
Lexi Heath — Post Falls
Hanna Christensen — Post Falls
Coach: Jerry Bitner — North Idaho Christian
EAST GIRLS (HOME JERSEYS)
Skylar Burke — Coeur d'Alene
Lily Phenicie — Coeur d'Alene
Jaden House — Wallace
Elli Welch — Wallace
Grace Hunter — Wallace
McKelvy Specht — Wallace
Kiya Taylor — Wallace
Tru Tomco — Sandpoint
Destiny Lyons — Sandpoint
Sofia Platte — Sandpoint
Addie Kiefer — Lakeland
Belle DeBoer — Genesis Prep.
Coach: Nichole Farkas — Wallace
WEST BOYS (AWAY JERSEYS)
Cameron Cope — Coeur d'Alene
Sam Entzi — Coeur d'Alene
Chandler King — Coeur d'Alene
Luke Trogden — Mullan
Travis Matthews — Priest River
Trentyn Kreager — Priest River
Blake Barrett — Priest River
Tristan Gentry-Nelson — St. Maries
Colby Renner — St. Maries
Connor Wolfe — St. Maries
Nayati Vassar — Lakeside
Ethan Butler — Sandpoint
Jacob Eldridge — Sandpoint
Coach: Bryan Chase — St. Maries
EAST BOYS (HOME JERSEYS)
Jack Sciortino — Post Falls
Cole Cooper — Post Falls
Caleb Schroeder — Genesis Prep.
Tristan Snowder — Genesis Prep.
Ethan Hubbard — Bonners Ferry
Tanner Groves — Kellogg
Luke Frolich — Kellogg
KJ Walker — Kellogg
Ben Bristow — Kellogg
Zach Yetter — Timberlake
Carson Millsap — Timberlake
Robbie Morin — Wallace
Bryce Henry — Lakeland
Grant Roth — Lakeland
Abe Munyer — Lakeland
Practice Times are Girls West 4-5 p.m. and Boys East 5-6 p.m. Wednesday, March 16, at Holy Family Church in Hayden. Practice times for Girls East and Boys West will be 6-7 p.m. at Post Falls High School in two gyms.
---