Let's talk mining: Part 1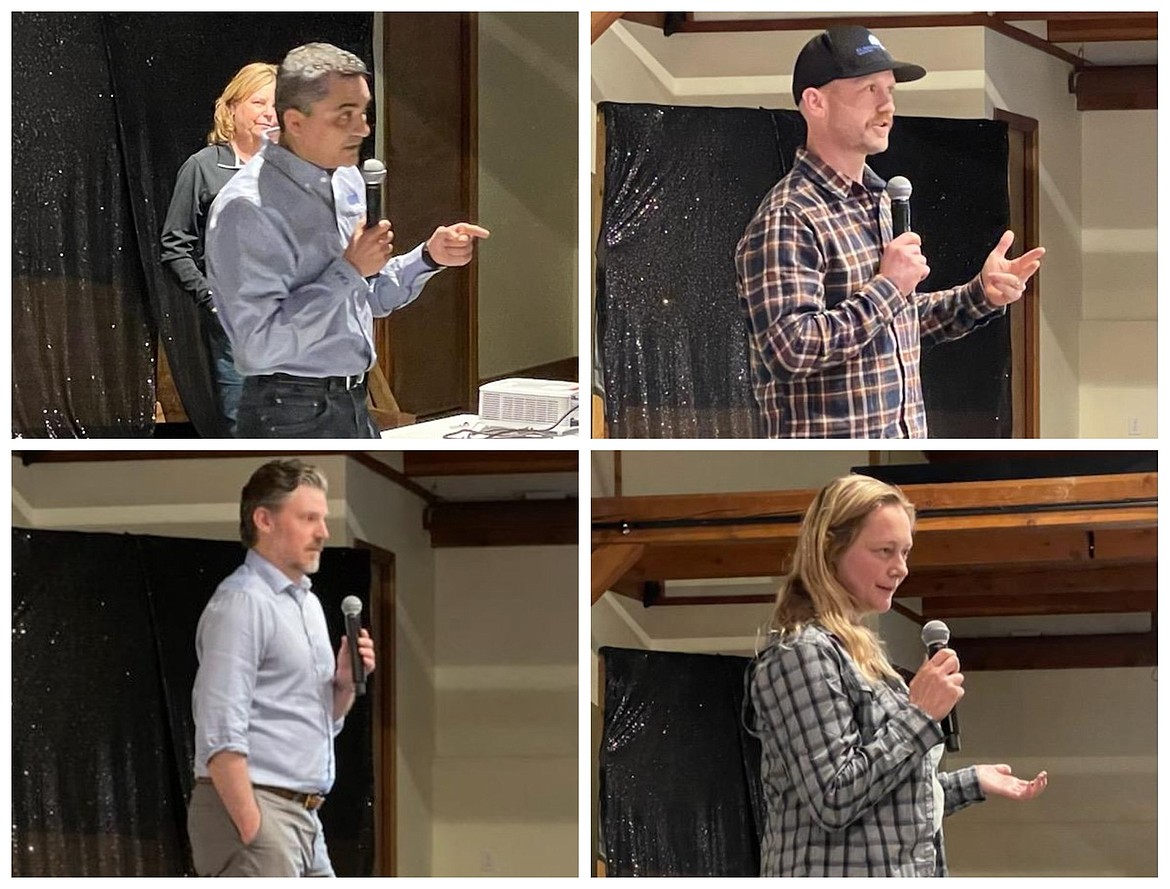 (Top left) Lucky Friday Mine VP/Gen Mgr Carlos Aguiar and HR manager Michelle Horning, (top right) Sunshine Mine Environmental Superintendent Tysen Clyne, (bottom left) Bunker Hill Mine CEO Sam Ash, (bottom right) and Galena Mine Chief Geologist Sadae Lortz speak at the Silver Valley Chamber of Commerce's After Hours "State of the Mines" event on Wednesday.
Josh McDonald
KELLOGG — While the golden years of mining in the Silver Valley may have passed some time ago, that doesn't mean the industry is gone by any means.
This was apparent at the Silver Valley Chamber of Commerce's After Hours event Wednesday night, where representatives of some of the largest mining operations in North Idaho came to speak.
Held at Noah's Lodge in Kellogg, the night's speakers from the Bunker Hill, Lucky Friday, Sunshine and Galena mines provided attendees with updates on each of their properties, along with future goals.
The first to take the stage was Bunker Hill Mining Company CEO Sam Ash, who was excited to be able to speak with the community and report actions — not just words.
"There've been several groups of people that made several attempts to come back and get Bunker Hill restarted," he said. "When we (finally) came out and talked to the community, I wanted to be able to talk about some things we have actually done, not just about what we wanted to do or what we were planning on doing."
Since the Bunker Hill Mining Company in its current form signed a lease with the previous owners, Placer Mining, roughly three years ago, Ash explained they have cleared several major hurdles and are much closer to their main goal of full operation.
The first hurdle was buying the mine and showing the world it still had life through the process of rehabilitation and exploratory drilling.
After securing $50,000,000 in additional funding to purchase the mine from Placer Mining, contractors have been busy working in the over 100-year-old mine.
"We've proven what probably most people who know anything about Bunker Hill knew already, is that there is still a tremendous amount of mineral wealth left," Ash said.
Next was dealing with the substantial debt owed to the Environmental Protection Agency following their work on the mine's water water treatment plant.
"We negotiated a resettlement with the EPA that allows us to meet the obligations out of free capital once we are operational," Ash said.
Lastly, BHC made headlines in February when it announced it had signed a memorandum of understanding ("MOU") with Teck Resources Limited ("Teck") for the purchase of its Pend Oreille process plant in Metaline Falls, Wash. This purchase gets Bunker Hill a vital piece of a mining operation — a mill.
Ash projects that by the third quarter of 2022, the yearlong process of constructing this new mill will commence.
"By September/October of 2023, we're going to begin commissioning the mill and come into production and bring Bunker Hill back online from an operating perspective," Ash said. "It's not going to be easy, but it's a challenge that we can definitely see we have a lot of traction moving forward with and it will certainly become a reality."
Understanding that this isn't the first time the community has seen a new owner come to the mine and promise a reopen, Ash stressed that BHC is looking to create base economic activity in the Silver Valley and other opportunities that will sustain the area.
"I believe that there are some lessons to be learned from how a mining company can work with the local community to make sure that even after the mine closes, and every mine will close eventually, what's left behind is still a vibrant and economically diverse community."
"In the past with mining companies, they would come and they would mine, then the idea was that you would, for lack of a better term, get out of town as quickly as you can. That has to change," he added.
BHC also plans to hold an auction of Bunker Hill items in the future, but that date has yet to be announced.
Recent Headlines
---