Montana men arrested for drug trafficking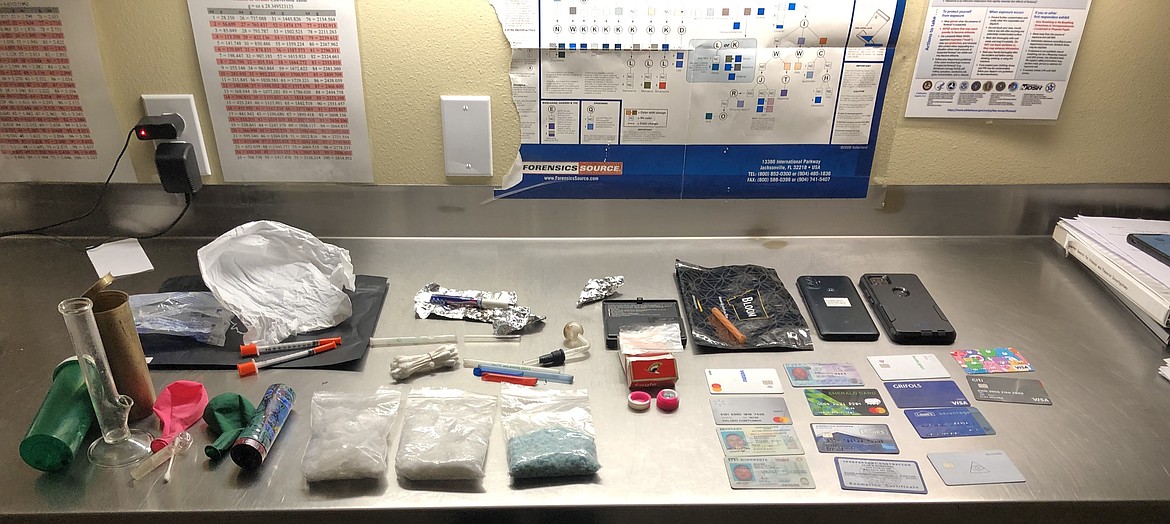 Approximately 680 fentanyl pills, 204.1 grams of methamphetamine, various types of drug paraphernalia, and numerous identification/bank cards with different names on each that were seized by ISP after taking two Montana men into custody on Tuesday.
Idaho State Police
by
CHANSE WATSON
Managing Editor
|
May 27, 2022 12:22 PM
Two Montana residents were taken into custody on Interstate 90 Tuesday east of Coeur d'Alene after trafficking levels of fentanyl and methamphetamine were found in the vehicle they were traveling in.

Idaho State Police tells The Press that ISP K-9 Handler Cpl. Seth Green stopped an black Ford Focus with Montana plates on eastbound Interstate 90 near milepost 22 for numerous moving violations.
Green said that prior to the stop he noticed the vehicle weaving back and forth between lanes, traveling between 58 and 65 mph. In addition to the erratic driving, Green observed the vehicle's windshield had numerous cracks in it that were obstructing the driver's vision. For these reasons, Green called for backup just before stopping the vehicle.
Green reported that the vehicle occupants, Robert Wilson and Brian Hart, both of Montana, were displaying indicators of persistent drug use including sunken cheekbones, open sores on their bodies, jittery movements, erratic/abnormal speech and scarring on their arms.
"As I waited for Wilson to retrieve the required paperwork, I observed multiple 3-inch-by-1-inch torch lighters in the glove box of the vehicle, and a balloon," Green explained. "Based on my training and experience, when I observed these types of torch lighters combined with drug signs exhibited by the occupants of the vehicle, it is more likely than not that there are drugs/drug paraphernalia in the vehicle."
Green deployed his drug detection K-9, Sterling. Once the dog alerted from outside the vehicle to the presence of illegal substances, Green proceeded to conduct a search. Numerous items were seized including approximately 680 fentanyl pills, 204.1 grams of methamphetamine, various types of drug paraphernalia, and numerous identification/bank cards with different names on each.
Hart and Wilson were arrested and booked into the Kootenai County Jail. Hart was charged with felony possession of financial transaction cards, a misdemeanor warrant out of Bannock County, Idaho, trafficking methamphetamine, possession of fentanyl with intent to deliver and possession of drug paraphernalia. Wilson was charged for trafficking methamphetamine, possession of fentanyl with intent to deliver and for possession of drug paraphernalia.
After speaking with the suspects and analyzing the available evidence, Green believes the goal of the two individuals was to acquire the drugs in Spokane, then distribute them back in Montana.
Recent Headlines
---