Brett L. Nearing, 59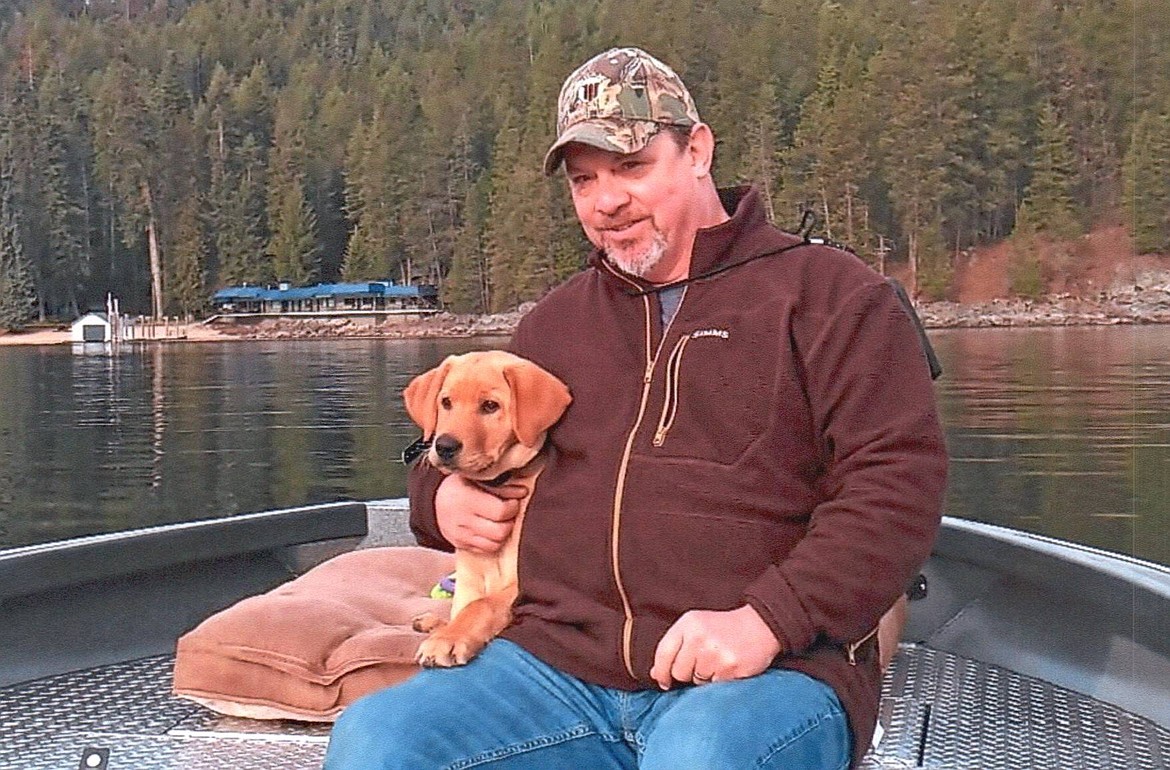 Brett left this world way too early! Born in Kellogg to Rich and Sandra Nearing, he joined his 2-year-old brother, Mike, and both were handfuls for both their parents and teachers. Brett and his Mom were late coming home from the hospital after birth, as his Dad was busy watching the Yankees play and win the World Series. Maybe that's why the Yankees became his favorite team also.
Brett excelled at whatever he chose to do — sports, hunting, fishing, working, etc. Always gave 110% after early semester graduation from Kellogg High School in 1980 at the age of 17. He worked at the Bunker Hill Zinc Plant until fall, where he then attended LCSC in Lewiston to play baseball. This was short-lived and he then went back to work at the Zinc Plant, until the company closed in 1981. After a year in the woods with Swan Logging, he chose to go mining at the Sunshine and then the Crescent; when a near-fatal accident at the Crescent, caused him to go back logging for various companies.
A marriage to Terri Finlay brought them a son, Trevor, in 1988. They later divorced in 1991, but remained on good terms. Brett continued working in the woods and in 1996, he married Tami Edmunds in Coeur d'Alene. From 1981-2001, he played competitive softball traveling to National Tournaments throughout the U.S. After being introduced to salmon fishing on Lake Coeur d'Alene, he got a guide license and later an outfitters license and started his own guide service called "Hooked On Fishing."
In the fall of 2005, Brett was hired away from logging by Land America Lawyers Title; when interviewed for the job he told them — "If you don't like me, it will be the biggest mistake you ever made!" They later found out, as their business boomed.
After 16 months, he learned a group of his friends were going to purchase Kootenai Title Company, so Brett then went to work there and worked his way up to Assistant Manager/Marketing Manager. He worked very closely with the area's largest builders, developers, investors, lenders and top Realtors, developing long-lasting friendships with them as well. Brett later took his guide business to Brewster and the Hanford Reach on the Columbia River. There are a lot of good guides on the Columbia, but none better than Brett. No one worked harder to insure their client's success, both fishing and good times.
Brett was involved in many fundraisers throughout Kootenai County, donating fishing trips to 4-H at Rosenberger Ranch, Excell Foundation, Good Sam/Altar Church, Denim and Diamonds and others. Brett personally started a fundraiser for "Specialty Needs Recreation" at Black Rock Golf Course, where more than $150K had been raised through the years. Ron Nilson was an auctioneer at the events and very instrumental in its success.
Brett was chairman of the North Idaho Building Contractors Parade of homes for three years, always donating his time and effort. When asked, Brett helped to raise money to buy a helicopter for the Kootenai County Sheriff's Department and was a board member to help raise money for a Disabled Veterans Gym. He always enjoyed what he was doing and he was always very professional. If Brett was your friend, then you had a friend not only during the good times, but tough times as well. He had your back!
Brett was preceded in death by his paternal grandparents, William (Bill) and Mae Nearing; maternal grandparents Wilbur (Smitty) and Clarice Smith, several aunts, uncles and cousins.
Survivors include his parents, Rich and Sandy Nearing; brother Mike and his wife, Terri; son Trevor and his fiancée, Aerial and their daughter, Willow; granddaughter Huntar West; niece Summer (Wallace) Bates and their children, Halle and Ace; Uncle Jerry Nearing; Aunt Carol Watts and his faithful dog, Bubba. He is also survived by many cousins, friends and ex-wife of 26 years, Tami Edmunds Nearing.
Brett had many friends that volunteered to step up in time of need and the family appreciates that. A special thanks to his good friend, Del Kerr of Hayden, Idaho, for believing in him and helping when it mattered the most. Their relationship was not only a professional relationship, but also a very personal relationship they had, that did not go unnoticed.
We love you Brett! Your "Heart Beat" will be with us forever. Until we meet again, Your Loving Family.
Our Son "Brett"
I never thought I'd write a poem
Saying Goodbye to my Son,
But as I sit here
That's exactly what I've done.
Memories are all that's left.
His leaving makes us sad,
But I want the world to know
I'm proud to be his Dad!
He worked hard at what he did,
Always did his best.
Then one day God took his hand
And said "Brett it's time to rest!"
Your family loves you Brett
More than you'll ever know,
And it broke our hearts,
When you had to go.
You will be on our minds
And in our hearts each and every day.
Your memories and laughter
Will never go away!
Love you Brett!
Until we meet again!
Your Family
A celebration of Brett's Life will be held and announced at a later date.
You may share your memories of Brett with his family at www.shoshonefuneralservice.com.
Recent Headlines
---