Tigers poised to take on Garden Valley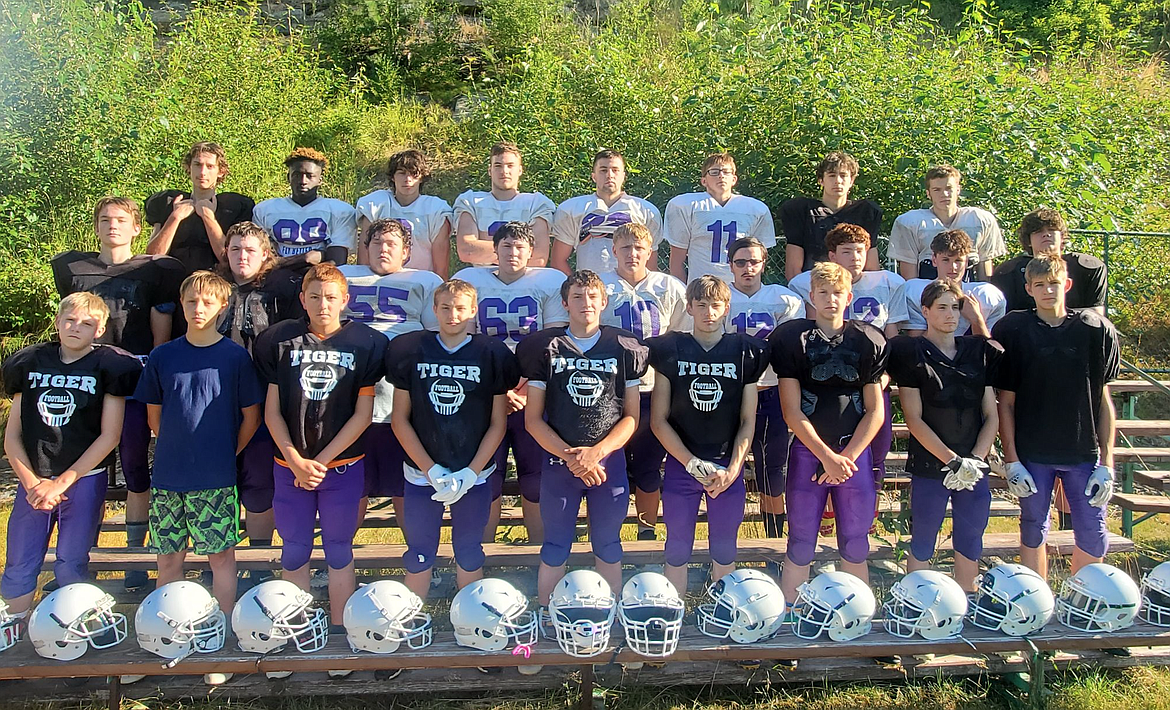 The Mullan-St. Regis football team will host Garden Valley this Saturday at John Drager Field. Pictured from left (back row) are Aiden Stack, Kofi Appiah, Floyd Nelson, Blake Layton, Caleb Ball, Trystan Zingler, Josh Cropp and Kason Lowman. Middle row: Zeke Hess, Ashton Thompson, Blake Knoll, Mike Morgan, John Pruitt, Josh Houston, Austin Zingler, Alex Trogden and James Roe. Front row: Denver Thomas, Kelton Simkins, Leevy Bush, Hunter Stolla, Kaleb Park, Logan Petit, Dillon Thomas, Steve Petit and Logan Doyle. Not pictured are Josh Achesan, DJ McCoy, Barrett Bassette, Brenton Brooks and Bra...
Courtesy photo
by
JOSH McDONALD
Local Editor
|
November 1, 2022 11:59 AM
MULLAN — Things have been a little different for the Mullan/St. Regis Tigers this year.
Over the past few years, the Tigers have essentially operated as a two-man show with complimentary pieces surrounding those two players.
First, it was Skye Gallaway and Ian Farris, then a three-year stretch of Luke Trogden and Adam Ball — each of these teams made strides in helping head coach Stetson Spooner grow the program, but this year's group is knocking on the door to something special.
"This group seems to lean on each other while still doing big things individually at high levels," Spooner said. "In the past, we got to watch two animals fix our mistakes but now our guys seem to work that out with all eight on the field."
That isn't to say Spooner's squad doesn't have any studs, quite the opposite in fact.
"Caleb Ball and Blake Layton seem to make the big plays and unselfish plays for us when needed," Spooner said. "Senior leadership as a whole this year has been the shining light though. Kason Lowman, Floyd Nelson, Caleb and Blake, Aiden Stack, Trystan Zingler and Josh Cropp have all taken on a small level of responsibility left in the huge void from Adam and Luke going to the next level."
The Tigers locked up the North Star League championship roughly a month ago, but since that 56-40 win over Clark Fork on Oct. 7, there hasn't been a lot of meaningful football played by Mullan/St. Regis.
Spooner was able to get a read on the room pretty early, and knowing that outside from Clark Fork, the path back to the playoffs was a relatively smooth one — so he made sure to put some tests on the schedule.
Looking in his own backyard, Spooner scheduled Superior and Chinook this season — both powerhouse programs in Montana — and the only two losses on the Tigers' record this year.
Narrow losses in competitive games can almost be as good as wins when it comes to preparation for the postseason — they provide opportunities to learn and an understanding of how it feels to come up short.
Experiencing that feeling is usually motivation to never feel it again — which could be a useful tool against a tough opponent.
Garden Valley comes into Saturday's game with an 8-1 record, and just blitzed Lewis County 47-8 in the opening round of the playoffs.
The Wolverines are arguably a top-five team in the state, but failed to win their conference — so now they have to go the long way if they want a shot at the state championship. A nine-hour drive to Mullan.
"We know that Garden Valley has athletes and great coaching. We know that they like to bang and have an athletic quarterback in Tacoma Kelly and a beast in Jaiden Hunt. We expect them to be a beyond formidable opponent just as playoff football should be," Spooner said. "They do lots of different things and can be very unconventional at times. But they're a talented team for sure. The keys to success for us are to maintain great ball security, to be disciplined and limit penalties like holds, clips and offsides."
Mullan/St. Regis will host Garden Valley in the 1A D2 Quarterfinals this Saturday at John Drager Field at 1 p.m.
Recent Headlines
---