Wildcat air raid heads south for playoffs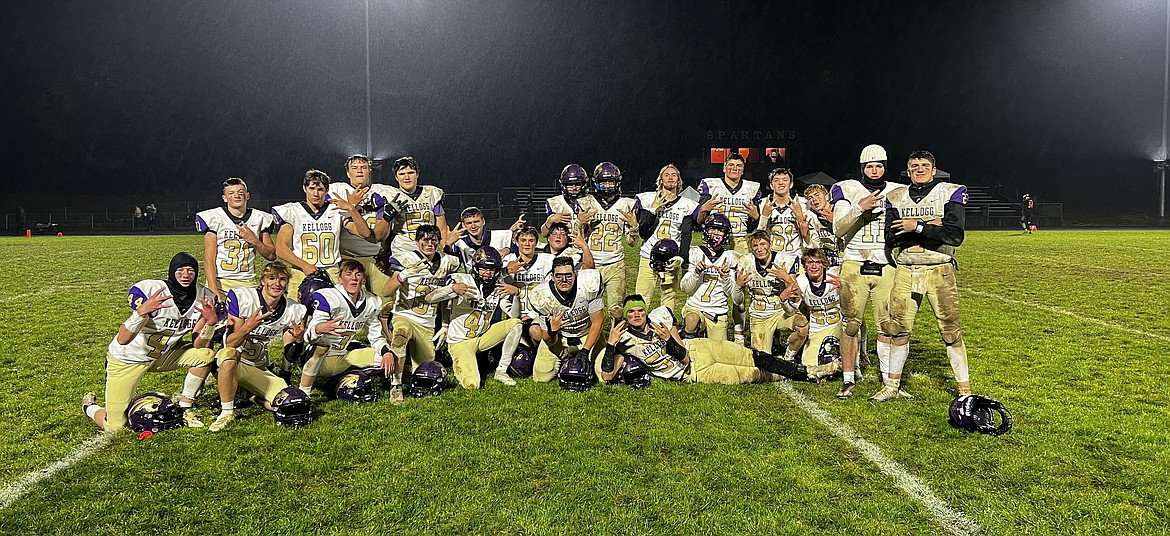 The Kellogg Wildcat football team finished with an undefeated conference schedule following a 62-0 win over Priest River two weeks ago. Now they're preparing to face Bear Lake this week in the opening round of the 2A State Playoffs.
Photo by JOSH McDONALD
by
JOSH McDONALD
Local Editor
|
November 2, 2022 2:43 PM
KELLOGG — Very few teams have had as interesting a season as the Kellogg football team.
After dropping from the 3A classification to the ranks of the 2As, the expectation in year one was to compete for a conference championship and make a run at the state title.
The season was a bit of a roller coaster with more than a few highs, as well as a couple of lows that resulted in a 6-3 record.
In their four Central Idaho League games, the Wildcats averaged 59 points per game and outscored their league opponents 236 — 33.
Those are pretty eye-popping numbers.
It was going to be the out-of-conference play that presented any real challenge — which sometimes it did, and other times it did not.
The 'Cats rolled Moscow and Newport, Wash., but lost competitive matchups to Deer Park and Frenchtown.
The only outlier was a 25-0 loss to Bonners Ferry, the Wildcats' toughest competition of the season and a much more competitive game than the score might indicate.
Despite the successful season and jarring scoring discrepancy, Kellogg was gifted the 8-seed in the 2A playoffs, setting up a matchup with top-seeded Bear Lake.
As you're reading this, the Wildcats are preparing to take on the Bears in Montpelier — which is basically as far from Kellogg as you can get without heading into Wyoming or Utah.
At roughly 6,000 feet elevation and a forecast calling for temperatures in the 20s… the conditions for this one are going to be brutal.
Kellogg has been sturdy on the road this season, finishing 3-1 in contests that were not played under the friendly lights of Teeters Field — the lone loss was the 7-0 grinder against Deer Park back in September.
Under the steady hand of third-year head coach Dan Davidian, and guided by the otherworldly talents of twins Riply and Kolby Luna — Kellogg feels like they might be playing for a state championship in the quarterfinal round of the playoffs.
"I've watched five of their games at least two times apiece," Riply said. "We've done plenty of film study — they don't play a lot of passing teams. I think we match up pretty well and we're going to be able to move the ball on them."
That level of confidence is no surprise for a kid who has thrown more than 2,500 yards and 34 touchdowns this season.
A lot of that confidence comes from the top of the program — Davidian has made it very clear that he understands the gravity of the task in front of his team, but he's confident in their ability to execute.
The plan is simple — play clean football.
"We feel like we match up very well, athletically, with them," he told the News-Press. "The key for us is cutting down on mistakes and mental errors. If we do that, we have a great chance. It's no secret that we throw the ball a lot but we are comfortable running it as well with Daeton Bauer and Riply Luna."
As far as getting the toughest matchup in the first round, Davidian is almost nonchalant about the situation.
"All eight teams in the playoffs are good," Davidian said. "It doesn't matter who you play at this point. They are all tough teams and all will be challenging. Bear Lake will be a tough opponent, they play sound football and don't make a lot of mistakes."
According to the coaching staff, not counting any of the minor bumps and aches that accompany a long football season, Kellogg is headed into this game at full health — which hasn't been the case all season long.
Health is particularly important because this Kellogg squad isn't particularly deep, but they are abundantly experienced.
Many of the senior players have been impact performers for the Wildcats since their sophomore season — a lot of them in starting roles.
This includes most of the skill position players, who — last season — lost a first-round heartbreaker in the opening round of the 3A playoffs.
The sting of that loss hasn't dulled for many of these guys, but they know exactly what might help it.
"I feel like everyone is buying in at the right time," Kolby said. "Everything is going in the right direction to pull a big head-turner for North Idaho. I think we all feel like we're going to do it, everything is clicking right now."
At the receiver position, Kolby has routinely seen double and even triple coverages thrown at him — a lot of times to little avail as he's racked up more than 1,600 receiving yards and 19 touchdowns this season.
Even as Kellogg's go-to guy, the end result is still more important than individual statistics.
"I don't care if I don't touch the ball a single time," Kolby said. "If I'm getting doubled, if Varick (senior receiver Varick Meredith) is doubled, that means one of the other guys in the slot is probably open — I don't care who catches the ball as long as we win."
Riply has set records in multiple classifications during his time as a Wildcat, but for him, it's about getting the respect he feels that his program has been deprived of over the past three years.
"I know that there's a lot of it that is out of our control with rankings and all of that, but we feel almost disrespected," Riply told the News-Press. "If anything we feel for Bear Lake because they got matched up with us in the first round. We're ready to go."
Davidian echoed the statements of his highly recruited signal caller.
"Our goal all along has been to win a state title and that won't change," he said. "We look forward to making this run in the playoffs."
Kellogg will take on Bear Lake this Friday, Nov. 4 in Montpelier, Idaho, at 6 p.m. (MST). Streaming options are available on the Kellogg Wildcats Live Facebook page.
Recent Headlines
---