Oren Lee Flolo, 78
|
November 7, 2022 1:10 PM
Oren Lee Flolo, beloved husband, father and grandfather went to join our Heavenly Father on April 12, 2022, following a lengthy illness.
Oren was born in Kellogg, Idaho, on Oct. 31, 1943, to John and Louise Flolo. He grew up in Vergobbi Gulch, the "Little Italy" of town. He attended the local elementary and middle schools and enjoyed Cub Scouts and Little League Baseball. Like many kids in The Valley, he was no stranger to hard work. During his high school years, he and many of his best friends worked in the mines together. He was also a great football player for the KHS Wildcats and met his first true love, Charlene Reasor, before going on to graduate from Kellogg High School in 1962. Oren attended college at the University of Idaho where he studied to be a teacher. On Nov. 19, 1966, he married his high school sweetheart, Charlene, at Saint Rita's Catholic Church in Kellogg. They welcomed their first child, John, on Nov. 27, 1967, in Moscow, Idaho. A proud 'Vandal,' Oren later graduated from U of I with his teaching credential and MS Ed in the spring of 1968.
Oren loved nature and the outdoors and was passionate and excited about moving to Alaska. He began his first and only teaching position at Sitka High School in 1968. On June 11, 1969, he and Charlene welcomed their youngest child, Daren, in Kellogg. During his long career, Mr. Flolo enjoyed teaching history and sociology to hundreds of local Sitkans. He taught U.S. history (required sophomore class) for 26 years before his retirement in 1994. Along the way, his love of fishing and taste for adventure led him to pursue his Captain's License. In 1984, he began JayBird Charter Service. One of the "Original" and earliest Charter Guide Services on The Island. He caught King Salmon and Halibut with thousands of people from all over the world. Even the famous author, James Michener. And in a town full of great fishermen, he was definitely one of the best. He loved his clients, most of which returned year after year. Many were relatives, but he treated them all like they were his family. There were two rules on His Boat: Rule No. 1 — The CAPTAIN is ALWAYS RIGHT … if you are wondering about Rule No. 2, you surely didn't know Oren very well.
Oren Lee Flolo was a loyal, devoted husband who adored and cherished his wife of 55 years. He was a proud father who loved his boys wholly and unconditionally, and raised them to be honest, hardworking men. He faithfully adored his grandchildren — they brought him true joy and happiness. Oren loved his family and friends with all of his heart. He enjoyed a good party and loved to entertain. He was a passionate Italian-Norwegian who preferred his Salame on Lefse. He liked his coffee dangerously hot. His dinner too! His boat was always shipshape and his house and yard in tip-top condition. When he was in, he was ALL IN … FULL SEND!
He will be remembered dearly and deeply missed by those he leaves behind. He is survived by his wife of 55 years, Charlene Flolo; and his two sons, Daren and John; and a brother, Geoff Flolo of Coeur d'Alene. He also leaves behind four grandchildren, Dylan, Garrett, Grace and Carolina Flolo.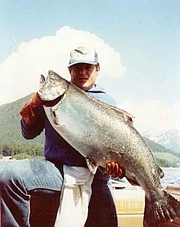 Recent Headlines
---