Silver Valley Sports Recap: Oct. 17-23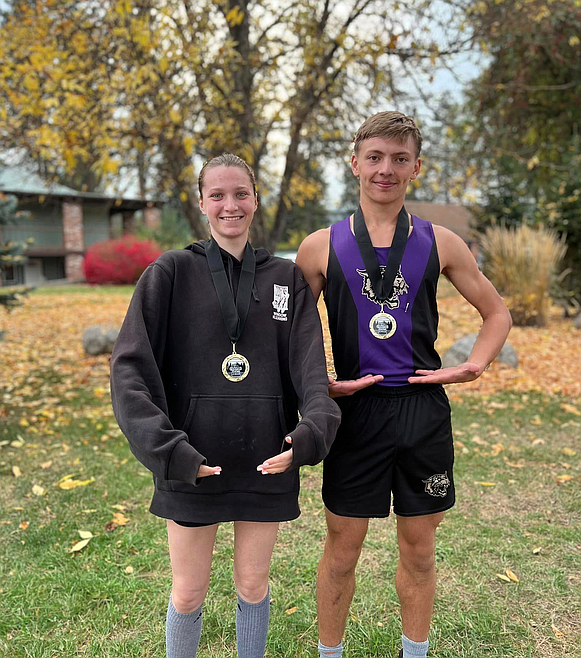 Kellogg Wildcat cross country runners Lacey Medina and Makai Peak show off their district championship medals that they won last week at the District 1-2 championships at Pinehurst Golf Course.
Courtesy photo
|
October 25, 2022 1:00 AM
DISTRICT VOLLEYBALL
1A DI – Wallace
• Oct. 20
Wallace d. Lakeside — district championship
COEUR d'ALENE — The top-seeded Miners defeated the third seeded Knights in five sets in the 1A Division I District 1 championship match, advancing to state starting next Friday at Madison High in Rexburg.
Wallace (10-6) is 11th in the final regular-season MaxPreps rankings. Lakeside, which upset second-seeded Genesis Prep on Tuesday in five sets, finishes 4-9.
Arianna Havier-Gorr had nine kills and 25 digs for Lakeside, Martina Rivera eight kills, 14 assists, three blocks and eight digs, Tylah Lambert six kills, 16 assists, two aces and four digs, and Kimberly Pluff six kills, seven digs, and two aces.
2A — KELLOGG
• Oct. 17
Kellogg d. Orofino — district semi-final
GENESEE — Madi Cheney and Dani Hendrikson had eight kills each as Kellogg swept the third-seeded Orofino Maniacs 25-23, 25-23, 25-19 in the other semi.
Abby Neff had 22 assists and two blocks for Kellogg.
Brielle Hei had 20 digs for Kellogg, Dani Schillireff and Macy Jerome three aces each, Cheney two blocks.
"We played at a really fast tempo, and I think Orofino was having trouble keeping up with us," Kellogg coach Stephanie Batchelder said.
• Oct. 19
St. Maries d. Kellogg — championship match
Kellogg d. Grangeville — second place, loser-out match
GENESEE — Stacie Mitchell had nine kills and three blocks for top seeded St. Maries in a 14-25, 25-13, 25-20, 25-19 win over the second seeded Kellogg Wildcats in the 2A District 1-2 tournament, advancing to state starting Oct. 28 at Shelley High.
"We had something to prove," said St. Maries coach Rachele Fischer, whose team won its first district title since 2020. "To show how we can play after our slow start to districts on Monday where we had to come away with the win, but it wasn't our best performance. It took a little to get going and our first game was a little slow and Kellogg took it from us. The girls remained calm, worked together, focused on the little things to minimize the errors and move around to find the open spots for kills."
Tayla Janssen had nine kills and two blocks, Ava Stancil five kills and five digs, Berkli McGreal 11 digs, Mia Asbury seven digs and three aces, Abbie Wilks five digs and Lily Daniel 35 assists for St. Maries.
"Our serving was key and much more consistent than Monday," Fischer said. "The girls had to work for the win. Kellogg wasn't just going to let us have it. I've been telling the girls all year, you have to go out and make things happen, and tonight, they were able to do it again."
Later, the Wildcats swept third-seeded Grangeville to advance to a state play-in match against Nampa Christian at Prairie High on Saturday.
• Oct. 22
Nampa Christian d. Kellogg — state play-in
PRAIRIE — Kellogg's bid to make it to state in its first year in 2A fell short in a 25-21, 21-25, 25-21, 25-9 loss to Nampa Christian in a state play-in match.
Kellogg finishes 12-10.
Nampa Christian advances to state on Friday and Saturday at Shelley High.
1A DII – Mullan
• Oct. 18
Mullan d. Kootenai — district semi-final
COEUR d'ALENE — Senior Callie Smith had nine digs for the third-seeded Warriors in a 25-11, 25-16, 25-15 loss to the secondseeded Tigers in the semifinals of the 1A Division II District 1 tournament at Christianson Gymnasium.
"The girls made some great plays tonight," first-year Kootenai coach Lacey Bohannon said. "They never gave up. They continued to fight the whole time. This is a very young team and the strides they have made this season has been phenomenal to watch. I am excited to see what next year brings."
Junior Keira Bohannon had eight digs, sophomore Kaylee Lupo two aces and freshman Chloe Dorman one block for Kootenai, which finishes 0-15.
• Oct. 20
Clark Fork d. Mullan — district championship
COEUR d'ALENE — Paige Valliere had 13 assists and three aces for the top-seeded Wampus Cats in a 25-13, 25-9, 25-12 win over the Tigers in the 1A Division II District 1 championship match at Christianson Gymnasium.
Eloise Shelton had 10 kills for Clark Fork (12-4), which advances to the state 1A Division II tournament next Friday at Madison High in Rexburg.
Mullan finishes 6-8.
KELLOGG FOOTBALL
• Oct. 21
Kellogg 62, Priest River 0
Priest River — The Wildcats romped in their regular season finale.
With the win, Kellogg finishes undefeated in Central Idaho League play and will claim an outright league championship in their first year at the 2A level.
The Wildcats (6-3, 4-0) wasted little time scoring the football and led 40-0 headed into halftime — while also shutting down Spartan tight end and University of Idaho-commit Matyus McLain.
Riply Luna racked up 363 passing yards and five touchdowns, while rushing for 80 yards and one score. Kolby Luna caught 11 passes for 235 yards and three touchdowns.
Due to some oddball rankings and subsequent seeding, the Wildcats received a first-round bye into the playoffs, but won't know who they are playing or where they're seeded until after this weekend.
However, no matter who they play it will be a road game for Kellogg.
MULLAN FOOTBALL
• Oct. 21
Mullan 60, Wallace 22
MULLAN — The Tigers ended their regular season with an afternoon win over their Silver Valley rivals from Wallace.
The Miners kept it tight with the North Star League champion Tigers for the first 24 minutes, but a second-half statement put Wallace away for good.
"It was one-score game at halftime, 22-14," Mullan coach Stetson Spooner said. "Wallace showed up and made some big-time plays. They're a tough group of guys."
Mullan will now have a week to prepare for the winner of Lewis County and Garden Valley in the quarterfinals of the 1A D2 State Playoffs.
That game will be played in Mullan in two weeks.
KELLOGG CROSS COUNTRY
• Oct. 20
District 1-2 Championships
PINEHURST — The Wildcats will be well-represented at this week's state cross country meet thanks to a dominant performance from both the mens and womens teams.
Makai Peak continued his string of incredible races by finishing at 16:22 and claiming the district championship. He was joined in the top eight by teammates Ryken White (17:57) and Aiden Peak (18:18).
The Wildcats had five boys inside the top 12.
In the womens race it felt like Lacey Medina and everyone else.
Medina has been at or near the top of the field for her entire career, and last week she showed her dominance with a 19:43 finish — more than two minutes ahead of her closest competition — to claim the district championship.
"These kids have worked so hard this year," coach Jeff Smith said. "They deserve all the credit in the world."
Both Makai Peak and Medina will lead their teams to the 2A State Championships this weekend at the Lewis Clark State College Cross Country Course in the Lewiston Orchards.
Recent Headlines
---