Talented Miners prepare for state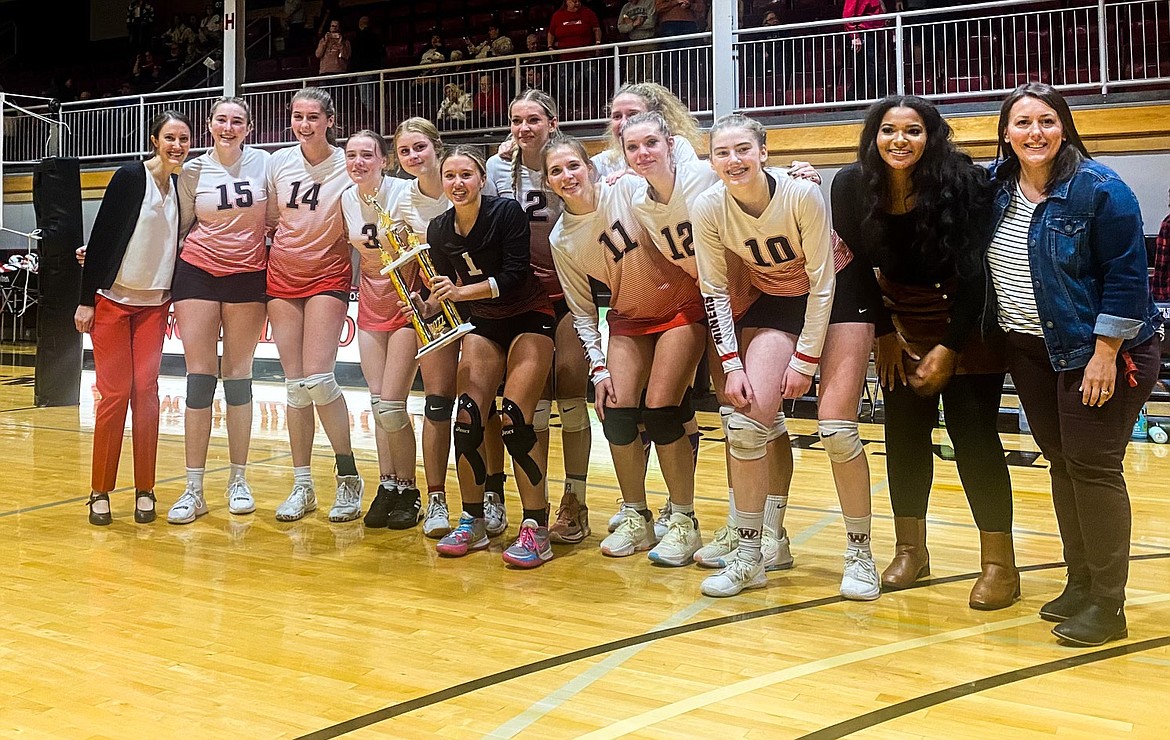 The Wallace Miners won the 1A DI District I Volleyball Championship last week at North Idaho College. With the win, the Miners qualified for the state tournament this week in Rexburg.
Courtesy photo
by
JOSH McDONALD
Local Editor
|
October 25, 2022 1:00 AM
COEUR D'ALENE — It started off like the previous two matchups between the volleyball teams from Wallace and Lakeside — spirited competition, but it felt like the Knights just ran out of gas in the third set.
Not this time though.
After the Lady Miners rattled off a fairly dominant second-set win, Lakeside responded with two sets of their own.
For anyone who doesn't know, the abbreviated fifth set of a volleyball match is a sprint. A sprint that you need to be near-perfect in order to win.
Mental toughness usually rules the day when it comes to set five.
It was about shaking off the ghost of last year's play-in loss for head coach Katie Bauer and her team.
Lakeside put up a pretty good fight, but it was the Miners who hoisted the District I trophy, and — more importantly — punched their ticket to this week's state tournament in Rexburg.
"I think a tremendous weight has been lifted for our seniors," Bauer said. "Kynadee Gilmore and Savannah Smith were both part of our 2020 state tournament team as sophomores. We had high expectations for 2021, and we suffered a brutal play-in loss to last year's third-place trophy winner, Genesee. Winning our district was definitely redemption for last year."
The Miners lost a lot of experience to graduation last year, but Bauer seemingly reloaded his year — and instead of simply bringing experience to the table, also bring a few intangibles too.
Those intangibles — the things you can't coach — will make the most difference this week, especially if Wallace wants to return home with some hardware.
"The thing that feels most different to me is our size and skill at all positions," Bauer said. "We have a solid lineup of talented players from top to bottom and every win feels like a true team victory."
Smith in particular has developed into a nightmare for opposing teams to deal with. The reigning Scenic Idaho League MVP led Wallace in kills this season but also developed into a skilled blocker and passer.
Tia Hendrick and Britany Phillips were also SIL all-league selections this year and will appear on most of the scouting reports by their southern counterparts — but there might be one under-the-radar player that pushes Wallace over the top, that being Gilmore, the Miners senior libero.
Bauer spoke highly of her star players and believes that each one of them brings something different to the table.
"Savannah is a relentless attacker, but she also loves to play defense and pass," Bauer said. "Tia does a little bit of everything and makes very few errors. She has only missed two serves this entire season. She is also a tremendous defender. Britany is one of our captains and also our lead-off server. She leads us in aces and digs. Kynadee is our other captain and is excellent in digs and serve receive. She had 12 aces against Lakeside and I predict she will rack up more at state."
Bauer feels her squad is right in the thick of things, and they're going to jump right into the fire with a first-round match against a talented Oakley squad that has only lost three matches this season.
Wallace punched above their weight class for most of the season, with four of their six losses coming to Kellogg and St. Maries — boil it down, the Miners aren't going to back down from a fight and they're big enough to handle their business — and look forward to every opportunity to show it.
"We have high expectations for the state tournament," Bauer said. "After last season, we were not sure where we would go to replace our 3-year setter, but freshmen Megan Hull and Aubrey Birdsell have exceeded our expectations. Our goal is to make it to Championship Saturday, and we are grateful for every match we get to play together from here to the end."
Wallace will open the 1A DI State Tournament against Oakley on Thursday morning at 9 a.m. (MST) at Madison High School in Rexburg.
Recent Headlines
---