Here's to you, Skip!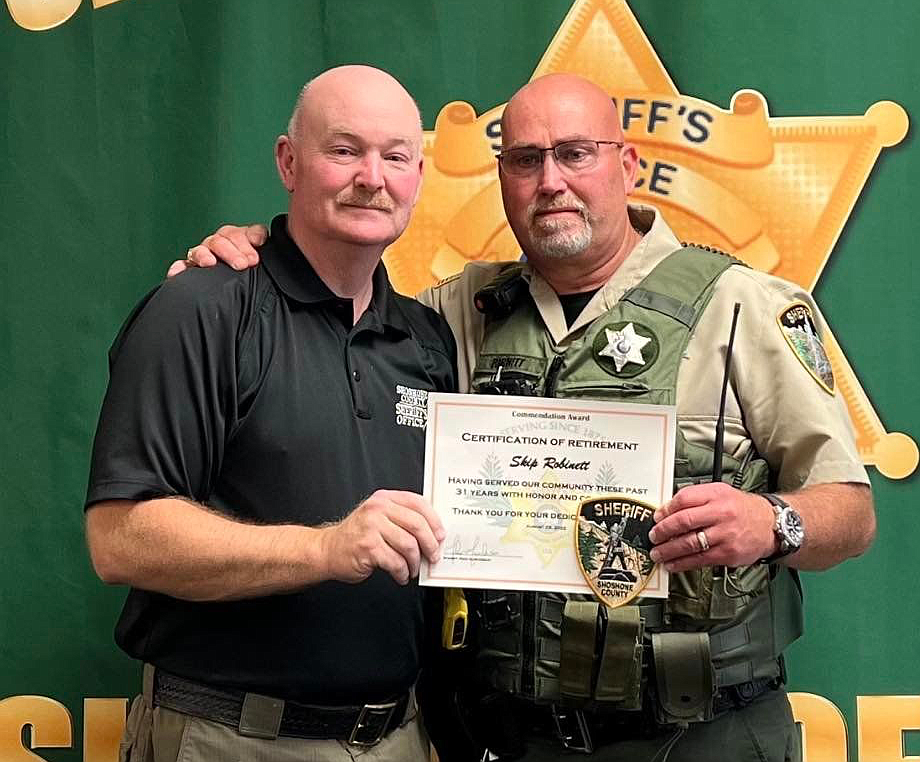 Shoshone County Sheriff Mike Gunderson poses alongside longtime co-worker Skip Robinett during a retirement party for the latter last month. Robinett was a reserve officer and deputy for both the Pinehurst Police Department and the Shoshone County Sheriff's Office for 31 years.
Courtesy photo
by
JOSH McDONALD
Local Editor
|
September 16, 2022 1:00 AM
WALLACE –– 31 years is a long time to do anything, let alone to put yourself in the line of fire – but for Skip Robinett, it was about the opportunity to serve his community.
Robinett recently retired from law enforcement following more than three decades of service to both the Shoshone County Sheriff's Office and the Pinehurst Police Department.
During his time in law enforcement, Robinett seemingly had a way with the people he encountered where things just clicked.
"It's impossible to replace a guy like Skip," Shoshone County Sheriff Mike Gunderson told the News-Press. "The connection he had with people and the community isn't something that you replicate."
As a reserve for those departments, Robinett worked when he could – fitting his shifts around his "day job" at Dave Smith Motors.
"He dedicated his Sundays, basically his only day off each week to us," Gunderson said. "A lot of times during the summer months too."
Robinett's presence around the offices where he worked is one of the biggest things that is going to be missed by his former co-workers – Gunderson included.
"31 years is a lot of knowledge, and that's not easily replaced," Gunderson said. "The relationships he made with the community are invaluable."
Coming up through training during the same period, Gunderson will tell you that Robinett was absolutely a perfect fit for the style of law enforcement he practiced.
"We were trained on education over enforcement," Gunderson said. "Talking to people and learning to relate with our citizens – Skip's ability to talk to people was incredible. He's been a salesman his whole life and his ability to read people, understand body language, and problem solve without escalating a situation – that's what Skip brought to the table for us. We're going to miss him."
Last month the SCSO threw Robinett a retirement party attended by fellow law enforcement officers and his own family.
Thank you for your service, Skip Robinett.
Recent Headlines
---