PLANT NOTES- Yarrow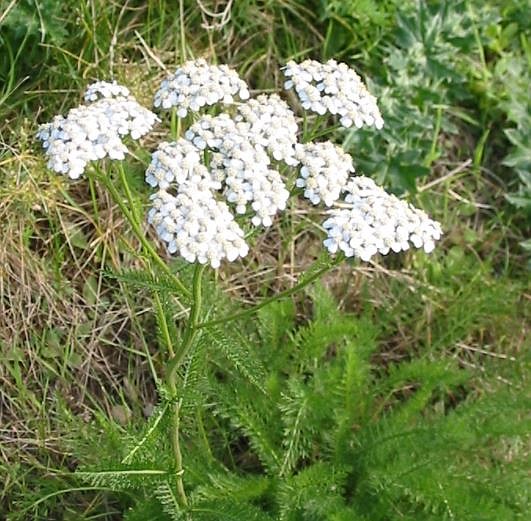 Yarrow (Achillea milleflium)
Kinnikinnick Native Plant Society
by
KINNIKINNICK NATIVE PLANT SOCIETY
|
September 16, 2022 5:00 AM
One of the world's oldest recorded medicinal plants, Yarrow (Achillea milleflium) was named after Achilles, the Greek warrior of Trojan War fame, by the Swedish botanist Linnaeus in 1753. Achilles used Yarrow to staunch the wounds of his soldiers. Common names of the plant include "soldiers' woundswort" and "staunchweed".
Yarrow has anti-inflammatory and antiseptic oils, and the alkaloid Achilleine, known to reduce blood clotting time. Yarrow is a handy addition to your backwoods first aid kit as a poultice or liniment for falls, scrapes, and sprains. Yarrow's species name, millefolium, is Latin for "thousand leaves" referring to the feathery, gray-green foliage which resembles a multitude of leaves at first glance.
A powerful insect repellant, Yarrow flowers can be rubbed directly onto skin or clothing. Native Northwest tribes traditionally hung bunches of cut yarrow in longhouses for this purpose.
Folklore about Yarrow abounds, especially in regards to wedded bliss. Hanging a bunch of Yarrow above the nuptial bed or adding it to a bride's bouquet or garland was said to ensure love for seven years. Next time you wrap a wedding gift, tuck a sprig of Yarrow into the bow.
From mid-spring through autumn, miniature daisy-like flowers branch off near the top of the stem in tight, flat-topped bunches of 10-30. The flowers used for medicinal purposes are white, but Yarrow comes in a variety of colors.
This hardy, aromatic perennial flourishes in meadows and pastures, cities and disturbed soils. Stems grow up to 36 inches tall and underground shoots produce thick, spreading clumps. Of the 100 plus species of Yarrow, mostly found throughout Eurasia, only three are native to North America. The plant flourishes with moisture but is resistant to drought and easily reseeds itself. Plant Yarrow in sunny locations, especially where soil erosion is a problem.
Growing yarrow with other herbs increases their essential oil content and enhances growth and health in general. Somewhat susceptible to mildew in damp settings, Yarrow attracts bees, and is deer resistant.
Yarrow grows abundantly in the Dry Rock Habitat and in the Medicinal Garden at the North Idaho Native Plant Arboretum. Open to the public, parking for the Arboretum is at 611 S. Ella Ave. or on the street.
Yarrow is found on page 201 of the KNPS publication, Landscaping with Native Plants in the Idaho Panhandle, available at local bookstores and the Bonner County History Museum. Native Plant Notes are created by the Kinnikinnick Native Plant Society. To learn more about KNPS and the North Idaho Native Plant Arboretum, visit www.nativeplantsociety.org.
Recent Headlines
---