Making Idaho more accessible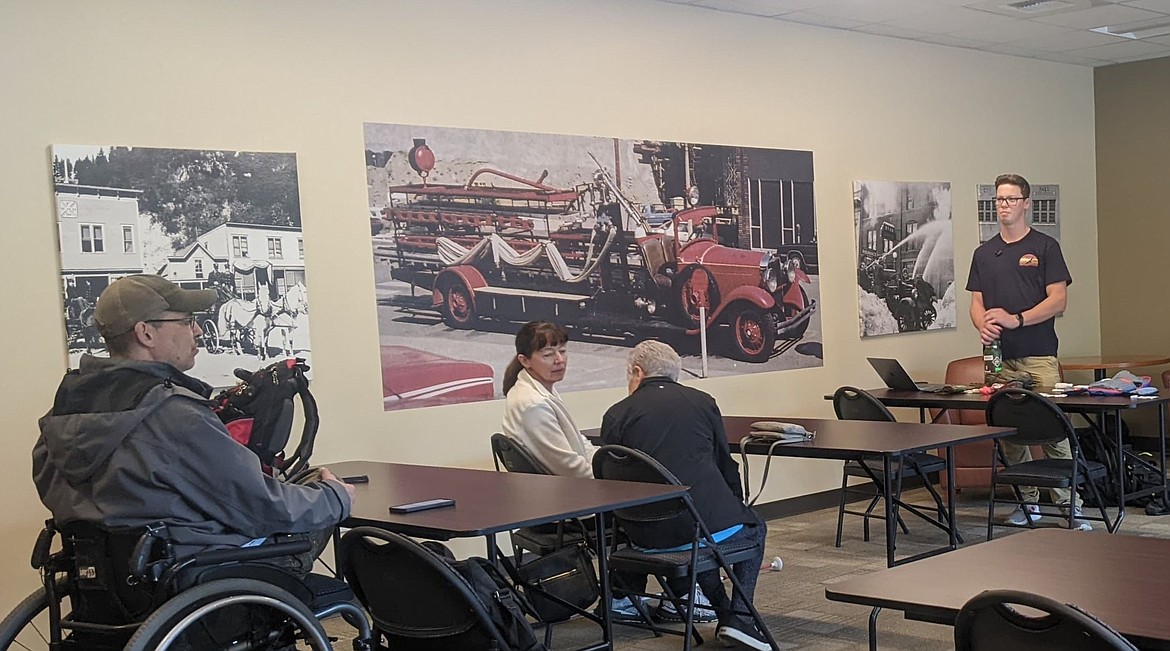 Members of the group Idaho Access Project met with first responders of Shoshone County Fire District No. 1 to discuss accessibility when it comes to recreating.
Photo by MOLLY ROBERTS
by
MOLLY ROBERTS
Staff Reporter
|
September 27, 2022 5:05 AM
WALLACE — The Idaho Access Project (IAP) toured North Idaho last week, making stops to ensure that every community in Idaho is accessible to all people, including those with disabilities, with a particular emphasis on outdoor recreation.
"The Idaho Access Project works to eliminate physical, attitudinal and policy barriers to ensure people with disabilities can live, work and play in our neighborhoods and communities," said Paige Olsen, executive director of the Silver Valley Economic Development Corporation.
Upon arrival, the group met with first responders from the Shoshone County Fire District No. 1, discussing the most important safety aspects of recreating. The group later took a tour around Wallace and on Thursday biked or rolled the Route of the Hiawatha.
Dianna Willis, president of the Idaho Access Project, told the Shoshone News-Press how the group began.
"Two years ago, after the 30-year anniversary of the Americans with Disabilities Act (ADA), we started a recreation committee. We started to meet, getting to know each other and what we like to do outdoors as people with differing disabilities. We also discussed the challenges and barriers that we face."
The group began meeting every other week, eventually connecting with people in Coeur d'Alene and the Silver Valley, increasing the excitement over visiting the area.
"We knew we wanted to take this trip, we just weren't sure what it was going to look like," Willis said.
The group's goal is to have essential conversations and plans to help make recreating in North Idaho accessible for everyone.
"Take the Trail of the Hiawatha for example," explained another board member Jeremy Maxand. "It's not a simple trip to plan. It's complicated, and if you need to plan to use a chair on that trail, it gets even more complicated. We wanted to come up and have the experience and then provide feedback."
IAP has many accessibility projects, including Ramp Up Idaho, which focuses on providing design features like ramps, lowered tables, reachable countertops and restroom access so all feel welcome. Another project the group tackles is visitability, focusing on the accessibility of housing. The group is currently working to develop a pilot project in a planned Idaho neighborhood to showcase what this would encompass.
Access Idaho Adventures is an offshoot of the Access Project, focusing specifically on accessibility when recreating and outdoor pursuits.
For more information on the Idaho Access Project or the different projects that they are a part of, please visit dahoaccessproject.com.
Recent Headlines
---