Tracks set to reopen following Paradise derailment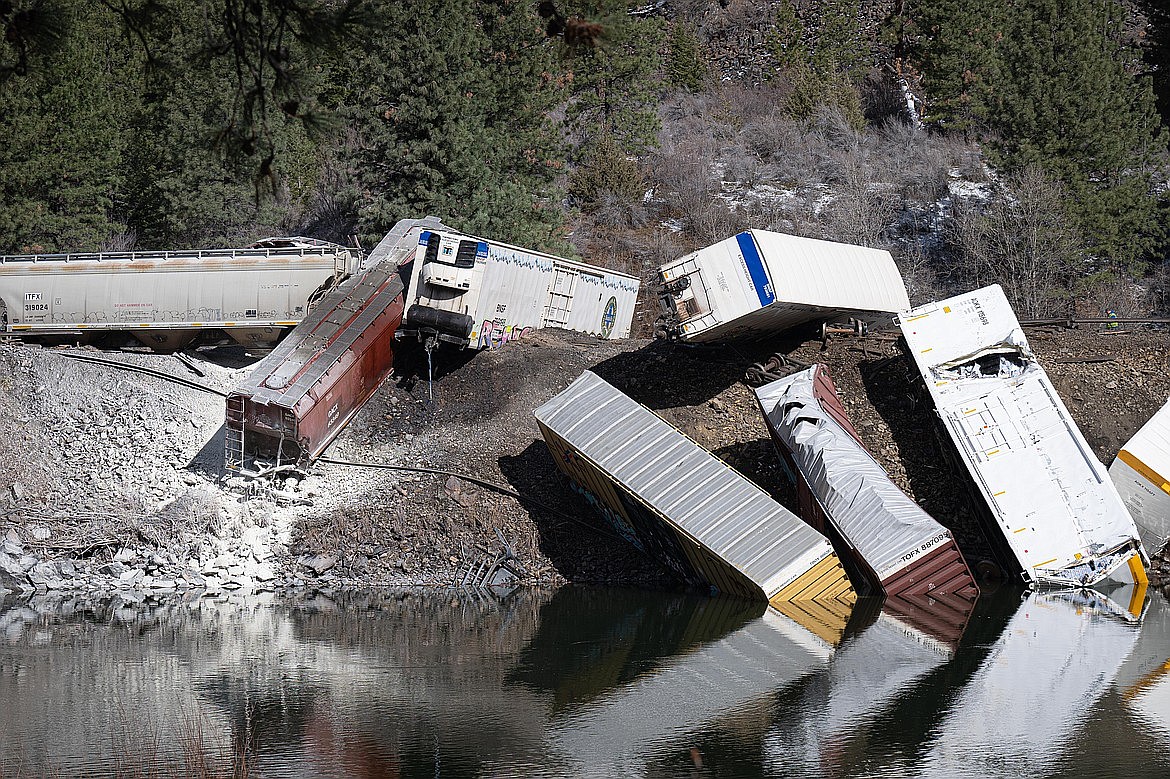 Montana Rail Link freight cars hang along the Clark Fork River following a derailment in Sanders County, Mont., on April 2.
Photo by TRACY SCOTT/Clark Fork Valley Press
by
MATT BALDWIN
Daily Inter Lake
|
April 7, 2023 1:00 AM
Montana Rail Link is set to reopen its tracks through Sanders County four days after a freight train derailed along the Clark Fork River.
According to Montana Rail Link spokesperson Andy Garland, train traffic was expected to resume Thursday afternoon.
"We have made significant progress at the incident site to remove many of the damaged cars, clean up debris and begin the process of site remediation," he said.
Train traffic would resume once "all safety measures have been met," Garland added.
About 25 railcars derailed Sunday, April 2, on Montana Rail Link's route through Sanders County. No one was injured in the incident along Montana 135 near Quinn's Hot Springs Resort.
Multiple railcars rolled onto the banks of the Clark Fork River, spilling cases of Coors and Blue Moon beer into the waterway, and some clay material. Several other railcars derailed inside a narrow tunnel.
Garland previously said there were no hazmat releases associated with the derailment.
A boom was deployed within the river to secure cans and bottles of beer that entered the water, and to help monitor for potential diesel impacts. A small amount of fuel was released to the soil from two impacted refrigerator cars.
The crash site could only be reached by vehicles traveling on the blocked railroad track or by taking a boat across the river, adding to the cleanup challenge.
"In the coming weeks, we will be continuing the investigation into the cause of the accident, making progress on remediation in the area and addressing any other impacts," Garland said.
Montana Rail Link is a Class II regional railroad operates 937 route miles of track in Montana and Idaho.
Recent Headlines
---