William Wozow, 80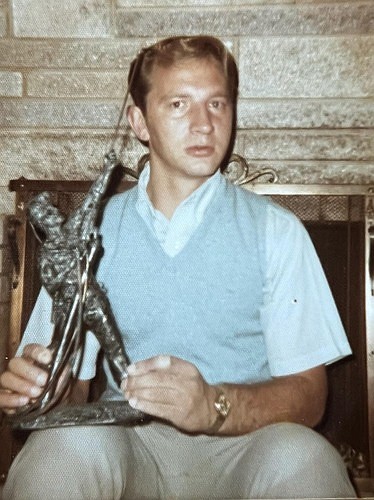 William "Bill" Robert Wozow, 80, left this earth on March 26, 2023, after a wonderful evening with his family that he adored. He was born July 20, 1942, to David and Mabel Irene (Sjostrom) Wozow in Newport, Wash. In 1962, he married Ruth Ann Neal and began their beautiful family.
As very young boys, Bill and his brother Henry started working. They cut fence posts, hayed in the fields, and even moved a sheep camp in the mountains. They were no strangers to hard work. After Bill graduated from Kellogg High School in 1961, he immediately went into the mining industry in the area and quickly became a miner's miner. During this time, he also raced motorcycles and enjoyed hunting game with his friends. Bill's profession in the mining industry allowed him to travel the United States and the world, but was a homebody at heart and welcomed retirement close to his family. He loved golfing, driving his '57 Chevy, and cheering on Gonzaga basketball.
Bill is survived by his wife of 61 years, Ruth Ann Neal; daughters Deborah (James) Polson and Staci (Willis) Wetzler; granddaughter Stephanie (Kenneth) Ritz; grandson James Jordan Polson; beloved great-granddaughters Eliana and Makenna Ritz; sister Linda (Michael) Mckee; and brothers Henry (Pattie) Wozow, Charles (Jayne) Wozow, Gary (Carol) Wozow and Edward (Elisa) Wozow. He is also survived by several nieces, nephews, cousins and dear friends. He was preceded in death by his parents, his sister, Sybil and his niece, Kimberly.
In his heart Bill was always a caretaker and protecter of his family and will be sorely missed. As one friend recently said, "They don't make men like Bill anymore. Physically tough but loved his family dearly."
Funeral services will take place at 11 a.m. Friday, April 14, 2023, at King of Glory, 10001 58th Ave., Arvada, Colo., followed by a reception in the church hall.
Donations in Bill's memory may be made to King of Glory; Bethlehem Lutheran School, 2100 Wadsworth Boulevard, Lakewood, CO 80214; or the charity of your choice.
Recent Headlines
---