Marty and Max: Passing the buck
To pass the buck means to avoid responsibility or blame for something by passing it on to another person, or to let another person do something you were supposed to do. Politicians are often known for passing the buck. Common usage includes, "I hate my boss. He is incompetent and every time he screws up, he passes the buck."
Sound familiar?
Pass the buck originated in poker games of the 19th century, particularly those in the saloons and riverboats of the Old West. A small object would be placed in front of the person whose turn it was to deal the cards. According to some sources, this object was often a knife with an antler handle, therefor these knives were commonly called "bucks." Other sources say a small piece of buckshot was used for the dealer's marker. It may also have been a silver dollar. In all probability, any small object was used.
Whatever the case, the marker was called a buck. When it was time for a new dealer, the buck was passed to the next player in line. If a player didn't want to deal, he would place the buck in front of the player next to him, thus passing the buck. He might even say, "I'm passing the buck." Dealing could be a daunting responsibility when you were trying to keep a hidden ace up your sleeve.
Mark Twain used the phrase in his semi-autobiographical work "Roughing It," from 1872: "I reckon I can't call that hand. Ante and pass the buck."
The phrase passed into figurative use sometime in the late 1800s or early 1900s. Pass the buck is the likely origin of the phrase "the buck stops here," associated with President Harry Truman, who had a sign on his desk engraved with the message. It was his way of saying that the ultimate responsibility lay with him, and he would not shirk his duty and responsibility and try to pass it on to someone else. However, the plaque was actually a replica that a friend of his had made after seeing such a plaque on the desk of a prison warden in Oklahoma.
HEY MAX: How did the real estate market get here? When will interest rates fall? Most folks believe that interest rates follow inflation. When one goes up, the other follows. Inflation is caused by increased production costs and government spending. Whose fault is rising inflation and interest rates? This is just a mere real estate column. I will stay in my lane, so I am just going to have to Pass The Buck.
Market Update: Existing-home sales reversed a 12-month slide in February, registering the largest monthly percentage increase since July 2020, according to the National Association of Realtors.
Nationally, existing-home sales jumped 14.5% in February to a seasonally adjusted annual rate of 4.58 million, snapping a 12-month slide and representing the largest monthly percentage increase since July 2020 (+22.4%). Compared to one year ago, however, sales retreated 22.6%.
• The median existing-home sales price decreased 0.2% from the previous year to $363,000.
• The inventory of unsold existing homes was unchanged from the prior month at 980,000 at the end of February or the equivalent of 2.6 months' supply at the current monthly sales pace.
Mortgage Rates Trending Lower
Mortgage rates continue to trend down entering the traditional spring home-buying season. Unfortunately, those in the market to buy are facing a number of challenges, not the least of which is the low inventory of homes for sale, especially for aspiring first-time homebuyers. (Source Freddie Mac)
• • •
Marty Walker is a licensed real estate professional and paid consultant. Information shared in this column is of a general nature. For specific questions in relation to your unique property, email to set a time for a consultation. Information: MartyandMax.com or Martywalker@remax.net.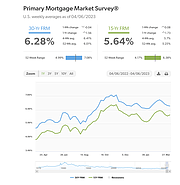 Recent Headlines
---