You can't spell Luna without The U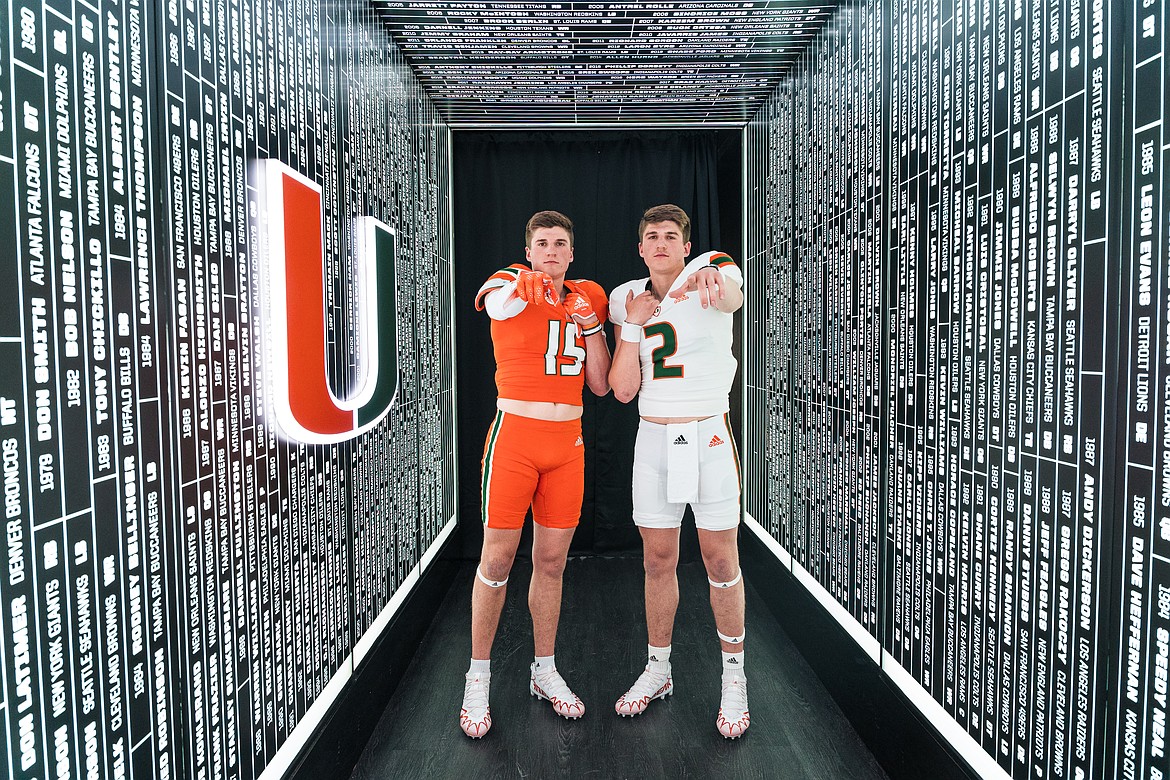 Kellogg High School seniors and twins Kolby and Riply Luna recently committed to play football at the University of Miami — making them the first Division 1 athletes to come out of Kellogg High School in more than a decade. A recent photo-op during a campus visit allowed the Lunas to see just how good they're going to look in their new threads.
Courtesy photo
by
JOSH McDONALD
Local Editor
|
April 18, 2023 1:00 AM
KELLOGG — Arguably the two most decorated athletes in Kellogg High School history are taking the next step in their athletic careers — and it's a big one.
A few weeks ago, brothers Riply and Kolby Luna signed their letters of intent to play college football for the University of Miami Hurricanes.
For most people (and especially those coming out of small Idaho schools), playing college sports of any kind can feel like a pipe dream, but the quarterback/wide receiver duo has turned that dream into the biggest possible reality.
The twins are headed to Coral Gables and head coach Mario Cristobal as preferred walk-ons — vastly different from simply walking on.
A preferred walk-on is just one step below receiving an athletic scholarship. Preferred walk-ons (PWO) receive no athletic aid, but will go into college with a secured roster spot and the opportunity to compete for minutes right out of the gate.
Known far and wide as simply "The U," Miami beat out several much closer schools, including Montana, San Diego and Oregon.
Even with the initial PWO, earning an athletic scholarship isn't off the table.
"The only difference right now is the scholarship," Kolby said. "And that just gives us one more thing to work toward."
Kolby finished his high school career as possibly the most decorated wide receiver in Idaho high school history — setting records in both the 3A and 2A classifications.
His 95 catches for over 1,750 yards and 21 touchdowns are jaw-dropping numbers across the board — but there is a very good chance that these numbers don't exist if it wasn't for his brother.
Riply navigated his way through high school football as one of the country's most electric signal-callers. Lined up routinely behind an undersized offensive line, Riply found ways to extend plays with his legs while delivering pinpoint throws — oftentimes to Kolby.
As a three-year starting quarterback at Kellogg, Riply delivered 93 touchdown passes and held a 127.9 career QBR (quarterback rating) — numbers that were boosted immensely by over 2,700 passing yards, and 37 touchdowns during the 2022 campaign.
As a consequence, Riply now owns his fair share of state records at the different classifications as well.
In the past few months Kolby and Riply have visited the campus and during the various visits, media appearances, and interviews have heard, "I don't know if we've ever had a recruit from Idaho…"
Again, they're happy to have another hurdle to clear.
"Obviously they don't know the kids up here," Riply said with a smile. "Realistically though, Miami is about as far away from Kellogg as you can go to play football. It was a really great visit — growing up in the Silver Valley where it's winter for six months out of the year, it's a vacation destination for a lot of people — it's a pretty good football destination too."
"The coaching staff immediately made us feel welcome," Kolby said. "Not just welcome. They make you feel like you immediately are making a difference for them — we did a lot of visits and they put on a really good visit. Their facilities are brand new with even more coming."
The Miami fanbase has already welcomed both twins with open arms, thrilled with their seemingly exotic new toys — comments like "welcome home" or "Go Canes, Welcome to the family!" are all over their respective Twitter feeds, often coming from Miami alumni.
"This is the best fanbase in the nation," Riply said. "They have five gold jackets (Pro Football Hall of Famers) on their staff. They have the tools to develop you and get you to the next level."
Which is exactly where the Lunas expect to be.
When asked if professional football is the end goal — the answer, without blinking, is a resounding yes.
"That's always been the goal," Kolby said. "And I'm going to get an education along the way."
Both brothers plan on majoring in business, and it just so happens that Miami boasts a top-tier business school program, literally making The U a perfect fit.
Fans of the Lunas may have to wait a year before they see them in action as both plan on redshirting their freshmen season to familiarize themselves with their new surroundings, but after that, all bets are off.
"No matter what, we're going to be ready to compete," Kolby said.
"I'm going to test myself against anyone in the room with me," Riply said. "I'm nervous, but at the same time, what's being nervous going to help? We're already in."
"We're in this position for a reason," Kolby said. "God put us in this position for a reason and I think we're ready for it."
Recent Headlines
---