Silver Valley Sports Recap: April 17-24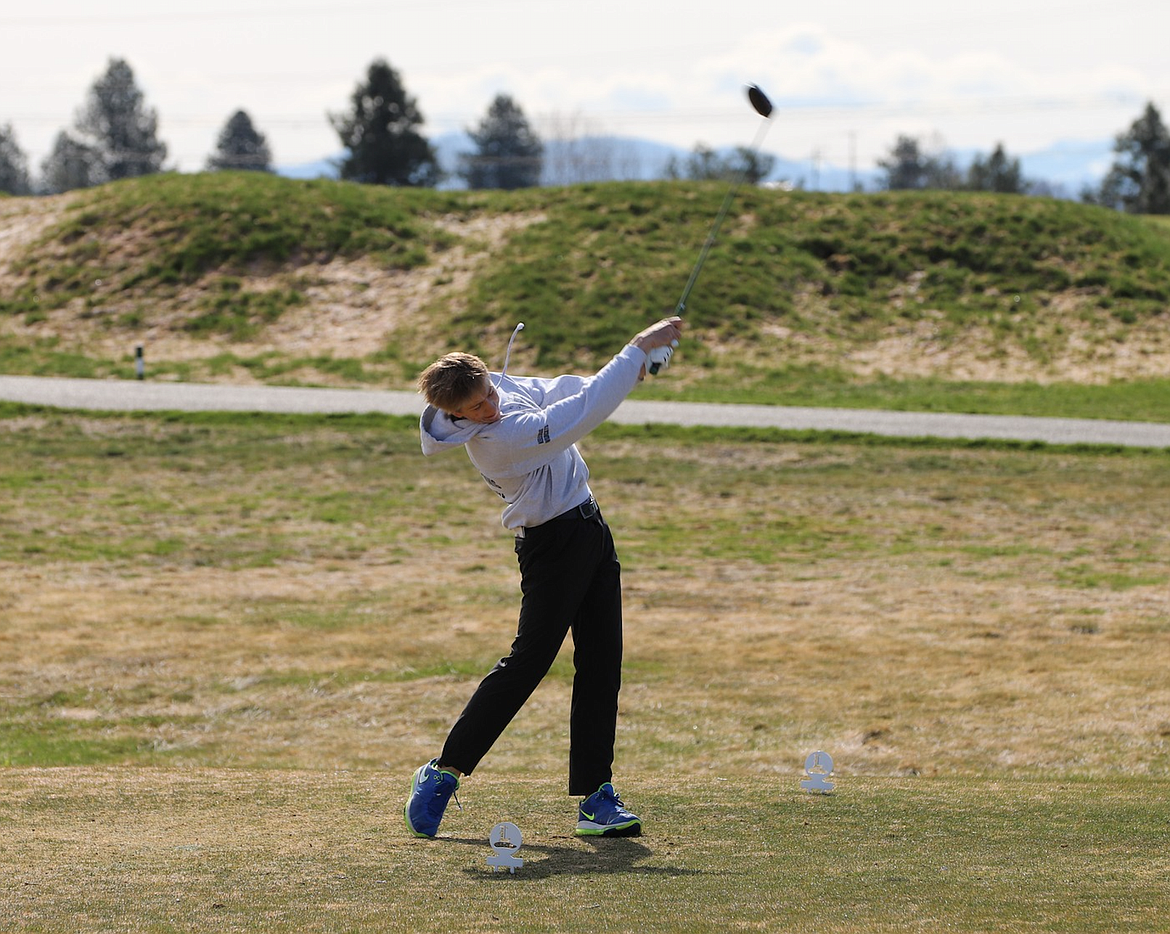 Kellogg's Stephen Paul tees off during a recent match at The Links in Post Falls.
Courtesy photo
KELLOGG GOLF
• April 19
POST FALLS — Kellogg senior Stephen Paul shot a 74 to earn medalist honors while leading the Wildcats to the team title at the Genesis Prep Invitational at The Links Golf Club in Post Falls on Wednesday.
Kellogg won the eight team tournament with a 326, followed by host Genesis Prep with a 330.
Avery Bayer of Bonners Ferry was girls medalist with a 77, leading the Badgers to the girls team title with a 386.
BOYS TEAM SCORES — 1, Kellogg 326. 2, Genesis Prep 330. 3, St. Maries 351. 4 (tie), Priest River, Bonners Ferry 390. 5, Timberlake 410. 6, Genesis Prep JV 432. 7, Lapwai 462. 8, Mullan 488.
MEDALIST — Stephen Paul, Kellogg 72.
KELLOGG — Stephen Paul 72, Brodie Robinson 86, Easton Towne 86, Jaeger Hall 82, Blake Coburn 96.
GENESIS PREP — CJ Elliott 80, Carson Rubert 79, Bryon Hammett 86, Gabe Missamore 85, Isaiah Bateman 110.
ST. MARIES — Seth Swallows 81, Lance Hamblin 88, Greyson Sands 89, Landon Warren 95, Deacon Machado 93.
PRIEST RIVER — Luke Butler 80, William Stockton 94, Jace Yount 93, Jade Best 123. Hunter Paterson 136.
BONNERS FERRY — Eli Blackmore 92, Evan Reitz 86, Tyson Tadlock 104, Eli Newell 114.
TIMBERLAKE — Colton Mendenhall 81, Payden DeVore 97, Zach Pasley 116, Daniel Dorman 116, Harry Hunter 119.
GENESIS PREP JV — Brady Rubert 85, Slayton Schultz 124, Ethan Martin 128, Braydon McGinley 115, Emmaus Nichols 109.
MULLAN — Steve Petit 118, Kofi Appiah 106, Blake Knoll 133, Zeke Hess 145, Kason Lohman 131.
GIRLS TEAM SCORES — 1, Bonners Ferry 386. 2, St. Maries 438. 3, Kellogg 450. 4, Timberlake 501.
MEDALIST — Avery Bayer, Bonners Ferry, 77.
BONNERS FERRY — Braylyn Bayer 78, Avery Bayer 77, Mia Blackmore 109, Holly Alexander 122.
ST. MARIES — Sami Sindt 92, Keanna Olson 105, Jaelyn Barden 118, Addi Crane 123, Kylie Boutlier 123.
KELLOGG — Kadimay Hart 107, Kaci Finlay 112, Kendra Korasick 105, Elliot Hei 116, Faith Shorey 125.
TIMBERLAKE — Malia Miller 92, Danika Sjolund 126, Kirstyn Edelblute 128, Jenn Olphie 155, Addison Hunter 156.
LAKESIDE — Destiny Lowley 131, Dahiyiithi White 119. GENESIS PREP — Chiara Lehman 96. WALLACE — Jasmine Korasick 106,
AREA HOOPERS NAMED TO ALL-IDAHO TEAMS
Kellogg basketball standouts Riply and Kolby Luna, along with Wallace's Britany Phillips were among those named to the all-Idaho boys and girls basketball teams.
North Idaho was well-represented across the board.
Blake Buchanan of Lake City, Greyson Sands of St. Maries and Asher Williams of Bonners Ferry were named Player of the Year in their division as the teams were announced earlier this week.
Buchanan led 5A Lake City to a 26-0 record and the program's first state title. The Virginia signee, currently practicing with the USA team for Saturday's Nike Hoop Summit in Portland, averaged 15.2 points, 9.7 rebounds, 2.9 assists and 3.2 blocks.
"Obviously, he's a great talent that is 6-11. But he has worked his way to the ACC," Lake City coach Jim Winger told The Idaho Statesman newspaper of Boise.
"During (my) 16 years as a head coach, we have been fortunate to play against three current NBA players while they were in high school. Blake Buchanan is at their level," Post Falls coach Mike McLean said.
Lake City senior guard Kolton Mitchell was named to the 5A first team. Mitchell, who has signed with Idaho State, averaged 18.0 points, 5.2 rebounds, 5.1 assists and 2.8 steals.
Lake City senior wing Nathan Hocking was named to the second team. Hocking, who has signed with NAIA Ottawa University in Surprise, Ariz., averaged 12.3 points, 1.6 assists and 1.2 steals.
Winger was named 5A Coach of the Year.
Sands, a senior point guard, led St. Maries to a third-place finish at state in 2A. He averaged 16.9 points, 4.7 rebounds, 4.2 assists and 2.3 steals.
"He's helped lead us to a first, second, and two third-place finishes in the last four state tournaments," St. Maries coach Bryan Chase told the Statesman.
The Luna twins from Kellogg, both seniors, were named to the 2A first team.
Riply, a 6-2 point guard, averaged 18.4 points, 6.1 rebounds, 3.8 assists and 2.5 steals.
Kolby, a 6-2 guard, averaged 15.5 points, 6.8 rebounds and 1.7 steals.
Both will be playing football this fall at the University of Miami.
Williams, a 6-4 sophomore guard, was honored after leading the Badgers to a runner-up finish in 3A, in the program's first appearance in a state title game. He averaged 18.7 points, 3.5 rebounds, 1.6 assists and 1.1 steals.
"(He) is a tremendous player who can score inside, outside and midrange," said his father and coach, Nathan Williams. "He has great court vision, and brings energy and confidence to the court."
"He seemed to hit every big shot when they needed it most," Kimberly coach Daren Garey said.
Lakeland senior guard Scotty Hocking was named to the 4A second team. Hocking averaged 17.0 points, 2.8 assists and 1.8 steals in leading the Hawks to state.
In 1A Division 1, Lakeside senior guard Vander Brown was named to the first team. He averaged 23.8 points, 3.3 assists and 2.9 steals in helping the Knights win their second state title in four years.
Lakeside's James Twoteeth was named Coach of the Year.
On the girls side, Coeur d'Alene's Teagan Colvin and Post Falls' Capri Sims were named to the 5A first team.
Colvin, a 5-7 junior point guard, averaged 18.3 points, 7.9 rebounds and 3.8 assists in leading the Vikings to the state title.
Sims, a 6-0 senior forward headed to NCAA Division II Central Washington, averaged 20.3 points, 10.1 rebounds, 2.0 assists, 2.3 steals and 1.0 blocks.
Coeur d'Alene senior forward Madi Symons was named to the second team. The Wyoming signee averaged 13.9 points, 7.5 rebounds and 2.3 assists.
Her mom and Coeur d'Alene coach, Nicole Symons, was named 5A Coach of the Year.
Sandpoint had a pair of first-team selections in 4A in Aliya Strock and Karlie Banks, both juniors.
The 5-5 Strock averaged 14.3 points and 4.7 rebounds, and the 5-10 Banks averaged 12.0 points and 7.7 rebounds.
Will Love, who guided the Bulldog girls to their first state title in program history, was named 4A Coach of the Year.
Timberlake freshman Malia Miller was named to the 3A first team. The 5-5 point guard averaged 16.1 points, 5.2 assists and 4.0 steals, and tied the single-season school record for assists with 130.
Asha Abubakari, a 5-9 junior forward from Bonners Ferry, was named to the 3A second team. Abubakari averaged 16.0 points, 7.2 rebounds and 1.7 steals.
Britany Phillips, a junior guard from Wallace, was named to the 1A Division I second team. Phillips averaged 19.7 points, 6.7 rebounds and 3.6 steals.
In 2A, Orofino senior wing Grace Beardin and Grangeville freshman point guard Caryss Barger were named to the second team.
Coaches vote on the all-Idaho teams. The Statesman compiles the results.
Recent Headlines
---