Delmer Duwayne Swan, 88
|
August 18, 2023 10:59 AM
Delmer Duwayne Swan, 88, of Pinehurst, Idaho, beloved husband, father, grandfather, great-grandfather and friend to many, passed away at his Pinehurst home Aug. 11, 2023. Delmer was born Dec. 26, 1934, in Coeur d'Alene, Idaho, a son of the late Hilding Swan and Vivian (McGraw) Swan.
Delmer recalls growing up in half of a tent in Hayden Creek before the family moved to the middle fork of Pine Creek in the summer of 1935 and then later on to the CCC camp in Cataldo in the fall of that year. In 1936, they then moved to Newman Lake, Wash., for a brief period until the summer of 1937, when they relocated to Bear Creek and lived in a shack surrounded by three other shacks. Finally, in the fall of 1943, they moved to a 160-acre farm, where Delmer lived through high school, graduating from Kingston High School, and spent a semester at NIC in 1956 and the spring of 1957.
Delmer married Linda Waller on Sept. 14, 1957, at Pinehurst Baptist Church. Linda passed away March 3, 2020. For most of his life, Delmer was a logger and worked as a mechanic. He also worked for a short while at the Sunshine Mine.
He enjoyed classic cars, snowmobiling, motorcycles, spending the winters in the desert and his beloved dog, Nina.
In addition to his parents and loving wife Linda, Delmer; and a great-grandson, Michael Dean Temes. Delmer's sister, Donita Day, passed away shortly after Delmer on Saturday, Aug. 12.
Survivors include his three children, Debbie and Mark Waters of Truckee, Calif., Dean and Heather Swan of Cataldo, Idaho, and Darin and Michelle Swan of Post Falls, Idaho; 10 grandchildren, four great-grandchildren and his faithful canine companion, Nina.
Graveside services will be held Friday, Aug. 25, 2023, at 11 a.m. at Shoshone Memorial Gardens, Pinehurst, with a celebration of Delmer's life to follow at the West Shoshone Park also in Pinehurst.
Memories of Delmer and messages of condolence may be shared with his family online at www.shoshonefuneralservice.com. Shoshone Funeral Services, Kellogg, is assisting the Swan family with arrangements.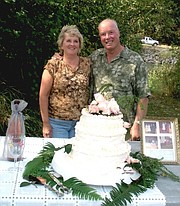 Recent Headlines
---