David Faulkner, 84
|
August 25, 2023 2:20 PM
David Roger Faulkner died peacefully in his sleep Aug. 21, 2023, in Reno, Nev., as a result of complications from Parkinson's disease. Born to Ina and Harry Faulkner in Spokane on April 7, 1939, Dave was a devoted husband, father, grandfather, uncle, colleague and friend. He grew up in the Inland Northwest and graduated from Sandpoint (Idaho) High School before earning his forestry degree in 1962 from the University of Idaho.
Following in his father's footsteps, Dave started working summers for the U.S. Forest Service right out of high school. Sixty years later, in 2017, he retired as a legend of the Idaho Panhandle National Forests. A timber sale contract officer for much of his career, Dave's unrelenting attention to detail and infinite discipline to get things right defined his work and life.
He met his future wife, Charlotte Nora "Cherie" Fletcher, at a Forest Service party just days before she transferred to Juneau, Alaska. They joked about only having had one date before getting engaged, although they corresponded for over a year, and that single date was when Dave traveled to Alaska to visit. Cherie moved back to North Idaho, where they married in his parents' living room May 22, 1965.
Dave and Cherie began their life together in a one-room house under the bridge in the tiny town of Avery, Idaho. From there, they moved to Idaho's Silver Valley, where Dave hunted elk, played bridge and brewed his own beer in a 20-gallon plastic garbage can. In 1975, the family moved to Coeur d'Alene. Dave's parents and Cherie's mother, Alice Fletcher, were already living there, and the family enjoyed many years and memories together.
Dave was very proud of his children, Amy and Scott, and their accomplishments. He loved being part of large family gatherings, even though he was usually the quietest person in the room. Never was his devotion to family more evident than when he cared for Cherie at home through her long battle with cancer and for his mother and mother-in-law in their final years.
After Cherie died, he spent each Christmas with Amy and her family in Virginia, as well as joining them for a week each summer on the Outer Banks of North Carolina, where Grandpa Dave could always be found on the couch with a grandchild and a book. In 2018, as his Parkinson's progressed, Dave moved to Reno to live closer to Scott, his wife, Andrea Lenz, and their extended family. He found a comfortable home and community at Five Star Premier Residences and enjoyed playing the slot machines in his new home state.
Quiet and exceedingly patient, Dave always provided a calming presence. Graced with a dry sense of humor and impeccable timing, he often saved a joke for years until the perfect moment arose to tell it. He enjoyed simple things and appreciated quality. He sipped bourbon, watched the nightly news, cheered for the Gonzaga Bulldogs and Seattle Seahawks while eating Blast O Butter popcorn and always prepared his own tax returns by hand. His steadfast loyalty, disciplined consistency and selfless generosity will always be remembered by the people he touched.
David was preceded in death by his parents, Ina and Harry, his wife, Cherie, and his sister, Carol Faulkner Doney. He is survived by his son, Scott (Andrea Lenz), daughter Amy Hunter (William "Jeff") of Catlett, Va., grandchildren William, Nora, David, Nicholas, Lucy, Patrick and Alice Hunter, and Nelle Gama (Felix), Jeanette Maxey, Rachel Maxey (Kurt Ruff), and Sara Fujii; great-grandchildren Evelyn and Luey Gama and Zelia Ruff; and nieces Susan Doney Bench and Marilyn Bradford. He was also blessed by close relationships with Cherie's nieces Faith, Jennifer, Jill and Rosemary and their families.
Dave will be laid to rest next to Cherie at a graveside service in Coeur d'Alene's Forest Cemetery on Friday, Sept. 22 at 10 a.m. In lieu of flowers, the family requests memorial gifts be made to the National Museum of Forest Service History www.forestservicemuseum.org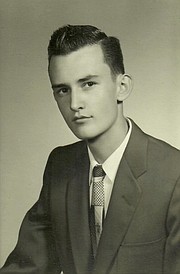 Recent Headlines
---