Silver Valley Sports Recap: Aug. 18-27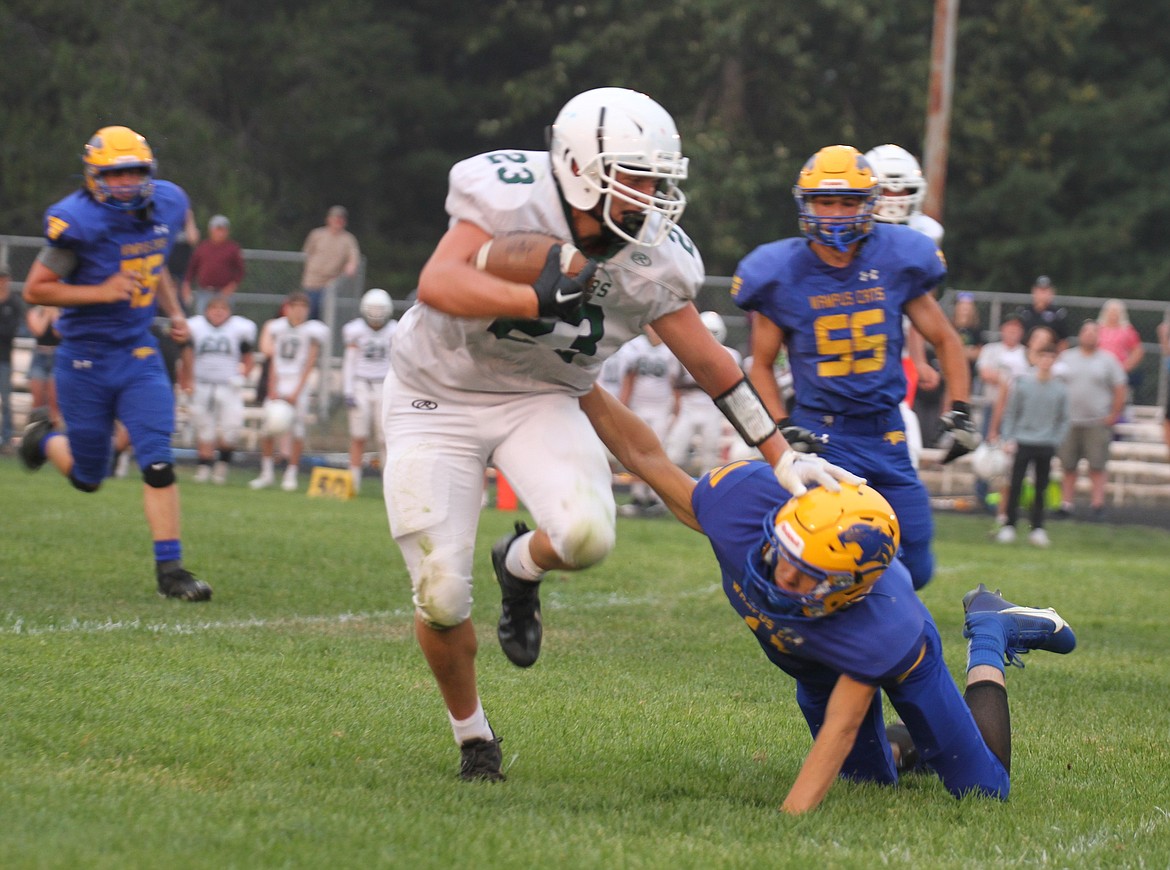 John Pruitt of Mullan/St. Regis stiff arms a Clark Fork defender during a recent between the Tigers and Wampus Cats.
Photo by MAX OSWALD/Hagadone News Network
|
August 29, 2023 1:00 AM
MULLAN FOOTBALL
• Aug. 18
Mullan/St. Regis 20, Clark Fork 6
CLARK FORK — John Pruitt scored three touchdowns as the Mullan/ St. Regis Tigers beat the Clark Fork Wampus Cats in the season and North Star League opener for both teams.
Pruitt scored on a 7-yard run and caught touchdown passes of 52 and 53 yards from Conner Louis.
Clark Fork was stopped twice on fourth and goal.
• Aug. 26
Mullan/St. Regis 58, Superior 52
SUPERIOR, Mont. — Senior Kofi Appiah had a kickoff return touchdown for Mullan-St. Regis in the win over the Superior Bobcats.
Alex Trogden and John Pruitt scored two touchdowns each for Mullan-St. Regis, which jumped out to a 16-0 lead.
"Both Alex and John were all over the field tonight," said Mullan-St. Regis coach Stetson Spooner. "It was a big win for us and we hope to improve from this." Freshman quarterback Conner Lulis threw two touchdown passes for Mullan-St. Regis, which is scheduled to host Kootenai on Sept. 8 at John Drager Field in Mullan.
WALLACE FOOTBALL
• Aug. 18
Wallace 54, Kootenai 14
HARRISON FLATS — The visiting Miners defeated the Warriors in the season and North Star League opener for both teams.
Next Friday, Kootenai travels to Clark Fork.
Wallace returns to action this Thursday when they take on Lakeside at the Marimn Health Field in Worley at 7 p.m.
MULLAN VOLLEYBALL
• Aug. 23
Wallace d. Mullan
MULLAN — The visiting Miners made short work of the host Tigers (25-11, 25-14, & 25-10) in both teams' season opener.
Britney Phillips paced Wallace's all-around attack with 10 kills, seven digs, and five blocks, while teammates Aubrey Birdsell (28 assists) and Tia Hendrick (11 aces) kept Mullan on their toes defensively.
Wallace coach Katie Bauer was impressed with her team, particularly the efforts of Hendrick and Phillips.
"Tia Hendrick served 23 points in the match," Bauer said. "Britany was very aggressive for us at the net."
KELLOGG FOOTBALL
• Aug. 25
Kellogg 0, Moscow 34
KELLOGG — The Wildcats turned the football over six times and couldn't move the ball on the visiting Bears who notched their first win in more than a year.
The Wildcat defense was up to the task, routinely forcing the Bears into late down and distance situations — but penalties and offensive woes kept them from generating any positive momentum.
Kellogg (0-1) hosts North Fremont this Friday at Teeters Field at 7 p.m. in an important 2A matchup.
Recent Headlines
---