North Idaho children's author gives back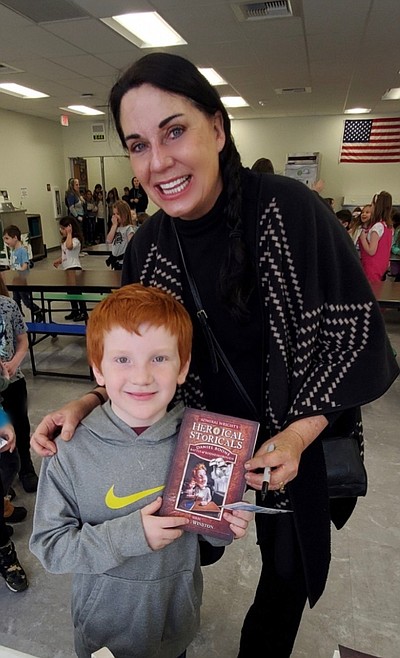 Annie Winston poses with a student holding her children's book at Pinehurst Elementary School. Winston is the founding director of Jazzed About Reading, a non-profit bringing books and stories to children of North Idaho.
Photo courtesy of Annie Winston
|
February 24, 2023 1:00 AM
Jazzed About Reading donated more than 500 books to kindergarten through fifth grade students during a "Love of Reading" rally at Pinehurst Elementary School.
JAR is a nonprofit that encourages kids everywhere to read founded by Annie Winston of North Idaho.
Winston tried to inspire students during the rally, speaking to them about how reading great books can transform lives.
Students then listened while Winston read her own picture book, "Ivan Von Penguinsky," a story about a reading-challenged penguin who learns the secret to become a great reader.
After Winston's talk, students received a signed copy of one of her two books, "Heroical Storicals: Daniel Boone and the Battle of Boonesborough" or "Bully Buster Journal."
"I loved Winston's interaction with the students and how each of them received a book," said Pinehurst Principal Leah White. "She did a great job."
JAR-sponsored Love of Reading rallies began in 2019 with the goal of impacting children with great books. To reach students, JAR is expanding to include a Heroic Dad's Story Time Hour. The premise is that men with integrity and character will read great books to children and families. Among other men, Rep. Joe Alfieri of Coeur d'Alene will read to children during JAR's Heroic Dad's Story Time Hours, which will be from 1 to 3 p.m. every third Saturday of the month until May in the Community Room at the Coeur d'Alene Public Library.
"Heroical Storicals Daniel Boone and the Battle of Boonesborough" was published within 18 months and Heroical Storicals went on to win children's book awards.
Recent Headlines
---