Kitties littered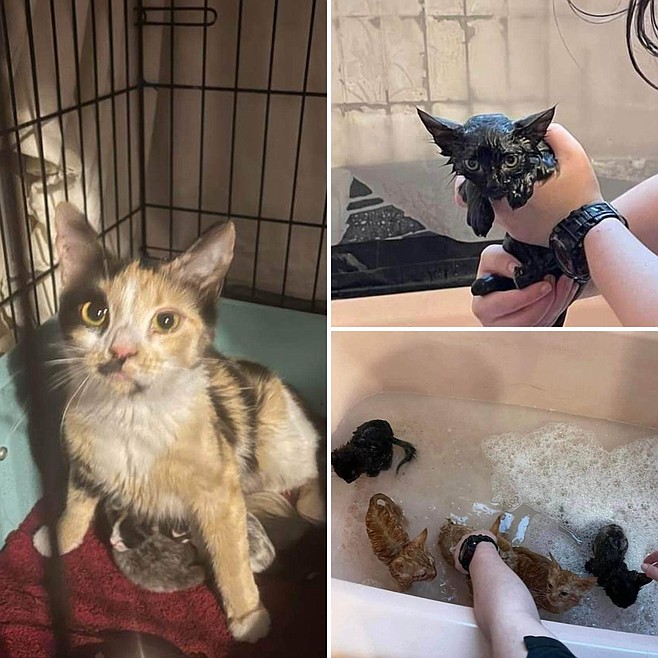 Some of the rescued cats that were found at the Trail Motel in Kellogg have been taken care of by the Silver Valley Cat Wranglers Inc. Idaho. They are looking for supplies, monetary donations, and foster and adopted homes.
Photos courtesy of SILVER VALLEY CAT WRANGLERS
by
MOLLY ROBERTS
Staff Reporter
|
February 24, 2023 5:10 AM
KELLOGG — "We are so fortunate that we have such wonderful support in the Silver Valley," said Silver Valley Cat Wranglers board member Rene Gilbert. "The situation we are now dealing with at the motel in Kellogg, is a great example of how we come together as a community. It is not uncommon for someone to think they are helping by taking in animals. And quickly the situation gets out of control."
Gilbert's statement foreshadows a grim story that is starting to come with a bit of a silver lining.
Last week, the Silver Valley Cat Wranglers (SVCW) were notified about 14 cats that were abandoned at the Trail Motel in Kellogg, but when they arrived they found 19 felines.
The next day, they were surprised with three more added to the clowder.
In just a week's time, the SVCW has received an outpouring of support from community members, local veterinarians and news outlets. Still, the cats need supplies, medical care, and, eventually, a forever home.
Almost every one of the cats has kitty cold systems and were living in filth.
"We are starting to get the ones we can handle treated for the cold and diarrhea. We have been able to get most of them into foster homes," said Wrangler Donna Tunis. "Treating these kitties will deplete quite a bit of our funds that we have to help the other community cats."
These situations can happen when an animal is not altered, as a cat's gestation period is around 65 days, and kittens can reach sexual maturity and get pregnant at just 4 months.
"I don't see this individual as a hoarder but as someone who probably got two free kittens. A male and female who were never neutered and spayed," said Wrangler Joanne Mendive. "Before he knew what happened, he was in an overwhelming, out-of-control situation."
Mendive further explained how these situations can go from a simple mother having kittens to those kittens also having kittens — and it happens quickly.
"There are two morals to this story," Mendive said. "It's incredibly important to alter your animals, and there is never a free cat."
The fee for adopting a cat from SVCW is $100, including the cost of alteration, its first FVRCP vaccine, a microchip and a deworming, ear mites, or flea treatment if needed. The price for these services locally is around $314 for a female and $198 for a male.
SVCW is looking for foster homes for the cats, including families for pregnant females, monetary donations, volunteers and supplies, including scoopable cat litter, kitten and cat food, dry and canned food, and cat toys.
When the wranglers were in a similar situation a couple of years ago, local bar owner Mike Kennaugh, and his bar Dirty Dog Saloon, stepped up and offered to host a fundraiser that brought in $2,100 — and they're planning another event soon.
"We appreciate your prompt willingness to host this fun event," said SVCW Board member Juli Zook. "I look forward to seeing everyone at the 'Dirty Kitty Saloon' on March 15 to support this worthy cause."
SVCW is a volunteer-based, nonprofit 501(c)(3) rescue organization for kittens and cats, which helps re-home and fix stray, dumped, abandoned and feral felines. All rescued cats are spayed/neutered, vaccinated, dewormed, and treated for ear mites and fleas. The organization has seven longtime volunteers/board members and four regular foster care volunteers.
Food and litter donations can be dropped off at Kellogg Pet Medical. Checks can be sent to P.O. Box 995, Osburn, ID 83849, or call Juli Zook at 208-659-1764. For more information, visit the SVCW Facebook page. If anyone is interested in adopting any of the SVCW cats, email silvervalleycatwranglers@gmail.com to request an application. You can also call the SVCW at 208-446-7131.
"It takes a village," Zook said. "We want to shout out to everyone who has come together to help. Specifically, John Webb, the local veterinarians have been an incredible help, Mike Kennaugh with Dirty Dogs, and of course all of the wranglers, fosters, and others who rescued and provided for the kittens."
Recent Headlines
---