Bask in his glory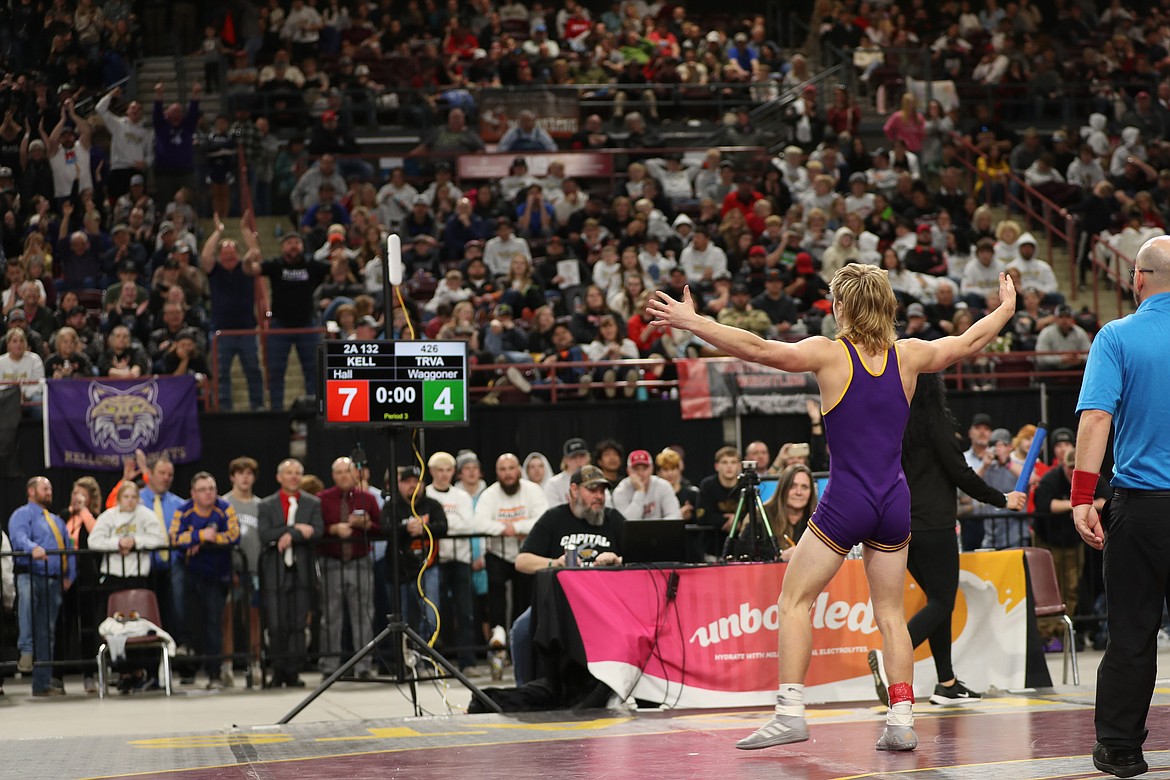 Wildcat Jaeger Hall looks to the crowd of Kellogg supporters following his championship win over Jace Waggoner at the Idaho State Tournament last weekend.
Russelle Storey Photography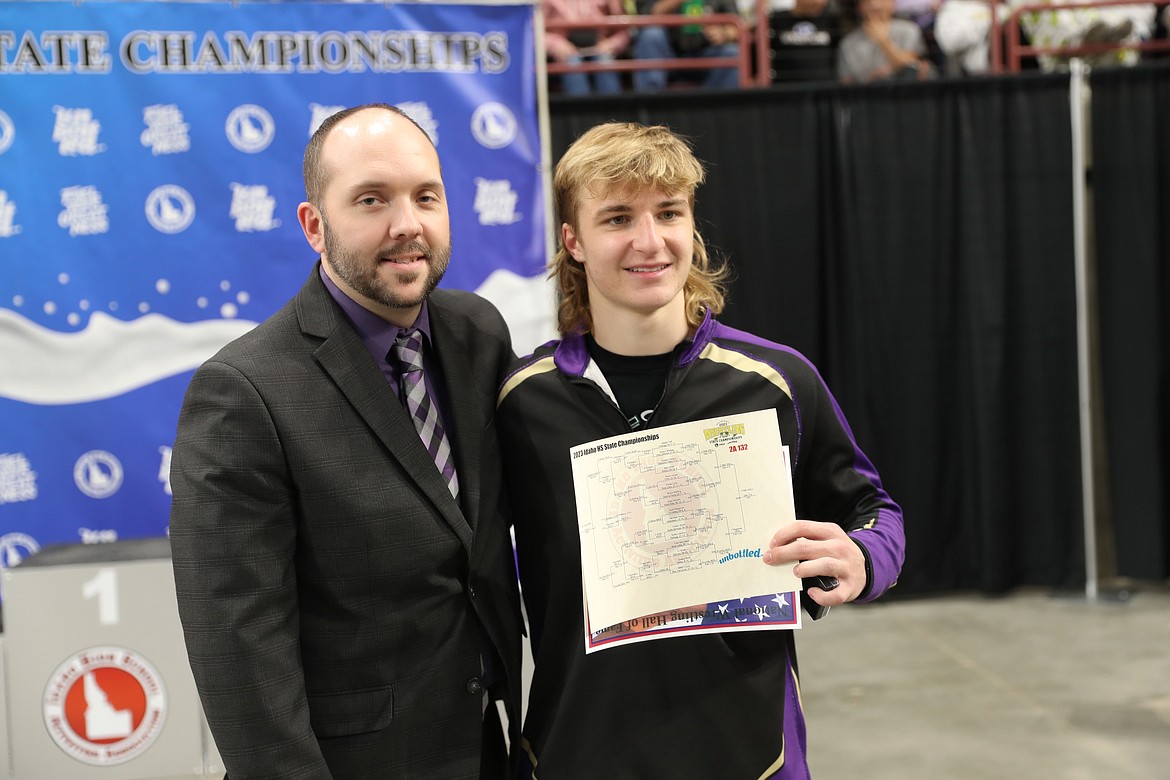 Jaeger Hall stands next to coach Travis Berti following Hall's podium ceremony at the Idaho State Wrestling Tournament. Hall won the tournament's 132-lb division.
Previous
Next
NAMPA – Jaeger Hall walked into the 2023 2A Idaho State Wrestling Tournament as the No. 1 seed of the 132-lb division – and he walked out the same way he walked in.
No. 1.
Maybe it was a familial good luck charm, perhaps it was help from a higher power, or it might've just been the result of hard work…
It was probably a combination of all three.
Hall, a junior at Kellogg High School, had put together a masterful season leading up to last weekend's tournament at the Ford Idaho Center in Nampa.
At the beginning of December, Hall captured the championship at the Dick Griswold Memorial Tournament in Potlatch, and from that point on it was a lot of first-place finishes and a spectacular way to bookend the season.
Hall and his teammates came into the season as relative unknowns at the state level. The Wildcats were newcomers to the 2A ranks, which essentially opened up a new batch of competition for them.
But it also removed any advantage they might have from the previous season's knowledge, making Hall feel like his team was overlooked a bit.
"Dropping from 3A to 2A played a part," Hall said. "You always look to see who placed at state the year before — last year Kolter (Wood) placed at 3A, but I didn't. I think we were known about, but no one really knew what we could do."
After ripping through his first three opponents, including a brutal 17-2 technical fall in the opening round, Hall faced Tri Valley's Jace Waggoner for the championship.
Waggoner, a talented freshman, and the tournament's second seed had knocked Hall's teammate Kolby Lemmon from the championship side of the bracket. He had also finished in third place at the Dick Griswold tournament, the same tournament that Hall began his championship run.
As the tournament's top seed, Hall admitted to having some nerves initially, and even a little bit before the championship match, but that changed pretty quickly.
"When I took him down in the first period, I felt good," Hall said. "On top, I started to work toward my moves and I realized I could turn this kid — I didn't expect that coming into the match. I expected to sprawl out, get takedowns, escapes, you know — a one-point, two-point match."
Up 4-0 heading into the final period, Hall had no intentions of trying to coast into a win – instead, it became about wrestling his match, and figuring out ways to continue scoring while staying aware of his opponent's furious comeback attempts.
That's where staying on script, or wrestling "his" match became all the more important.
"Four points isn't a lot to have to come back from, but I also didn't want to put myself in a bad position either and give up a state championship," Hall said. "Before our matches begin our coaches are always telling us to get into your match, and if you get to a point where your opponent is controlling you it's pretty difficult to get out of it. You have to come out aggressive and be ready to control the match."
Hall did just that, finishing the match with a 7-4 decision and the school's first championship in three years – when another Hall etched his name onto the wall in Kellogg's wrestling room.
Jaeger's older brother Judson was the 2020 3A 138-lb champion — capping off a decorated career of his own with the perfect crown.
And really what's six pounds between brothers — apparently not enough to change the fit of a singlet.
"The singlet that Judson won his championship in is the same one that I wore for mine, which is pretty cool," Hall said.
Both Hall brothers have made their school and communities proud with their respective wins, but they might be even more proud if you saw the behind-the-scenes work that went into it.
Prior to the school year, Hall, along with teammate Kolter Wood, traveled across the country for a 12-day, intensive wrestling camp at the University of Iowa, followed by a two-day break and then another week-long camp hosted by Washington State.
The two juniors-to-be, kept each other sharp because they knew that this season was the year that they became the team's leaders.
Wood wrestled this season at 126-lbs and finished in third at the state tournament – but make no mistakes, Wood is every bit the wrestler Hall is.
Just ask Hall.
"Kolter is my wrestling partner and I'm so thankful for him," Hall said. "He finished third but had a tough loss to a really good senior. If he had wrestled at 132s, he and I would've met in the finals and it probably would've gone all the way to a tiebreaker at the end. Some people might overlook the work he put in because he didn't win, but he's a tough wrestler and the work he put in with me in the mat room helped me get here."
Along with his parents, Hall was appreciative of his coaches, particularly Travis Berti, who has been with Jaeger since his club wrestling days.
Hall is also very secure in his faith — which is where he places a lot of the credit for his victory.
"God was with me through all of this," Hall said. "I try to pray before every match and all I ask is that God works through me — because I know that I couldn't have done it without him."
With one more year at the high school ranks, there is more work to be done – but it can wait just a few days.
The champ has earned that — for now.
"I'm enjoying the win for right now," Hall said. "But I'm going to work just as hard this spring and summer so I can be at the top of the podium again next year."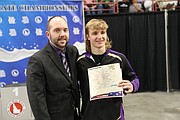 Recent Headlines
---