Snow storm hits Shoshone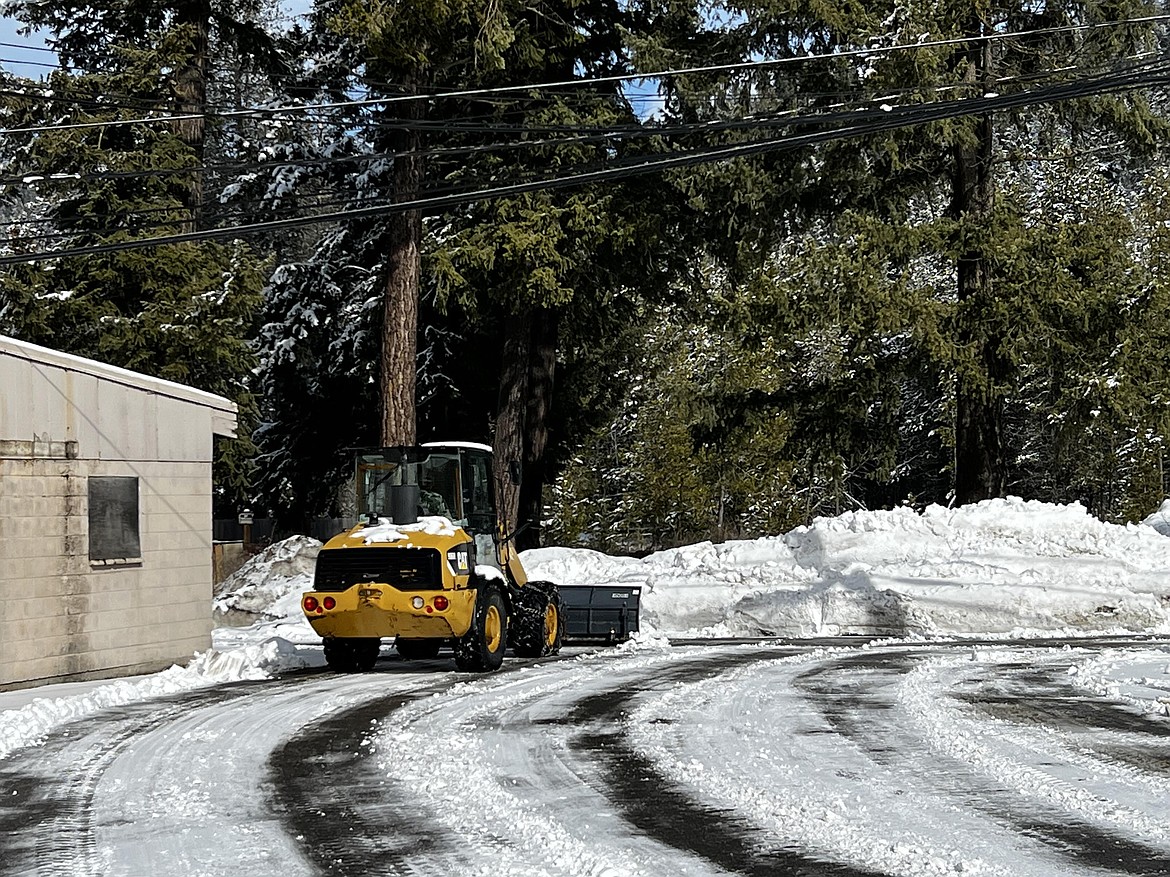 A plow maintains the Shoshone News-Press parking lot before the next snowfall in Shoshone County.
Josh McDonald
by
MOLLY ROBERTS
Staff Reporter
|
February 28, 2023 5:10 AM
SHOSHONE COUNTY — Three weeks ago, the famed groundhog Punxsutawney Phil predicted that six more weeks of winter are ahead of us, which was proven this past weekend in our neck of the woods.
Shoshone County experienced a significant accumulation of fresh snow over the weekend, and it's predicted that more is on the horizon.
The Shoshone News-Press spoke with Public Works Director Jessica Stutzke, who oversees the four road districts and two county parks and is responsible for maintaining approximately 375 miles of roadway and 79 bridges in the county.
"When we know it's coming, we do our best in the calm before the storm to try and push the snow back as much as possible to make extra room, so we have room to move the rest of the snow," Stutzke explained, "Right now the crews are taking the accumulated snow over the weekend, and cleaning things up as we have time."
When Shoshone County experiences this type of weather, Stutzke advises residents to slow down and pay attention to the road and weather conditions, "Make sure that your vehicle has good traction tires. If the roads are too bad, the crews need time to clear the the roadways."
Stutzke recommends slowing down and being patient on the roads, specifically around the snowplows, "Don't pass plows on the right, sometimes you can't see the edge of the blade, or they are throwing out snow and gravel that decreases visibility. Slow down, and give the plows plenty of room to operate."

The hazardous roads were even sketchy enough that the Kellogg School District suspended school on Monday.
As of press time, Krem 2 News, a Hagadone News Network partner, is reporting more snow through Monday and into Tuesday morning. "About 1-3 inches of snow will be common for the region with a little less for the Palouse and central Washington."
Reports continue that temperatures will remain steady and slightly below average. There will be highs in the mid to upper thirties and lows in the 20s and 10s, so we will stay in the thaw-freeze cycle. That could potentially result in black ice patches. More snow chances are expected Thursday and Sunday in the upcoming forecast.
Although winter in Idaho can be lovely, traveling on the roads can be tricky and treacherous, even for the most experienced drivers. The Idaho State Police have provided tips to keep drivers and passengers safe.
Plan for extra travel time
Know the weather conditions: The Idaho Transporation Department provides daily reports from November through April. Visit ITD's online road reports at 511.idaho.gov
Prepare your vehicle for snow travel. This includes studded snow tires, legal in Idaho from Oct. 1 through April 30. This also includes clearing windows of ice and proper vehicle maintenance.
Prepare for your trip by keeping emergency winter driving supplies in your car. The kit should include: flashlights with extra batteries, a first aid kit, a pocket knife, blankets, warm clothing including extra mittens, socks, and a wool cap, a small sack of sand or cat litter for generating traction under the wheels, a small shovel, bottled water, booster cables, non-perishable food like canned fruit, nuts and a non-electric can opener, and a windshield scraper.
Give space to snow plows; if you should pass a plow, do not pass on the right.
Recent Headlines
---