Candy for a cause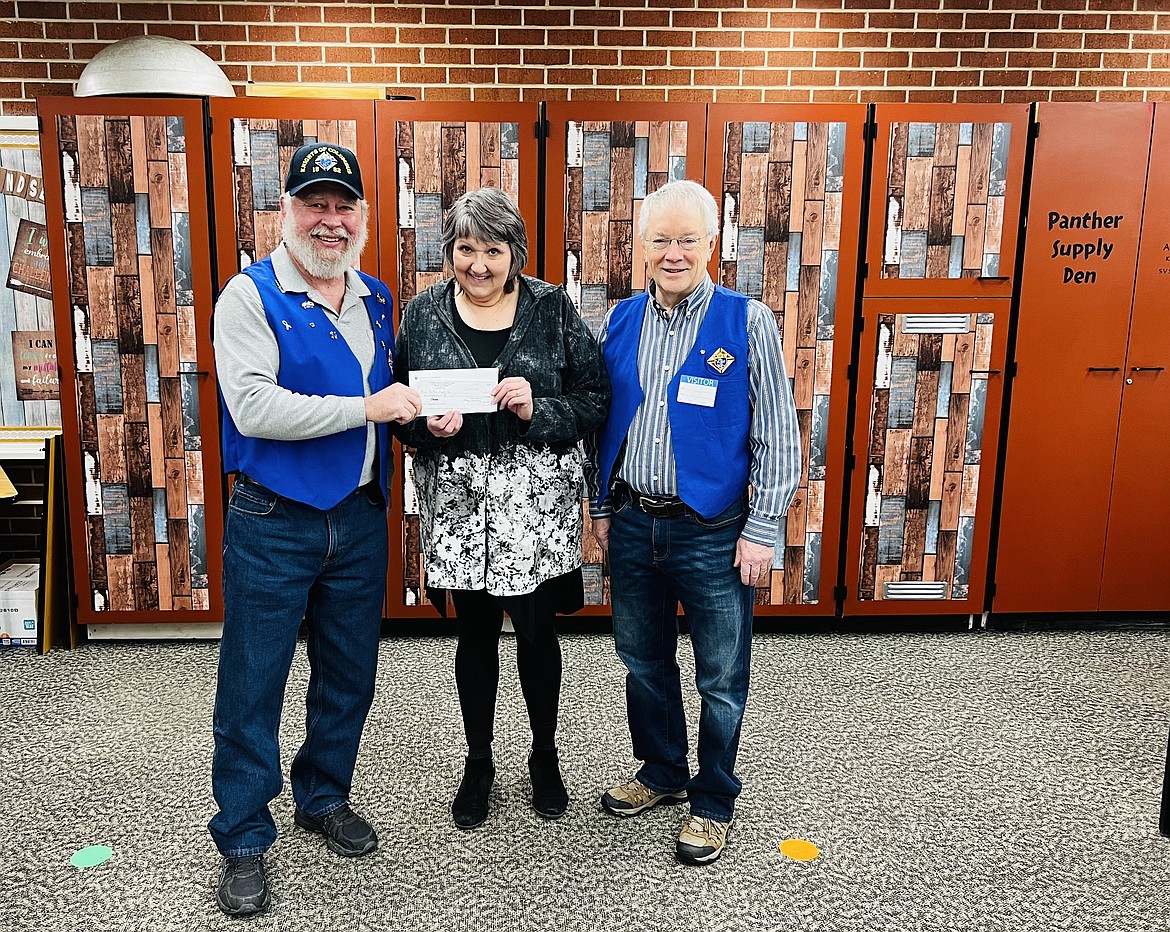 St. Rita's Catholic Church council of the Knights of Columbus members Dave Bauman (left) and Sid Armstrong present a check to Sarah Mason with Pinehurst Elementary School for $400 that is earmarked for the Panther Supply Den.
Photo by JOSH McDONALD
PINEHURST — There's nothing sweeter than giving back.
A few months ago, St. Rita's Catholic Church council of the Knights of Columbus (KoC) completed its annual Tootsie Roll drive, which sees its members post up outside all of the local grocery stores throughout the area and hand out the timeless candy confections in exchange for a donation.
This along with the monthly breakfasts, allows them to regularly donate to local causes and organizations.
Through the Tootsie Roll efforts, $2,500 was raised, which was generously donated to the Silver Valley Special Olympics.
"The first weekend in October we set up at all the grocery stores and handed out the Tootsie Rolls," said KoC member Sid Armstrong. "This year, we received the most donations that we ever have. We really want to thank our community for their support."
They also recently presented a check for $400 to the Pinehurst Elementary School Panther Supply Den.
The Panther Supply Den is organized and operated by PES teacher Sarah Mason, and it provides students in need with a myriad of items, including school supplies, clothing, shoes and food — all in a discreet fashion that protects the children's dignity.
"This money is going to go toward buying breakfast snacks to replenish our pantry," Mason said thankfully.
The Panther Supply Den is primarily funded by a grant from Avista Utilities.
If you would like to donate to Panther Supply Den, contact Sarah Mason at Pinehurst Elementary School. Donations can be monetary or physical items.
The Knights of Columbus is a global Catholic fraternal service order founded by Michael J. McGivne nearly 150 years ago. Membership is limited to practicing Catholic men. They are led by Patrick E. Kelly, the order's 14th Supreme Knight.
The St. Rita's Catholic Church council of the Knights of Columbus currently has 45 members and represents the Catholic churches in Kellogg and Wallace.
Recent Headlines
---