KHS cheerleaders shake competition, win first place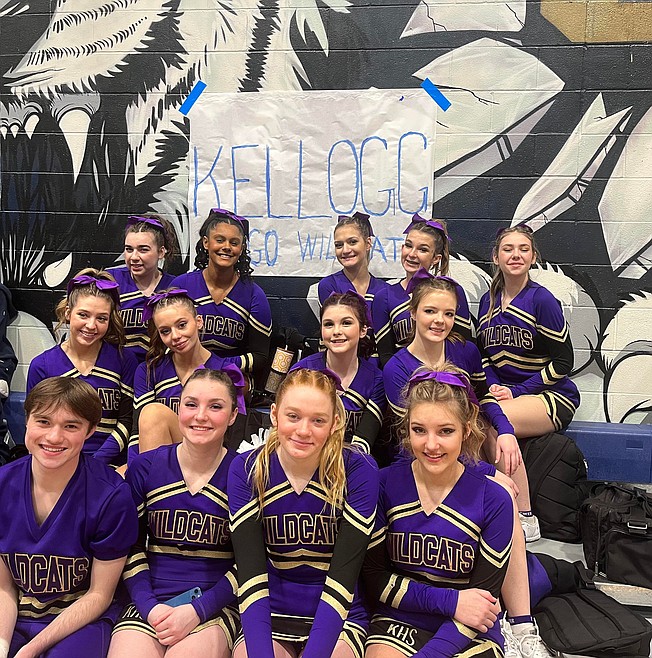 KHS cheerleaders Nate Turner, Katy Meier, Kay Lannen, Maya Cutler, Kaylee Sims, Rebecca Schreir, Ella Pooler, Ellie Schwartz, Kadimay Hart, Kelty Kulin, Tessa Hodgman-Richter, Rilie Bauer and Dani Perkins took first place in multiple competitions over the past two weekends.
Courtesy photo
by
MOLLY ROBERTS
Staff Reporter
|
January 27, 2023 5:05 AM
KELLOGG — Brr… It's cold in here, there must be some Wildcats in the at-mos-phere — we may be paraphrasing the immortal words of Kirsten Dunst (or Gabrielle Union, depending on what side you're on), but the cheerleaders from Kellogg High School 'brought it' nonetheless.
Recently the KHS cheerleaders, under the skilled tutelage of coaches Sarah and Lori Sawyer, won first place in multiple categories at cheer competitions over the course of two weekends.
"We took first in them all. We won five first places in two weekends. They worked their butts off," Sarah said. "There was a lot of blood, sweat, tears and injuries."
The team competed at the Timberlake Tiger Tournament at Timberlake Senior High School over the Jan. 14 weekend and the Prairie Classic Tournament at Lakeland High School on Jan. 21.
KHS Senior Nate Turner competed and placed first in the jump-off competition against all 1A-5A junior and senior boys, receiving scores on the variety/difficulty of jumps, height and flexibility, and technique.
The team competed in Pom routine as a group, with a remixed version of "Bloom Clap" by Charli XCX as their backup music. Pom has a one-minute maximum time limit and includes a variety of motions, dances, jumps, formation changes and ripples. During this competition, the cheerleaders must hold their poms throughout most of the routine and score on a total point system.
"Show routine is two and half minutes and consists of poms, signs, formation changes, stunts, tumbling, jumps, dances, cheer and crowd involvement," Sawyer said.
You can see the team in action this Friday, cheering on the Kellogg Wildcats when they take on their Central Idaho League rivals, the Priest River Spartans, at 7 p.m. inside Andrews Gymnasium.
"Districts is this weekend, but we have basketball to cheer for," Sawyer said. "We have a couple injuries from the teams' hard work, so that's our goal for next year. On top of cheering on all the other sports, they have practices learning and practicing these very intense routines. They had school, practice, and/or a game six days a week for the last two months."
Recent Headlines
---